Salespage Snapshot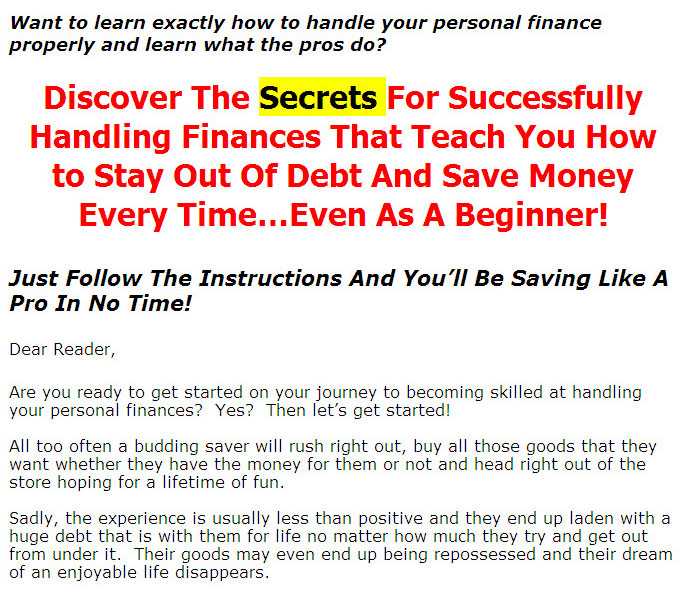 >> Click Here To View Sales Page...
PLR Ebook Table Of Contents
1. Plan to Get out of Debt ……….. 2
2. Best Ways to Stay out of Debt ………………………………… 3
3. Tips to Save Money Instead of Spending ……………………… 5
4. How to Stick to Your Budget ………………………. 7
5. Cutting Down on Food Bills ……………………………. 8
6. Tips to Spend Less on Clothing ……………………………….. 9
7. When You Need to Qualify for a Mortgage……………………………… 11
8. The Best Type of Mortgage ……………………………………… 12
9. The Importance of Insurance ………………………………….. 13
10. How to have a Budget Family Holiday …………………. 15
11. Teaching Kids the Value of Money …………….. 16
12. Use a Credit Card but Stay out of Trouble ……………….. 18
13. Tips to Fix a Bad Credit Report ……………………………. 19
14. Tips to Earn Extra Money ……………………………. 21
15. Enjoy Life Without Spending Dollars ………………………….. 22
Ebook Sample Content Preview
1. Plan to Get out of Debt
Many people rack up debt on credit cards and feel that they can never get free of it, short of winning the lottery. However, for all those who really do want to become debt free quickly there is a way out. You can even make it all happen for you in twelve months or so. Naturally enough, that depend s on just how much debt you have. Anyone with a mortgage will not be able to do this, but those with credit card debt may be able to.
However, in a great majority of the cases, you need to be careful with budgeting. Determination is also very important. After all, you need to work hard to wipe out all the liabilities in a matter of 12 months, or so. As a matter of fact, there are people who have managed to accomplish what they really want with their debt status in a shorter time. Here are the things you need to do to step out of your debt.
Initially, you need to assess all your debts.
This happens to be amongst the first and the crucial steps on the way to stepping out of your debt. Try to find out precisely how much you owe. Find out what amount of payment you are required to make each month, provided you plan to finish paying all your debt in a year. Bear in mind that a year's target happens to be the best target in terms of the payment plan's length. However, it is not the sole choice. When people figure out that the entire chunk of debt has piled up too high for a year, they should not hesitate to extend the time frame to a two or three-year plan.
Calculate the minimal amount of funds you need each month.
Figure out the size of the income which you are taking home each month. Then deduct all those vital expenditures. These include grocery, essential utilities and a variety of fixed costs for your day to day living. The remainder can be utilized to pay off the liabilities that are outstanding.
Try to get minimal payments.
Check the amount that you have to pay at the moment. Also try to figure out your convenient target date as you want to complete the payment as soon as you can. Though it could be excellent to have all the debts wiped out within a matter of twelve months, the reality is different. The total time taken will depend on the burden of debt you have at your hand. So your task in hand is to find out the amount you want to pay each month to clear all your liabilities.
Other Details* Sales Page:
Included, HTML, MS Word Doc
* File Format:
MS Word Doc, PDF
* Number of Pages:
23
* Included Graphics:
Ecovers, PSD
* Download File Size:
1,886 KB