Salespage Snapshot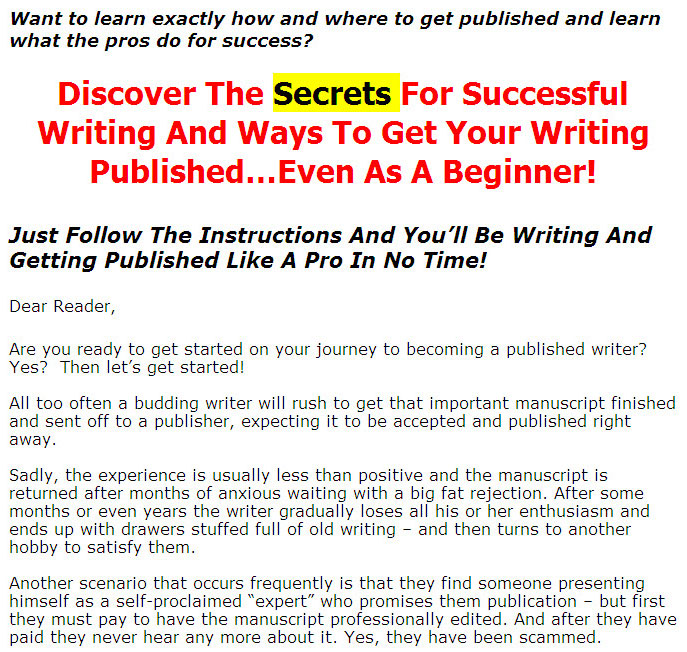 >> Click Here To View Sales Page...
Ebook Table Of Contents
1. How to Submit to Traditional Publishers ……………………………………… 2
2. Submitting Your Work to Magazines ………………………………………… 3
4. Getting Published Online ……………………………………………………….. 5
5. Articles for Websites …………………………………………………………… 7
6. What Can You Write? ……………………………………………………………… 8
7. How to Self-Publish ………………………………………………………………………… 9
8. Pros and Cons of Using a Vanity Publisher ……………………………………………. 10
10. A Guide to Writing Picture Books ……………………………………………………… 13
11. Chapter Books Explained …………………………………………….. 14
12. Tips for Writing a Novel ………………………………………….. 15
13. A Guide for Writing a Screenplay ………………………………………………… 17
14. How to Craft Short Stories for Competitions ……………………………….. 18
15. Don't Get Caught by Writing/Publishing Scams ……………………………………. 19
PLR Ebook Sample Content Preview
1. How to Submit to Traditional Publishers
Most writers will tell you that getting published is much harder than actually writing a book. However, there are a lot of things you can do to increase your chances of becoming a published author, even if none of your works have been published. You should definitely use the traditional submission method, but you should also use your writing skills to sell yourself and your piece.
The first thing you have to do is research. It is a good idea to find out how the publishing industry and book marketing work. The next step is to go to a number of bookstores and look for books that are similar to your work in terms of type, genre and style. This will aid you in finding the right publisher for your own work. Once you recognize the books, you can readily note the names of their publishers. Submitting your work to a publishing company that is known to work with pieces similar to yours will certainly increase your chances of getting published. In general, authors who have not been published before are recommended to look for medium-sized and small publishers, but if you feel that your book has a great potential, you should not hesitate to include major publishers in your list.
Once you have researched and decided to submit your work to a number of publishers, you have to make another important decision. It is up to you to choose whether to have an agent or not. Such a professional can do all the submission work and follow-up for you. In addition, they can use their connections to help you achieve your goal. Another important fact to keep in mind is that some publishers will only review works presented to them by agents. Still, if you choose to be represented by such a professional, you will have to pay them. Despite this, no agent can guarantee you that your book will get published. And then, many agents will not represent an unpublished author.
Assuming that you decide to submit your work on your own, you will need to find addresses for the submissions editor in the publishing companies you have chosen. They should be on the websites. Their preferences for submissions should also be on their websites. Aways follow these instructions carefully. Most publishers want a brief synopsis and the first three chapters, but for short picture or chapter books they will accept the whole manuscript. Most prefer the manuscript to be double spaced and typed on one side of the page only.
Other Details* Sales Page:
Included, HTML, MS Word Doc
* File Format:
MS Word Doc, PDF
* Number of Pages:
21
* Included Graphics:
Ecovers, PSD
* Download File Size:
2,586 KB