Salespage Snapshot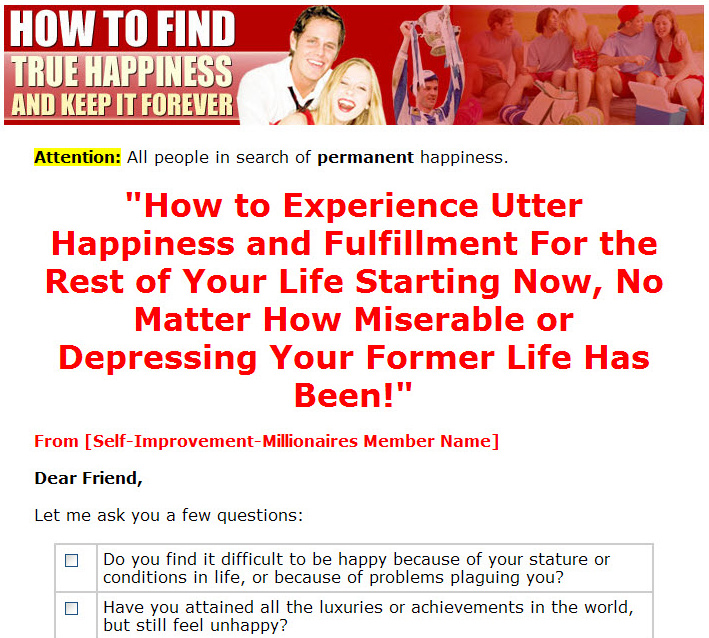 >> Click Here To View Sales Page...
PLR Ebook With Audio Table Of Contents
INTRODUCTION                                     5
CHAPTER 1: What Is Happiness?                        8
CHAPTER 2: Practical Sources Of Happiness                 12
CHAPTER 3: How To Achieve Happiness                     18
How To Increase The Level Of Happiness
How To Achieve Happiness In Unfortunate Situations
Happiness In Times Of Loss And Grief
Happiness During Trials
Happiness Amidst Troubled Relationships
Happiness While Living A Solitary Life
Happiness In Old Age
CHAPTER 4: Shortcuts To Happiness                     27
Live In The Present Moment
Fill With Love
Realize The Power Of Our Own Thoughts
CHAPTER 5: Essential Elements Of Happiness                 32
Good Health
Sufficient Source Of Income
Affection
Productive Work Of Activity
Good Attitude
Defined Goals
CHAPTER 6: Simple Strategies To Create Happiness             35
It Is In Our Thoughts!
Never Set Conditions For Happiness
Dislodge Negative Thoughts
CHAPTER 7: Major Causes of Unhappiness     and Fail-Safe Ways to Overcome Them      41
Burnout And Lack Of Productive Work
The Fear Of Rejection
Living According To Other People's Standards
The Fear Of Failure
Sins And Crimes
Alcohol And Drugs
Destructive Criticisms
CHAPTER 8: Blueprint For Overcoming Barriers To Real Happiness      47
Disappointment
Rage
Worry, Anxiety, And Stress
Envy And Jealousy
Pessimism
CHAPTER 9: Happiness-Enhancing Techniques                  54
Master The Boomerang Principle Of Happiness
Live A Life Full Of Love
Engage In Enjoyable Work
Achieve Financial Independence
Go For Inner Peace
Focus On The Trio Of Happiness
CHAPTER 10: Learn The Six Secrets Of Happy People                59
CHAPTER 11: Keys To Living A Longer, Healthier, and Happier Life        61
Keep A Positive Attitude
Perk It Up
Love Life
Appreciate Blessings
CHAPTER 12: Happiness And The Purpose Of Life             66
PLR Ebook With Audio Sample Content Preview
INTRODUCTION
Let's play a game!
Are you ready?
Considering the current world population, can you take a wild guess on how many people are happy?
For the answer, let us look at some interesting statistics gathered by George Ortega of The Happiness Show.
At any given time, one fourth of Americans are mildly depressed! Here's another startling fact: Most people on this planet claim that they are LESS than 65% happy.
We might think that those people who say that they are MORE than 65% happy are those who are rich. You think this is true?
Let me show you another set of statistics. The personal income of Americans has increased more than 2 1/2 times over the last 50 years YET their happiness level has remained the same. Furthermore, 37% of the people on Forbes List of Wealthiest Americans are less happy than the average American! Professor Daniel Kahneman of the University of Princeton shares the same findings for the British people, "Standard of living has increased dramatically and happiness has increased not at all, and in some cases has diminished slightly."
Indeed, true happiness is elusive. Most people continue to look for happiness but fail to find it. Even the great achievers, the wealthy, and most powerful people on earth have been striving for it, yet many failed to have it. Is happiness impossible to achieve?
Happiness is not impossible to attain. Didn't we feel ecstatic when we were promoted? How about when we got our first paycheck? Didn't we feel happy while in a loving relationship? How about the first time when we cradled our child in our arms? How about being in the company of close friends? It might have been a long time ago and we totally forgot that once in our life we have experienced moments of happiness.
Why is happiness so elusive for most people? Could it be that we have been looking for happiness at the wrong places? Is it possible that we have the wrong concept of happiness?
In all these discouraging statistics and questions, this report aims to provide a ray of hope.  Experiments conducted by New Zealand psychologist Kaye Haye, in line with The Happiness Increase Experiment, "have empirically demonstrated that individuals can be trained to be 25 percent happier through various training programs from two to ten weeks."
This report presents breakthrough ideas in order to equip the reader with tools on how to achieve happiness. As individuals, we have a choice. We can always choose to find happiness. This report points to its various sources. Succeeding chapters will provide ideas on how to create and achieve happiness.
In addition, this report discusses the different causes of unhappiness and teaches us how to overcome them. It cites several barriers to happiness. One such barrier is our unrealistic expectations. We must always remember we cannot command the world to function according to our own desires. We can only control our needs and wants, but not the forces needed to achieve them. If we keep on desiring endlessly, we are just exposing ourselves to unhappiness…
Other Details* Sales Page:
Included, HTML
* File Format:
MS Word Doc, PDF, MP3
* Number of Pages:
64
* Included Graphics:
Ecovers, PSD
* Extras:
Promotional Autoresponder Email Messages
* Extras:
Keywords
* Download File Size:
27,754 KB