Salespage Snapshot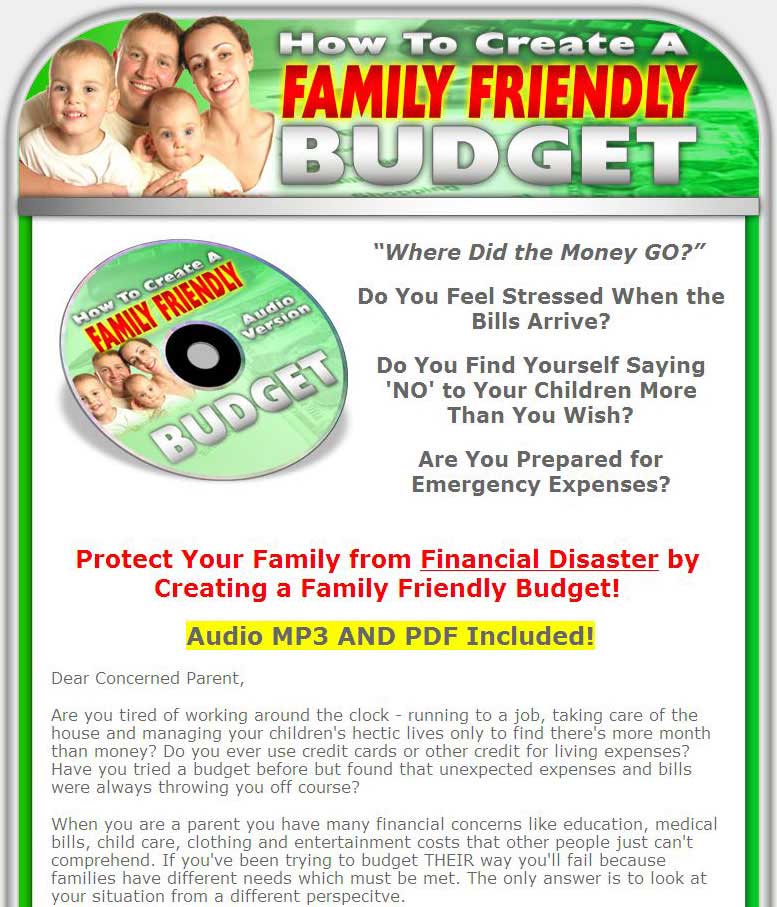 >> Click Here To View Sales Page...
PLR Ebook With Audio Table Of Contents
Why Your Family Needs a Budget    4
What Are Your Expenses?    6
What Is Your Income?    8
How To Plan A Budget With A Variable Income    10
What Is Your Debt Load?    12
How to Create A Yearly Estimate Of Expenses And Income    14
General Percentages for Creating A Realistic Budget    16
How to Include Impulse and Occasional Expenses To Your Budget    18
Tips for Identifying Your Family's Financial Goals    20
How to Plan Ahead For Large Expenses    22
Tips for Planning Education Savings    23
Tips For Tracking Your Family Spending    25
How to Create a Budget Friendly Family Menu    27
Budget Friendly Family Entertainment Ideas    29
Tips for Setting Up A Financial Organizing System    31
PLR Ebook With Audio Sample Content Preview
Why Your Family Needs a Budget
Every family unit, no matter how big or how small, needs to plan their finances. Why?
For starters, no one wants to run into debt they can't pay, or lose a purchase they have paid a deposit on and then find they can't keep up with the payments. If the electric is due and you don't have enough in the kitty to pay for it, then disaster isn't far from your door. If you plan your family budget wisely, these problems can be avoided.
Not only will you avoid problems of debt and loss; if you have a good stable financial plan and stick to it, you'll find that impulse buying will be less of a problem and you could end up having more to spend on the luxuries than you had anticipated. You will be able to save for the important things like the children's education, a holiday or a new car when it becomes necessary.
With a budget, you will always know when the major bills are due and that you can pay them. You will be able to have finances set aside for unexpected problems such as dental care, or doctors and hospital fees, the washing machine breaking down or car repairs. Of course, we all hope that these problems won't occur, but in real life teeth sometimes ache and accidents do happen. It's far better to be prepared than to be caught without the cash.
Budgeting your finances may seem like a bore, but you may be surprised how easy it is to find ways in which you can save money. Sometimes we waste money without realizing we are doing so. This can be especially so in food purchases. Many people complain about their checkout costs without stopping to consider if all that soda pop and chips are really necessary. Snacks like these could easily be kept as treats for special events like birthdays. You'll be surprised at the amount of cash you'll save; your waistline will thank you and the children's health will improve; all good reasons for keeping to a good family budget.
Other Details* Sales Page:
Included, HTML
* File Format:
MS Word Doc, PDF, Mp3
* Number of Pages:
32
* Included Graphics:
Ecovers, PSD
* PLR Articles:
Doc, Mp3
* Number Of PLR Articles:
25
* Download File Size:
127,019 KB