Salespage Snapshot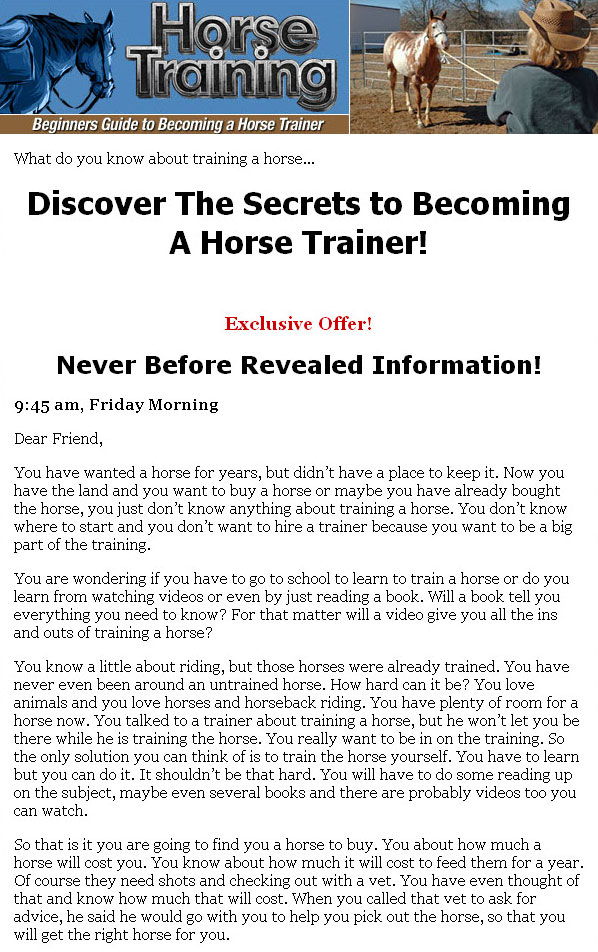 >> Click Here To View Sales Page...
Ebook Table Of Contents
Chapter 1 – Introduction    3
Chapter 2 – Tips on Buying a Horse    5
Chapter 3 – Mistakes Horse Owners Make    7
Chapter 4 – Tips for Beginning Trainers    9
Chapter 5 – Secret to Training Your Horse    12
Chapter 6 – Training the Horse to Know Voice Commands    14
Chapter 7 – Get Your Horse to Obey and Look to You for Instructions    15
Chapter 8 – Lead Training    17
Chapter 9 – Leading Your Horse to Get Control    18
Chapter 11 – Another Method of Loading a Horse in a Trailer    21
Chapter 12 – Mistakes Horse Owners Often Make When Loading Their Horse    23
Chapter 13 – Use Horse Training to Solve a Problem With Your Horse    25
Chapter 14 – Teaching Your Horse Longer Sliding Stops    26
Sample Content Preview
Chapter 1 – Introduction
If you are reading this book, you are either looking to buy a horse or maybe you have already acquired a horse.  Either way the will need to be trained.  Whether you do it yourself or hire a trainer to train the horse for you.
You already know the cost of purchasing a horse can range from about $1000 to $20,000.  You may have estimated the cost of feeding, shoeing, and health care to run you about $2,000 per year.  That $2,000 per year is if you have property in the country and will keep the horse with you.  If you are planning on boarding your horse, then you can expect an additional $2,000 to $3,000 per year.
Assuming you are planning on riding your horse an average of 350 hours per year, you will want to include in all those expenses the cost of your health insurance and possible time off from work.  Since you are asking yourself, "Why?"  I will explain.  There are thousands of people each year that receive injuries from horseback riding.  Twenty-five percent of those injuries happen to children who are 16 years of age and younger.  Many of the head injuries lead to brain injury.
The brain injuries can cause serious damages that have a lifelong effect.  Unfortunately we are not talking about injuries caused riding rodeos.  The majority of these mishaps occur during recreational riding.  Eighty percent of the fatal accidents occur at normal horse speeds and are not caused because the horse bucked or reared up.
As it turns out you are safer riding a motorcycle than you are on the back of a horse.  Researchers tell us that motorcyclists average 7,000 hours of riding time per serious accident, while horseback riders can expect an accident to happen for every 350 hours of riding time.
The best method of stopping injury accidents is education.  A properly trained horse is less likely to misbehave, and he will be a much safer animal to ride if he has been taught not to behave in a way that will cause a serious injuries.  These actions will include biting, kicking, or running away with a rider.  A well-trained horse will be much more patient with the odd habits of the untrained person.
Riding on the back of an untrained horse is like driving a car that does not have any brakes.  You can take them out for a test run, but you may come back dead.  Even thought the horse's intentions are good, if he doesn't have experience, you are riding around with a creature that weighs over a thousand pounds and likes to do whatever he wants.  As an investment, horses are more of a liability.  The horse has the potential of hurting someone and his resale value is next to nothing.
If you have an untrained horse, he can be dangerous.  You probably didn't buy him just to put him out to pasture and get fat and lazy.  Just remember training…
Other Details* Sales Page:
Included, HTML
* File Format:
MS Word Doc, PDF
* Number of Pages:
30
* Included Graphics:
Ecovers
* Download File Size:
414 KB

* Private Label Rights Terms & Conditions :

[YES] Includes Professional Sales Letter.
[YES] Includes Professional ECover Graphics.
[YES] Can be added into a paid membership sites.
[YES] Can convey and sell Master Resale Rights.
[YES] Can be offered through on any auction sites.
[YES] Can Sell Private Label Rights
[YES] Can be offered as a bonus.
[NO] Can be given away for free (any format).