Salespage Snapshot: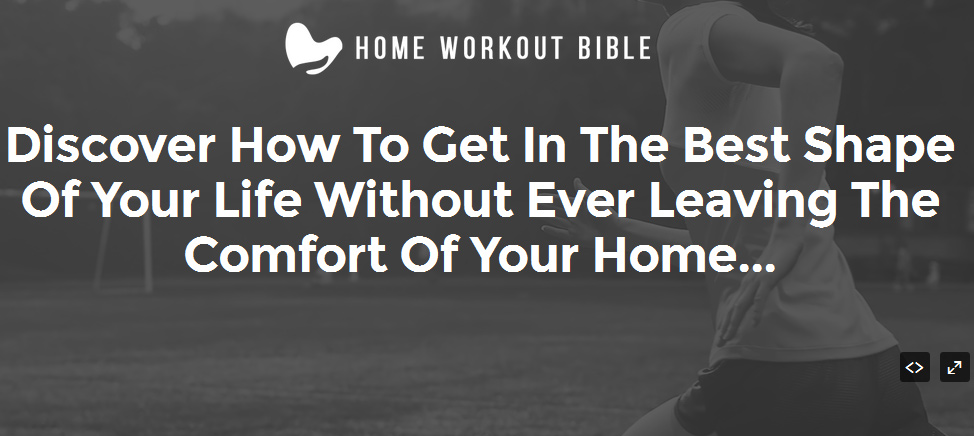 >>> Click Here To View Full Sales Page…
Table of Contents
Introduction .. 3
Chapter 1: The Challenges of Training From Home ….. 5
Pushing Yourself From Home …….. 6
Chapter 2: Creating Your Awesome Home Gym . 7
What Makes a Good Home Gym?. 7
The Basics You Should Invest In …. 9
Chapter 3: How Muscle Growth Works … 12
The Basics 12
Chapter 4: Using Intensity Techniques to Unlock Your Full Potential .. 16
The Weider Intensity Principles .. 17
Applying This Method at Home .. 19
Putting it Into Practice ……. 20
An Example …… 20
Chapter 5: Training Your Legs At Home … 22
Using Bodyweight ….. 23
Weighting Up … 24
Chapter 6: Bodyweight Training and How to Learn Incredible Beast Moves 25
The Basics 26
How to Perform Awesome Beast Moves …… 27
Chapter 7: Introducing Cardio and Weight Loss …….. 29
Adding CV Work …….. 30
HIIT …… 31
In Defence of Steady State Cardio ……. 32
Chapter 8: The Last Piece of the Puzzle – Diet .. 33
Calories VS Carbs ……. 33
The Answer …… 34
Conclusion … 35
Sample Content Preview
Chapter 1: The Challenges of Training From Home
So what are these challenges of training from home? Surely nothing could be easier than staying in shape when you have a bench press right there in your own home?
Unfortunately, it's not that simple and there's a good reason that most people will start out by hitting a gym. The first challenge is simply stocking your home up with the equipment you can need. It is possible to get into great shape using only bodyweight training and we'll be discussing that in more detail later on. The thing is though, that in order to get fast muscle building results, training equipment does help. That then means dumbbells, pull up bars, bench presses, treadmills and all manner of others things – all of which cost a lot of money, take up a lot of space and require some basic knowledge to use.
That's the other issue here too: knowledge. A lot of people simply don't know how to train on their own from home and this makes it remarkably difficult for them to build big muscle without going to a gym where they can meet trainers and see other people working out. Attempting a barbell on your own from the comfort of your own home can easily end up in a slipped disk or buckled knees! Fear is going to be immobilizing for a lot of people in this respect and prevent them from getting into shape.
And then there's the issue that a lot of people will have with motivation. If you're trying to get into shape in your front room, that means you have to try and avoid the distractions of TV and you need to stay motivated even though your bed is right there.
But even this isn't the hardest part…
Pushing Yourself From Home
The problem, is that in order to build your strength or your fitness, you really need to be able to push yourself. If it's muscle you're trying to build, then that means you need to be able to create muscle tears and you need to pump your muscles with metabolites (more on this later!). This is much easier to do when you're lifting big heavy weights and then dropping down each time you reach failure. It's much easier when you have a trainer barking at you. And it's much easier when you're in a room filled with other people working hard, with no distractions and with a soft floor that you're fine to sweat on.
The same also goes for losing weight. How do you lose weight? With lots of cardio. That cardio needs to be high volume, whether that is achieved through high intensity or long duration. Whether you're running for hours, or whether you're doing intense HIIT workouts – either way, training requires you to push yourself.
And when you're at home, you will often not know how to do this, nor be able to do it because you won't have the right equipment or necessary space.
But this book is here to change all that. In these chapters, you'll learn the secrets to training in such a way that you can break down muscle and transform your metabolism quickly and from the comfort of your home. Once you understand the logic, once you can crack the code, then you can go about building the power and health you're looking for.
So let's get started!
Chapter 2: Creating Your Awesome Home Gym
To start with, you're going to need to create your own home gym. This means finding the right equipment and stocking up your home, whether that's a spare room, your living room or even a garage (which is just ideal!).
The exact equipment you're going to need is going to depend largely on the goals of your workouts and what you're trying to achieve. The equipment you need to burn calories and lose weight for instance, is quite different from what you would use to build massive muscle.
As we're going to learn later in this book though, building muscle is actually still one of the key ways to burn fat. The more muscle you build, the more you'll drive up your metabolism.
What you'll find then is that there are certain things and certain principles that will apply no matter what your aims are. And there are definitely some specific pieces of equipment that everyone should own. Read on and let's take a look at what some of those are and how you should approach this process.
What Makes a Good Home Gym?
You are once again going to be faced with some unique challenges here when you begin building your own home gym. The first of these is the simple fact that your home gym shouldn't cost too much. If you're relatively new to the gym and if you don't have any equipment yet, it can be tempting to stock yourself up with everything you think you might ever need and end up spending a small fortune.
Likewise, you need to think about how you're going to store your equipment. If you have a room dedicated to being your gym, then this latter point will be easy enough. But if you do not, then you need to think about how you can make a gym that will be easy to take apart and put back together on cue, or one that is simply small enough and compact enough that it doesn't matter too much.
Oh and you also need to make sure you aren't going to smash any cabinets or go through any tables.
The best tip in this regard then is to start small and then build your way up. That means buying just a few items that you absolutely need to begin with but approaching them in a way that leaves you with the potential to expand and build upon that start.
Take dumbbells for example. Dumbbells are useful for practically every workout under the sun and can hit all manner of different body parts. But you're going to need dumbbells that are heavy enough if you hope to really make an impact on your muscle growth. Of course 'heavy enough' depends not only on your current progress (which will change with time) but also on the move you're doing. Lateral dumbbell raises are difficult to perform with anything above 10kg, even for a trained athlete. Conversely though, 10kg would be incredibly light for doing dumbbell presses.
So the way to approach this challenge is to start out with dumbbells that can be increased and decreased in size. This means you should be able to remove and add weights as the situation requires and as you build up. Normally, you can get dumbbell sets for around $30 that let you increase the weight up to 20kg. This is a great starting point, or you might want to buy two lots of dumbbells, which will then allow you to build up further still.
This is just one example of how you can approach your home gym in a modular and compact way if necessary, while at the same time saving money. Another example of something like this is the pull up bar. This is an incredibly unobtrusive item and one that will only cost you $10. You can even get pull up bars that don't need drilling into the ground – they will simply fit over the door frame in order to fix into place!
The best piece of equipment to upgrade your pull up bar? Gymnastic rings! Gymnastic rings are simply plastic rings that attach to rope and can be looped over a pull up bar. These then allow you to perform ring dips, muscle ups, the iron cross, reverse push ups (pull ups from a lower height, with your legs touching the floor stretched out in front of you) and all manner of other things! The best thing about gymnastic rings is that they cost very little once again and they can be stored in A skipping rope meanwhile is a great alternative to a treadmill, while you can also do a surprising amount with a bull worker – a piece of metal that offers resistance when squeezed. As we'll see later on in this book, there are likewise lots of things you can do with everyday items from around the home!
So think a little outside the box, use these tips and the principles behind these tips and build yourself a gym that does everything you need it to without taking up all the space in your home!
The Basics You Should Invest In But for those looking for more specific instructions, the following is a good list of equipment that you can invest in over time to gradually build up your gym. Now note that none of these things are absolutely essential to get started except the pull up bar and possibly the dumbbells depending on your interests and goals.
Here is how to start…
Pull Up Bar: As mentioned, a pull up bar is the bear minimum you need to start training and building muscle. The reason for this is that the majority of muscles can be trained using bodyweight alone. By performing press ups you can train the chest and the shoulders, by performing sit ups you can train the abs etc.
However, the parts that are hardest to train without equipment are the biceps and lats. These are 'pulling' muscles meaning you need to be pulling something in order to work them. Seeing as you can't pull the floor toward you, that means you either need to hang or curl.
Once you have a pull up bar, you can train your entire body – though it will be easier if you get a couple more items too.
Dumbbells: Dumbbells are incredibly versatile and are used for much more than just bicep curls. They can also be used for all manner of presses, for triceps, for rows that work the lats etc. You can also use them to add weight to your body while you train your legs.
Make sure to get dumbbells that can be increased in weight. Start with 20kg worth and buy two sets (giving you 40kg total) if you already have a good level of strength.
Bench: If you want to take your training to the next level, then look at invest in a bench. This will allow you to use your dumbbells in a much more efficient manner in order to do dumbbell presses, flyes and all manner of other moves. The best bench will be one that has an adjustable back, this will mean you can sit on it or lie on it and that will in turn mean you can do isolation curls and other moves with it as well.
On top of this, look into getting yourself a bench that can fold up in order to be put away. This way, you can tuck your bench under a bed or behind a wardrobe and it doesn't have to get in your way as a result.
Exercise Mat: This is not completely essential but you will find that training without an exercise mat can cause your floor to become slippery with sweat and can make a mess in your home. What's more is that a mat will make it easier for you to perform moves like sit ups without hurting your back or buttocks on the hard ground! This is also good for stretching and more.
Skipping Rope: For simply burning calories on the spot, there are few things better than the simple skipping rope!
Kettlebell: Now you're beginning to get more advanced. For training legs and burning calories, kettlebells are incredibly useful. That's because they will allow you to perform kettlebell swings
and all manner of squats (such as goblet squats). This in turn will mean you can build leg strength without needing a bar to perform deadlifts and squats. That's good news, because performing deadlifts and squats requires a lot of space in your room and are expensive to set up. A kettlebell can also be used for all manner of functional strength exercises, including things like one armed presses.
Gymnastic Rings: We already touched on the amazing benefits of gymnastic rings. The great thing is that these will let you do all the same exercises that TRX does but for a fraction of the price. In fact, they let you do a lot more seeing as TRX isn't really suitable for dips!
Bench Press: For those that really want to get serious, a full bench press will eventually be a good investment. This will mean getting a bar as well, in which case you might want to move into permanent set up so that you aren't loading and unloading the bar every time you want to lift.
Other Details
- 10 Articles (TXT)
- 1 Ebook (PDF), 36 Pages
- 5 Graphics (PNG)
- 1 Salespage (HTML)
- 9 Ecovers (PNG)
- 10 Promotional Ad Materials (Emails, Banners)
- Mindmap, Resource Report, Cheat Sheet, Social Media Images Pack, Legal Page, Sales Video
- Year Released/Circulated: 2016
- File Size: 107,140 KB
License Details:
[YES] Can be packaged
[YES] You Can Use This Product Yourself
[YES] Can be sold as it is not less than $7 price tag!
[YES] Can pass on the Resell Rights privilege to your customers.
[YES] Can Add This Product to a Membership Site or Bundled Within a Product Package as a Bonus.
[YES] Can be used to create audio/webinar/video products
[YES] Can Give Away The Product (NOT The Source Code Files) To Your Subscribers, Members or Customers as a Bonus or Gift.
[YES] Can change sales page and/or graphics
[YES] Can be added to paid membership sites
[YES] Can sell master resale rights
[NO] Add to a free membership sites
[NO] You can't just pass away the product to anyone
[NO] Contents of the product can be edited, modified or altered.