Salespage Snapshot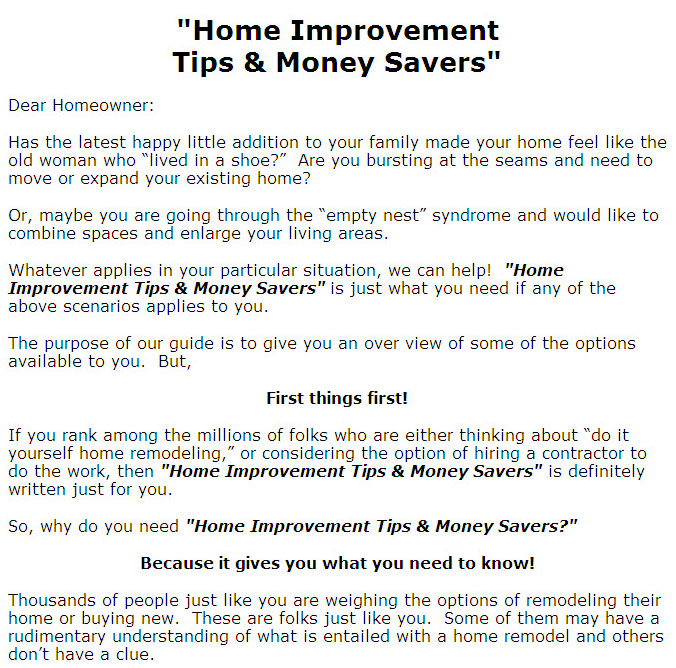 >> Click Here To View Sales Page...
Ebook Table Of Contents
Do It Yourself or Hire a Contractor?
Finding a Lender for Your Remodel
How To Increase the Value of Your Home
How Painting Can Polish a Sale
Bathroom Remodeling
Kitchen Design Strategies
Cheap Tips for Accessorizing Your Home
Organize Your Closets
Refinishing Wood Flooring
Wallpaper or Painted Mural – Which is Right for You?
Buy New Kitchen Cabinets or Reface?
Closet Organizer Tips
Carpet, Wood or Tile Floors?
All About Siding
Adding a Deck
Ebook Sample Content Preview
Do It Yourself or Hire a Contractor?
When remodeling your home – whether you are installing new circuits, redoing your living room, or just fixing that stubborn sink – homeowners are always caught in a quandary as to whether or not to call in a hired hand.
Calling in an expert is, for most people, the most prudent choice. A good many number of people have learned the hard way that fixing that leaky faucet isn't as easy as it looks. However, these experts can come with quite a price tag – in most cases, enough to make the homeowner think twice about doing the installation or repairs themselves.
If you are one of the millions of home owners that are considering doing the job yourself, or one of the other million seriously considering hiring a contractor, here are some tips to help you make that decision – a decision that could either cause that busted circuit to blow up, or your wallet to hemorrhage.
Does The Repair or Installation Need a Permit?
This is the first question you must ask yourself, whether or not the work to be done needs a local building permit. Simple repairs will not need such permits, but major installations may require that you apply for one.
Other Details* Sales Page:
Included, HTML, MS Word Doc
* File Format:
MS Word Doc, PDF
* Number of Pages:
58
* Included Graphics:
PSD
* Download File Size:
1,133 KB