Salespage Snapshot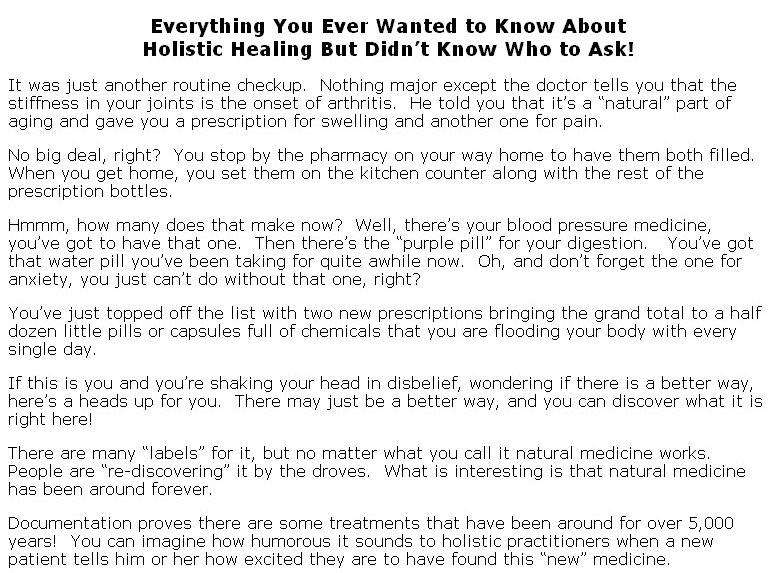 >> Click Here To View Sales Page...
Ebook Table Of Contents
Introduction
Overview
Acupuncture
Reiki
Aromatherapy
Ayurveda
Yoga
Massage
Herbal Therapy
Imagery
Meditation
Acupressure
Homeopathy
Hypnotherapy
Reflexology
Case Studies
Recommended Reading
Glossary
Ebook Sample Content Preview
Introduction
Q- We are going to be discussing holistic healing on a general basis. Can you tell us how long you have been involved in holistic healing?
A- Since about 1961, I had just finished what they call my right of passage, in my tribe on my 12th birthday that is when I made my declaration to my elders that I would accept the passing of the mantle so to speak of the family Shaman from my Great Uncle Jacob to me.
Q- What does that entail or are you allowed to say?
A- Well I am here to demystify the mystical and they're a lot of various practices and modalities around the world that have a hallmark of your either coming into womanhood or manhood and that is usually your 12th birthday.
The morning of my birthday my uncle Jake showed up at like 7 in the morning and we started walking and we didn't stop walking till that night.  This is a feat considering I grew up in Pittsburgh and we just started walking and eventually wound up heading over the bridge that connected you to downtown.  Then through downtown off over another bridge and up into the mountains which were then populated but it was like the suburbs.  We walked through there and back through another set of bridges back into town, crossed town and back into the mountains so to speak in the area in which we were living and then back down to the house where everyone was waiting with birthday cake and all this other stuff.
Other Details* Sales Page:
Included, HTML, MS Word Doc
* File Format:
MS Word Doc, PDF
* Number of Pages:
62
* Download File Size:
214 KB