Salespage Snapshot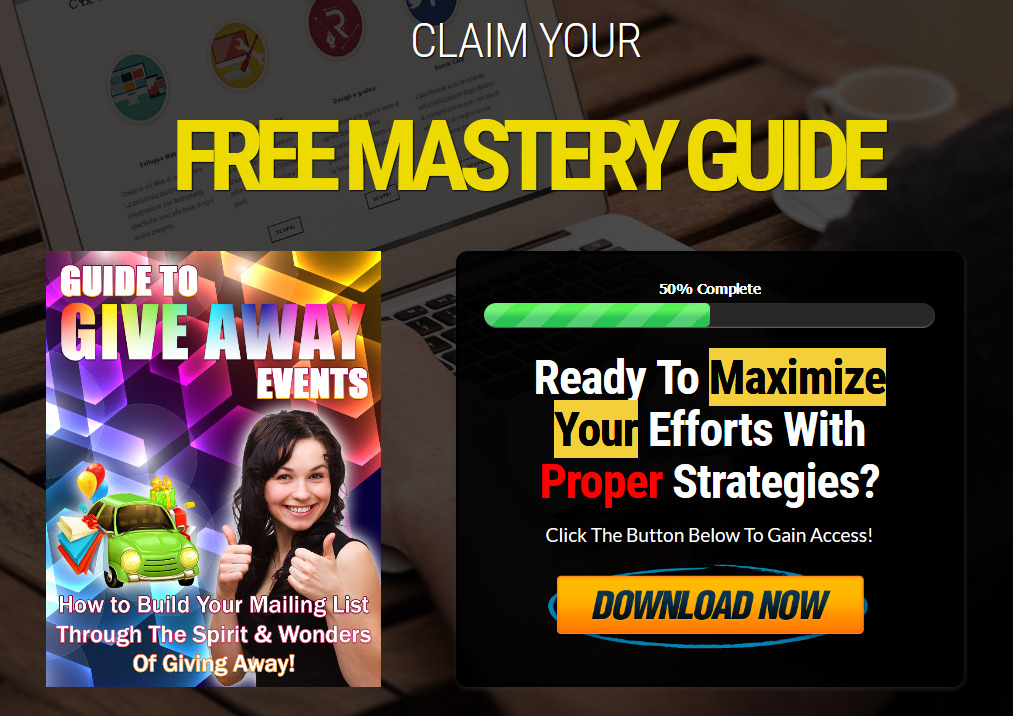 >> Click Here To View Sales Page...
Table of Contents
Give Away Events Exposed! 5
How Do Give Away Events Really Work? 7
What You Need To Have Before Joining A Give Away Event 10
How to Identify a Quality Give Away Event 14
The Hot Spots & Places to Look For Give Aways to Join 17
How to Maximize Your Cash Points From Give Away Events 19
Give Away Event & List Building Tips 21
Recommended Resources + Bonuses 24
Sample Content Preview
The host of the event then pools all the gifts contributed collectively by the partners in one page or member's area. This is where the visitors will go to download any gifts of their choice, and the link of the gift they click on brings them to the individual partner's signup page.
You, as the partner, prepare an opt-in page for visitors to sign up to your mailing list to download your gift. So in a real essence, anyone who wants to download your gift must opt into your mailing list to download your gift.
While the gifts are given away at zero-cost, the only requirement is that the visitors must sign up for your mailing list to receive them.
Your visitors-turned-subscribers has the option to cancel their subscription to your mailing list at any time, of course, but this is a good opportunity you should be taking to build your relationship with the newcomers to your mailing list or e-zine or membership site.
Okay, so that's EXACTLY how you're going to build your mailing list after all. But where DO these visitors come from?
Like ad swaps, Give Away events are really using subscribers to make subscribers.
On the launch day and during the limited time event, you and other partners are required by the host to endorse the Give Away event to your individual mailing lists. In other words, you are going to tell YOUR subscribers to go to the Give Away event to download their gifts at zero-cost, and the reason may vary depending on the occasion. It could be a gesture of "thanks for being our loyal subscriber" or even in conjunction with a holiday season.
Whatever the valid reason is, you should be instructing your subscribers to check out the Give Away event on a website where all the gifts are pooled together. With the host and other partners are doing the same, it will be a massive gathering of traffic at the website where all the gifts are being pooled.
In this collective effort, as long as your gift is displayed there with a link to signup for your mailing list to download it, and people are interested in it, you can receive plenty of signups in a short time span!
What You Need To Have Before Joining A Give Away Event
I'm sure by now that you're sold on the powerful benefits of participating in a Give Away event.
But before you start plunging into one, be sure to have the following essentials checked!
Your Own Mailing List!
That's right. I've mentioned a couple of times in this guide that Give Away events are pretty similar to ad swaps in one thing common: it's using subscribers to make subscribers.
Bear in mind, though, that having your own mailing list just isn't enough; you need to have a substantial one!
Nobody likes a free rider in any Give Away event. Period. And don't let that person be YOU! Unless you can contribute subscribers almost up to par with other partners, you're better off not joining a Give Away event in the first place.
As a matter of fact, most (if not all) Give Away event hosts are strict about partners having a minimum mailing list size before participating in their event. Also, it's important to note that you have to be willing and agree to their minimum mailing frequency to your mailing list; notifying your subscribers about the event you're joining.
While NOT all Give Away events are equal in their system, quality and results, you can qualify for a big number of Give Away events as long as you have over 1,000 opt-in subscribers, from my experience.
Your Own Gift
This is yet another critical success factor (more than just a need to join a Give Away event!).
Many events are accepting digital products of some kind. They are usually E-Books, software, scripts, Resell Rights, Private Label Content, membership passes, reports, you name it.
In short, prepare a digital product you are ready to part with.
Tip: notice I said "your own gift" in the sub headline? I personally don't advice giving away other people's products you own the (Master) Resell Rights to. For starters, NOT all products with Resell Rights can be given away freely. Doing so, you're probably asking for legal action being taken against you.
Secondly, you're better off creating your own gift so you can give it away in your name and brand it in the process. You don't want your visitors remembering other people while you're going a great length giving them away to build your list!
Creating your own gift doesn't have to be hard, however. You can, for example, write a 4-8 page report (easy feat, really) on a topic you know well. If you own a membership site, you can give a trial pass away or even offer a "lite" version. Pretty much the same can be done for software and scripts whereby you offer a limited time trial.
Important Tip 2: take a lot of pride and effort in creating a quality gift. This gift is going to make your first impression good or bad. So don't take it for granted… because people will be downloading it by the masses!
Auto Responder
I know this pretty much a given if you already own a mailing list. But I want to address a couple of important concerns.
Firstly, be sure to require a double opt-in for your visitors. This is in effort to prevent phoney details being keyed into your signup form by freebie seekers… who also want to take a step further in putting you into trouble such as spam issues. By requiring visitors to confirm their subscription from valid email addresses, you can cut more than a bunch of spam risks at stake.
Other Details
- 1 Ebook (PDF), 23 Pages
- 1 Squeeze Page (HTML)
- 3 Ecovers (JPG)
- Source DOC, Source PSDS
- Year Released/Circulated: 2018
- File Size: 118,147 KB
License Details:
[YES]Can be sold
[YES]Can offer Resell Rights
[YES]Can offer Master Resell Rights
[YES]Can resell Private Label Rights
[YES]Can be edited
[YES]Can put your name as the author
[YES]Can be broken down into articles
[YES]Can be used as web or e-zine content
[YES]Can be added into membership sites
[YES]Can be sold in any format
[YES]Can be packaged
[YES]Can be offered as a bonus
[YES]Can be sold on auction sites
[YES]Can be published offline
[YES]Can be given away (in any format)