Salespage Snapshot: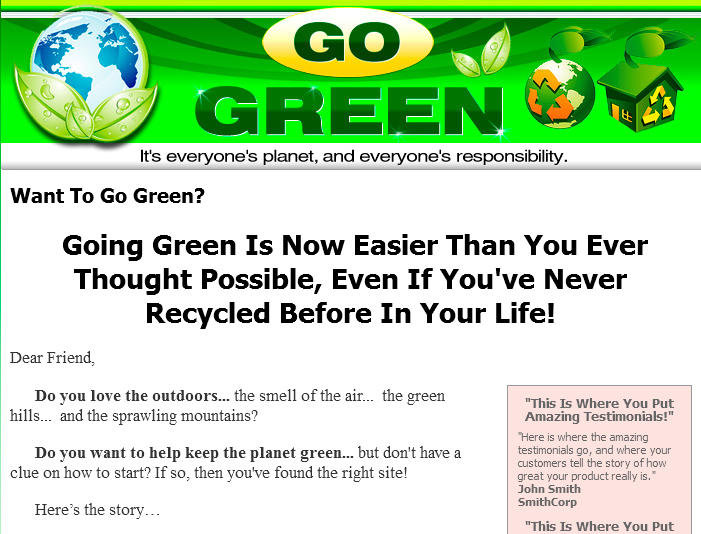 >>> Click Here To View Full Sales Page…
Table of Contents
Introduction: Why Go Green?
It's everyone's planet, and everyone's responsibility
It saves money in the long run
It's trendy
It's good for your health.
Environmental Studies
Studies listing effects of individuals on the environment.
Scientific Information Regarding Global Warming
The Granola Factor.
You don't have to make huge changes to have an impact.
Going Green is nothing to be scared of
Small changes count, too.
Go Green: You as an individual
What you can do.
Potential little changes.
Potential big changes
Go Green: You as a part of a family
What you can do as a family.
Room by room changes for the house.
In the Living Room.
In the Bedrooms
In the Kitchen.
In the Bathrooms.
In the Attic
In the Basement.
In Your Garage.
In the Front and Back Yard.
Get help going green.
Go Green: You as a member of the community
What you can do to help your community.
Volunteer opportunities
Activism
Go Green: You as an employee
What you can do as an employee
Potential little changes to suggest and implement
Potential big changes to suggest and implement.
Go Green: For businesses.
Self employed
Small business.
Haven't opened the doors yet?.
Corporations
Go Green: You as an advocate.
How to take your green attitude a step further.
How to compel other people to Go Green as well
Financial benefits of going green.
Case Study: What's the hubbub with bottled water?
Conclusion.
Websites of Interest.
Sample Content Preview
Now that's a roundabout way of saving some money.
If you need a more direct example of how going green can save you money, just think about all the money you will save in gas by riding your bike or walking instead of hopping in your car. It's hard to argue against that logic when gas prices are sky-high, but you can also consider the long-term benefit of skipping your car and using physical activity to get you from one point to another. Chances are the physical activity will make you healthier, and this will save you money in health care costs. Obesity is rampant in today's society, and if everyone spent more time exercising they would not only help the environment but they would save a lot of money in medical bills. Lower medical bills is an economical plus for everyone.
It's trendy.
Every few years a cause comes along that really gets people riled up. Celebrities rush to leap onto the cause's bandwagon and before you know it the cause is considered awfully trendy. People who don't embrace the cause are at risk for appearing callous or antisocial. Going green has become the cause du jour. This certainly doesn't cheapen the environmental cause, but it does have the benefit of getting people's attention much more than if it wasn't a trendy cause at all.
Going green is different from causes in the past. This particular cause affects everyone. Nobody is immune from the repercussions of pollution and poor air quality. Everyone witnesses the same species becoming threatened of extinction. Everyone is warned of the global warming crisis.
This isn't a cause that is trendy because a random celebrity decided it would be. This cause is trendy because it is a cause that affects everyone and that everyone can have an impact on. The richest of the rich and the poorest of the poor both have an environmental impact, no matter how big or small. This is a cause that spans beyond borders and reaches the far ends of the Earth.
Of course, it helps that the celebrities are in on it.
Once celebrities stopped driving gas-guzzling vehicles and started riding around in hybrids, the general population paused to think about how maybe they should get their hands on hybrid vehicles. When celebrities started showing up in droves at charitable functions designed to benefit the environment, other people started to wonder if maybe they should get involved in this cause too. Once the cause became a bona fide trendy cause, people were in a frenzy to go green.
This doesn't cheapen the cause at all. If anything, celebrity involvement is one of the best things that could have happened to the green movement. It made the general public much more aware of the issues and compelled many people to start thinking about the environmental impact they have on a day to day basis. Going green is a hot topic.
Other Details
- 30 Articles (TXT)
- 2 Ebook (PDF, RTF), 44 Pages
- 7 Part Autoresponder Email Messages (TXT)
- 1 Salespage (HTML, RTF)
- 3 Ecovers (JPG)
- File Size: 1,930 KB