Salespage Snapshot: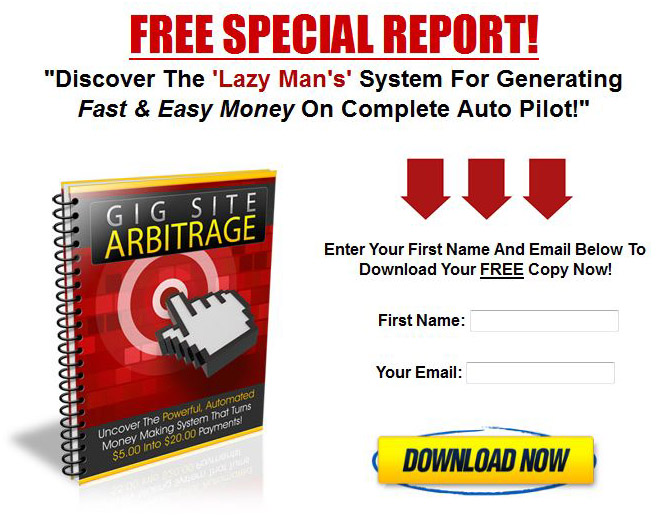 >>> Click Here To View Full Sales Page…
Table of Contents
Gig Site Arbitrage …. 3
Turning $5 Into $20 . 5
Creating A Killer Offer .. 6
Finding Reliable Service Providers . 8
Integrating Payment Options …. 12
Maximizing Your Income 13
Tapping Into An Instant Customer Base 14
Automation Tips …. 15
What To Do Next …. 16
Resources …. 18
Sample Content Preview
I know, that sounds like a lot of hype, and if you're anything like me you have every right to be skeptical. It took years before I found a viable way to make fast cash online and before I stumbled across this "Carbon Copy" system, I was starting to believe that the only way I'd ever make money online was if I spent every waking moment huddled over my computer, working my fingers to the bone.
And hey, I'm not afraid of a little hard work but I always questioned anyone's system that relied exclusively on manpower. After all, there had to be a way to make some good money while also exploiting the power of automation.
Well I found that system after years of struggling within the constraints of a typical 9-5 job and now I'm making more money than I ever have before but without 1/4 of the 'usual' work involved. In fact, I spend no more than 20 minutes a day "working" and I continue to make thousands of dollars a month.
Do you want in on this little money making system of mine? Good! Let me show you exactly how it's done. Let's begin!
Turning $5 Into $20
Imagine just how much money you could make if every time you invested $5.00 it turned into a crisp $20.00 bill. Now imagine if there were no risks involved and you were guaranteed to always make more than you spent. How many $5 bills would you be willing to trade for $20 bills?
My system relies on one key component that never fails AND it's designed so that the workload is not only minimized but can be automated! In fact, you won't be doing any of the work yourself at all!
Here are the nuts & bolts of how this money-making system works:
1: You exploit existing services that are selling like hot cakes and you outsource the work – cheap.
2: You create a simple sales system that offers the service at a higher premium.
3: You serve as the middleman between the service provider and hungry customers who are anxious to pay for in-demand services.
4: You pay just $5 to the freelancer and charge each customer $20 (or more!) and pocket the difference.
Bottom line: You resell services and make instant, ongoing money for doing very little!
Does this all sound too easy? Too good to be true? Well, let me tell you that I am not the only one making insane money using this 'carbon copy' system. There are dozens of others who are exploiting this very system as a fast and easy way to make money, and you can do it, too.
Consider the profit potential of making $15 for every $20.00 service you sold. If you sold even 10 packages every week, you'd make an extra $150.00 a week. That's $600.00 in easy cash every single month!
Best of all, not only will you have very little work involved, (if you consider accepting money and paying someone to do everything 'work'), but you can start making money as soon as today, just by following my very simple system. It begins with creating a quick sales page that showcases the offer and gives customers a way to pay you.
Creating A Killer Offer
One of the most important steps to making the most money possible with this system involves creating a killer sales page that outlines the services you are offering. This is the one task that you will want to spend time on, because it essentially NEEDS to attract customers.
This doesn't mean that you have to spend a lot of money hiring developers or designers. In fact, I don't want you to spend more than $40 on your website's design because you simply don't have to. Just head on over to http://www.ThemeForest.net
Click on "Site Template" from the top navigation menu and it will load up hundreds of professional themes and templates that you can browse through. You're looking for a high quality theme that's easy to work with (so stick with HTML if that's what you are familiar with or a WordPress theme if that's what you prefer). You don't need a website with all the bells & whistles, you're looking for a clean template, free of clutter, excessive graphics and one that loads quickly.
I recommend searching through the "Retail Templates" category, as many of these themes will be designed around service-based templates.
http://themeforest.net/category/site-templates/retail
Once you've chosen a template, you will want to create a Theme Forest account, purchase the template, download and extract it. Next, open it inside of your preferred HTML editor like FrontPage or Dreamweaver.
If you've done a good job at selecting a simple theme you shouldn't have to make any design changes. Your only task should be to write up your service offer making sure to highlight exactly what your customer will get and when they will get it. So,
1: Service outline
2: Delivery Date
In order to create your sales page you will need to choose your service providers first. Then, you can simply use their existing service description to create the outline on your site!
Finding Reliable Service Providers
Finding professional and trustworthy service providers is key in making this system work. You want to focus on finding service providers that have been delivering on time, have a history of performance, have a higher rating and have proven that they can deliver as promised.
So, where do I find the very best – most affordable – and reliable service providers online?
Gig Sites!
My main focus is on hiring service providers through http://www.Fiverr.com however you can explore as many other gig sites as you wish (although I'm confident that you will find as many providers as you'll ever need just from within the Fiverr community).
With Fiverr, you pay only $5 per gig, and can turn around and price each service up to $20.00 or more on your site. This is the easiest way I've ever made money online and I guarantee, it will be the easiest way YOU ever make money as well. What you are looking for:
Providers with history. It's too risky hiring new service providers that may discontinue their service shortly after you launch your website, forcing you to replace them. Focus on service providers that have established history with Fiverr and have offered their gig for at least six months.
Proven Track Record. Choose only providers that have a high rating (95% or higher) and positive feedback from a variety of buyers rather than just one. Look for service providers with repeat customers indicating reliable delivery and customer satisfaction.
Reviews. Read through all of the reviews for potential service providers, paying attention to both positive and negative. While even the best providers may have the occasional negative review, they should be few and far between with far more positive reviews left by satisfied customers.
Consider emailing any service provider that you are considering prior to choosing them to complete services for your website. Contacting them will ensure that they are still active, and that they are easy to communicate with (prompt response, English speaking, etc). You can contact any potential service provider by clicking on the "Contact Seller" link at the top of every gig page. You will have to be logged into your Fiverr.com account in order to contact sellers.
When it comes to making the most money possible by reselling services, it's important to focus only on services that are always in demand and proven to make money.
To save you time, I've created a list of the top services found on Fiverr. These are in-demand services that visitor's to your website will gladly pay you for, time and time again. You can always find additional services just by paying attention to what's popular on Fiverr.com.
Other Details
- 1 Ebook (PDF, DOC), 18 Pages
- 7 Part Autoresponder Email Messages (TXT)
- 1 Squeeze Page (HTML, PSD)
- File Size: 4,769 KB