Salespage Snapshot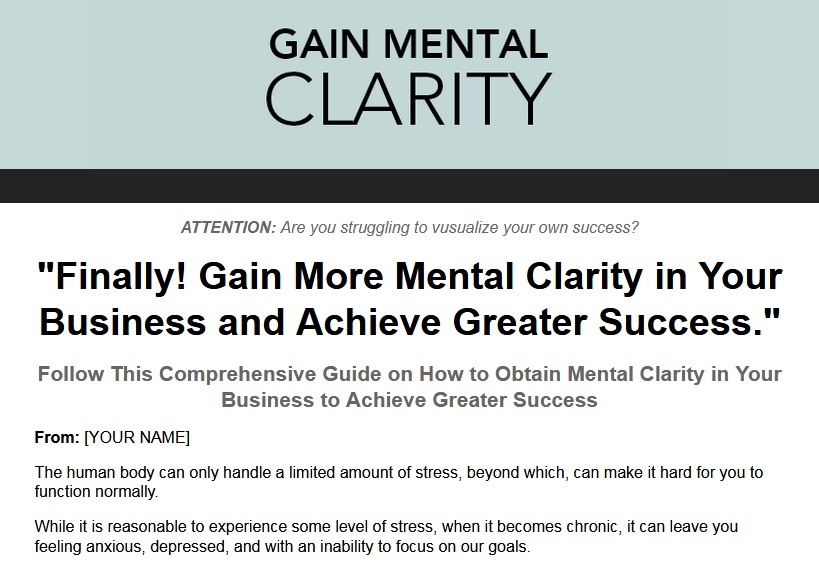 >> Click Here To View Sales Page...
Table of Contents
INTRODUCTION 5
CHAPTER 1 – THE DIFFERENT KINDS OF MENTAL CLUTTER AND
WHAT CAN TRIGGER IT .. 8
NEGATIVE SELF-TALK .. 9
WORRYING 10
FEAR 11
GUILT .. 11
REGRET . 12
THE NEWS . 13
MONEY 14
THE PAST .. 15
YOUR CURRENT HABITS .. 16
CHAPTER 2 – LETTING GO OF THE PAST 17
RECOGNIZE WHY LETTING GO IS IMPORTANT .. 18
STOP PLAYING THE VICTIM .. 20
EXERCISE YOUR MIND WITH POSITIVE AFFIRMATIONS .. 20
SAY WHAT YOU FEEL 21
LOOK TO THE PAST FOR POSITIVITY . 21
CHAPTER 3 – THE POWER OF POSITIVE THINKING . 23
THE BRAIN AND OPTIMISTIC THOUGHTS . 24
YOU ARE WHAT YOU THINK 25
HOW TO BECOME MORE POSITIVE 26
GAIN MENTAL CLARITY
CHAPTER 4 – HOW TO IMPROVE YOUR FOCUS . 29
WHY FOCUS IS IMPORTANT . 29
WHAT CAUSES YOU TO LOSE FOCUS .. 30
HABITS THAT CAN LEAD TO A LACK OF FOCUS 31
CHAPTER 5 – WAYS TO CLEAR THE MIND CLUTTER .. 34
PRACTICE MINDFUL BREATHING 34
WORK OUT 35
START WRITING MORE DOWN 36
READ A BOOK .. 37
KEEP A LIST .. 38
SAY NO TO INTERRUPTIONS 38
QUIT PROCRASTINATING .. 39
CONCLUSION .. 42
Sample Content Preview
Fear
Fear can also clutter your mind and prevent it from effectively processing information. If you have ever experienced the feeling of dread in regard to a situation that you've never dealt with before, then you're aware of the fact that fear can stop you in your tracks. Fear can prevent you from being able to accomplish what should or needs to be performed while also being able to manipulate your brain in the process.
If you allow fear to penetrate your mind to the point that it's preventing you from doing something to move you closer to your goals, then it should be clear that fear is an important kind of mental clutter that you need to eliminate from your life.
Guilt
Guilt or shame typically manifests in the mind when we're not happy with the decisions that we've made that we aren't excited about. This becomes twofold when the choices that we've made in the past end up hurting people we care about or people who have trusted us in some way. Guilt can end up taking a lot of mental space up in your mind when you aren't able to let go of your poor choices.
Instead of letting these poor decisions go and allowing them to become a learning experience, people can sometimes cling to
their feelings out of guilt, or even shame. This kind of clinging fuels a situation where the individual allows their self-worth to become tarnished and allows low self-esteem to develop.
Additionally, guilt and shame can end up opening up your mind and letting negative self-talk through. For example, if you feel guilt or shame about a situation from your past, you can start to become resentful or angry toward yourself. Once you become angry and resentful, negative thoughts can start to form and take hold of your mind.
Being able to acknowledge feelings of guilt and shame is the first step toward relinquishing your mind from the grasp of guilt. Once you can recognize these kinds of emotions in yourself, you can then start to work on forgiving yourself and forming a more positive relationship with your mind.
Regret
The final kind of mental clutter is regret. It is essential to realize that every single, self-defined, happy person in this world has more than likely done something that they regret. Making a bad decision is just one of the unfortunate realities of being human. It is not about the decision itself, but rather it is more about how you deal with the decision when the outcome isn't what you expected.
It's common for people to focus more on the result of a situation and less on what was learned from a single experience. Being human involves being able to objectively look at what went wrong and where you can improve, however, it is entirely possible to become caught up in the past, rather than being optimistic about your future.
There is a common thread that runs through these five types of mental clutter and can be best described as an inability to let go. If you identify with any of these kinds of mental clutter, the chances are high that you are sometimes too hard on yourself, which can block your ability to gain mental clarity. The ability to release yourself from the burden of knowing that you could have done something differently is essential if you want to find mental clarity.
Now that you know some of the most significant kinds of mental clutter that could be causing you to lose focus, it is vital that you understand some of the specific triggers that can lead to a more cluttered mind.
The News
For many people, the daily news can be a trigger point that ends up causing unnecessary worry, guilt, and stress. These days, it can sometimes seem as if everything on the news focuses on violence, controversy, or negativity. If you are used to watching the nightly news, you can determine if it is a trigger point for you by keeping track of how you feel afterward.
Either write down how you feel, or you can use your phone to record your feelings. It's essential to take note of the emotions that might arise that are associated with the types of mental clutter discussed previously.
Once you've recorded your feelings after watching the nightly news, take a few nights off from watching it. Take a step back from the chaos and see how you feel. You may find that your mind is a bit clearer when you refrain from watching it. While this doesn't mean that you should completely hide from current events around the world, by recognizing that the news can sometimes clutter your mind in unexpected ways, you might be able to protect it better when necessary.
Money
Another trigger point that may cause you mental clutter is the subject of money. It doesn't matter where you are in regards to your career; money is something that causes everyone a lot of fear, worry, and even regret. If you continuously think about money and how to get more of it, there are a few things that you can do to help you think about it less. Start by altering your mindset.
Rather than being anxious and worried about the lack of money you have, try being grateful for the money that you do have. Then you need to be upfront with yourself about where the money you do make is going. After you determine where you spend your money, you can start to cut costs wherever possible.
The Past
Another trigger that leads to mental clutter for many of us in the past. Sometimes the past is simply a reference point as we move through life. However, this doesn't mean that we should allow the past to define our future.
When you focus on the past, it can seem like your inner demons shine brighter than they should. We've all made mistakes, taken others for granted, and have done things that we are not proud of. When you focus on these negative aspects of your past, rather than the positive ones, you are more likely to be overly hard on yourself.
If you can start to think of the past as being less defining to who you are today, it can lead to a less cluttered mind when you are making important decisions.
Other Details
- 20 Articles (TXT, DOC)
- 1 Ebook (PDF), 43 Pages
- 1 Graphic (PNG)
- 1 Salespage (HTML)
- 4 Keywords List (PDF, CSV)
- Checklist, Lead Magnet, Optin Page, Social Media Messages, Opt-in Page Headline, Email Swipes, Salespage Headline, Infographic
- Year Released/Circulated: 2019
- File Size: 47,627 KB
License Details:
[YES] Can be sold
[YES] Can be used for personal use
[YES] Can be packaged with other products
[YES] Can modify/change the sales letter
[YES] Can be added into paid membership websites
[YES] Can put your name on the sales letter
[YES] Can be offered as a bonus
[YES] Can be used to build a list
[YES] Can print/publish offline
[YES] Can convey and sell Personal Use Rights
[YES] Can convey and sell Resale Rights
[YES] Can convey and sell Master Resale Rights
[NO] Can modify/change the main product
[NO] Can modify/change the graphics and ecover
[NO] Can be given away for free
[NO] Can be added to free membership websites
[NO] Can convey and sell Private Label Rights