Salespage Snapshot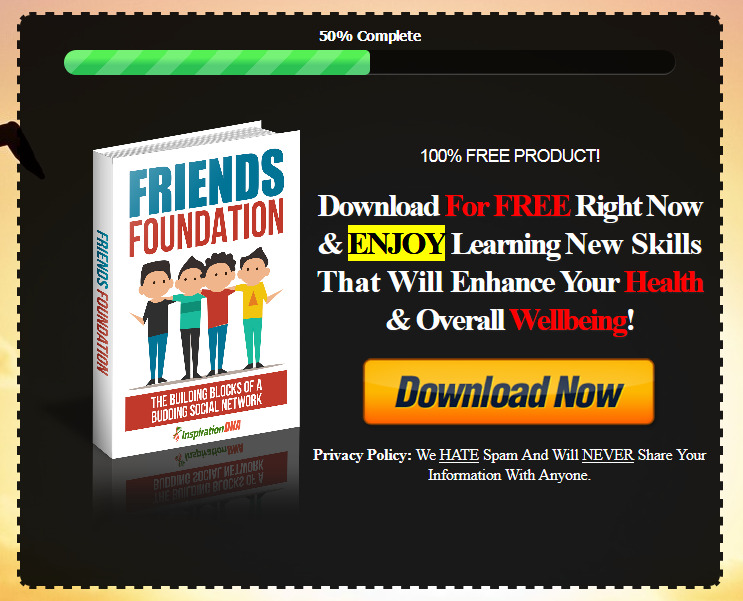 >> Click Here To View Sales Page...
Table of Contents
Chapter 1: Introduction
Chapter 2: Baby steps to making new friends
Chapter 3: Where to expand your social network
Chapter 4: Making friends on the cyberspace
Chapter 5: How to make friends in social events
Chapter 6: Tips for strengthening friendship bonds
Chapter 7: Conclusion
Sample Content Preview
Chapter 2
Baby Steps To Making New Friends
First impression lasts.
In making new friends, your disposition and manner of getting along with people at first meeting most of the times matter.
A smile always captivates a person. Not only does it brighten your day, but most importantly, it gives the new people you meet a hint that you are friendly and approachable. Based on observation, those people who are not smiling are perceived as strict and closed type of people. Thus, don't forget to wear your smile every day.
Being well-groomed is also liked by a lot of people. A person who doesn't know you will always look at your outward appearance. After looking at your face, your clothes and dress up will be the next thing to be observed. If you are always seen dirty and not well-dressed, people will not be interested to make friends with you, except for few who like dirty-look. Otherwise, being clean and fresh is mostly desirable.
As you start a conversation with someone new, always maintain a good eye-contact with that person. By that, you will be sensed as someone who is sincere and a good listener. People always want to be listened and by simply lending an ear attentively, that person will feel respected.
Giving compliments to people will also increase your degree of being treated as a friend. Somehow, it gives the person you are talking to sense of belongingness and value. When a person is discouraged, a compliment remark always gives comfort and encouragement.
Showing your interest in other people is also an effective way of making friends. Focusing on them will make them feel that you are concerned with them and that you are indeed a potential good friend they can count on.
Having a balanced emotion at hand gives people an impression of your maturity as a person. Hence, it would be good if you are always watching on how you carry your emotions whatever situation you are in.
These are only few of the ways how you can gain new friends. There are still a lot of things you can effectively do to befriend new people. However, you don't need a long list of these steps. So long as you master and apply these steps appropriately, lot of new friends is just around the corner.
Chapter 3
Where To Expand Your Social Network
Having a large circle group of friends increase your social value in the community as perceived by people. Not only that. Belonging in a big social circle also allows you to have a wide range of finding a potential lifetime partner.
Statistics show that more than 75% of the world's population found their spouses within their social group. We must admit, developing a romantic relationship inside a circle of friends as far easier than going outside and meet other strangers.
Perhaps, expanding your social network is a must do. You can get started here.
Enhance your status of friendship with the people you know.
Somehow, strengthening your connection with your current friends is easier and more convenient. You don't need to exert much effort. Instead, you just need to develop your bonding with them to get closer in each step of the way. In your social circle, there are possibilities that there are still number of your friends who don't know about the other people in your group of friends. In this case, you can serve as connectors for them to get in touch and connected. You can also initiate surprises and other activities that your friends will find thoughtful and sweet. You can organize birthday parties for those who are celebrating their birthday. Or, you can also set up a party for your friends to reunite.
Doing simple things to special people matters, just make an effort to do so. Build friendships with new people.
No doubt, meeting new people and reaching out to them is an effective way of expanding your social network. It doesn't guarantee you an easy journey to gain new friends form the outside. Not all people want to make more friends. Some are much closed type. But you have to accept rejections and uneasiness. Don't engage on these things more and don't let it get the worst of you. Simply be flexible and learn to mingle with different types of people well. Soon, you will befriend some and enlarge your social circle.
Chapter 4
Making Friends On The Cyberspace
Meet new friends in the other world
Yes, there are other avenues where you can build friendships. Another world of active people is available for you to find friends. It's not the world after death. In fact, this world is full of life. It is open for you 24/7.
The Internet offers a lot of options you can choose from to meet new friend and get connected with them. They might not be as strong as friendships in the real world, but it surely is an exciting opportunity to make friends with different people all around the globe. You just have to explore it and potential friends everywhere you can get along with well.
In this modern world today, it would be alright to assume that you have already a lot of experiences surfing the internet. With this, you have surely experienced making friends online already. The fact is that they are everywhere. You can always meet them online and start building good friendship with them.
Social networking sites are now widely used to get connected with people all around the globe. Hence, you get the chance to meet new people and befriend then in the easiest and most convenient way. The most popular networking sites are Facebook, Twitter, MySpace and many more. You don't need to know these people by names. The friends of your friends can help you get connected with new people fast. Also, these sites are providing you friend suggestions. So, you don't really have to worry much. Indeed, these are the best places for you to interact with people who have same interests as you do. You get to learn from them and relate to their likes as wells as dislikes. What make these sites more interesting is that they allow you to view the profiles of your newly met friends. By this, you will be able to grasp a glimpse of their lives and background. When you like their profiles, you can send them an invite. It's up to them to accept your invitation or reject it. But most of the times, your invitations get accepted easily. Enjoy adding friends and get them on your list.
Other Details
- 1 Ebook (PDF), 27 Pages
- 2 Graphics (PNG)
- 1 Squeeze Page (HTML)
- Year Released/Circulated: 2017
- File Size: 2,899 KB
License Details:
[YES] Ebook Can be given away against an email address
[YES] Can sell the WHOLE product and keep 100% of the sales
[YES] Can sell the WHOLE product with Resale Rights
[YES] Can sell the WHOLE product with Master Resale Rights
[YES] Can edit the Squeeze & TY + MRR Upsell Pages
[YES] The WHOLE product can be packaged with other products you sell
[YES] The WHOLE product can be offered as a bonus with other products you sell
[YES] The WHOLE product can be added to paid membership sites
[YES] The WHOLE product can be offered through auction sites
[NO] WHOLE Product can be given away
[NO] WHOLE Product can be added to free membership sites
[NO] Ebook can be modified in any way
[NO] Can sell with Private Label Rights