Salespage Snapshot: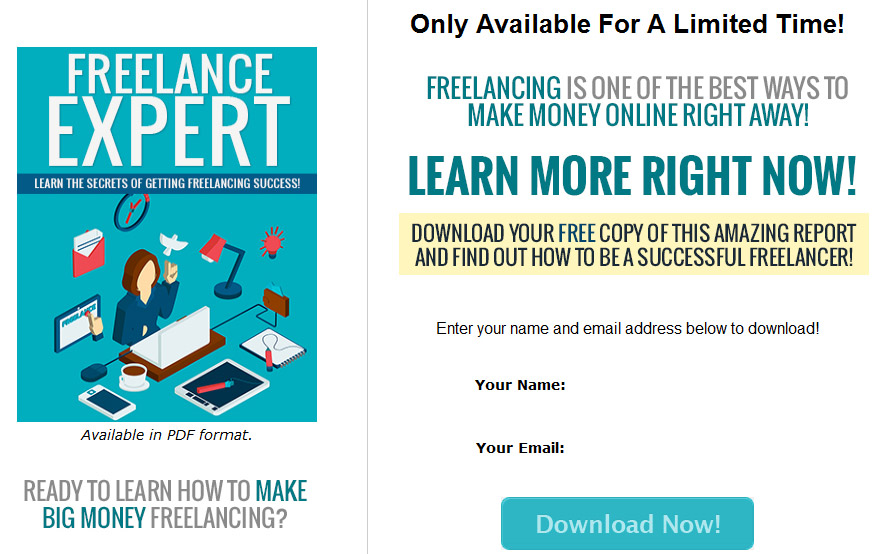 >>> Click Here To View Full Sales Page…
Table of Contents
Table of Contents 3
Introduction 6
Potential Drawbacks 7
Taxes 7
Interruptions 8
Instability 8
Lack of Benefits 9
Services 10
Writing 10
Design 11
Artwork 12
Voiceovers 13
Video Editing & Creation 13
Other Ideas 14
Finding Work 15
Your Portfolio 15
Fiverr 16
Webmaster Forums 18
Freelance Websites 18
Writing Websites 20
Conclusion 21
Resources 22
Sample Content Preview
Instability
Finding work as a freelancer isn't guaranteed, and you may find the lack of a guaranteed paycheck is too much to deal with. Because work is so unstable, especially in the beginning, many freelancers work a full-time or part-time job to supplement their income.
You can increase your chances of finding work consistently by putting yourself in as many freelance marketplaces as possible, presenting a professional portfolio of work, and seeking references and testimonials that may help others choose you over their competition.
Lack of Benefits
One huge thing that is a deal-breaker for a lot of potential freelancers is the lack of any benefits such as retirement and health insurance. While a lot of jobs don't offer such benefits, either, most people don't end up staying at those jobs for very long.
Health insurance for the self-employed is outrageously expensive, but if your income is relatively low you can qualify for Medicaid, or at least a reduced price on your health insurance.
Retirement is a huge issue, and it's important to start saving early. Self-employed individuals should start an IRA (Individual Retirement Account) as early as possible and contribute the maximum amount possible to be sure they have money available for retirement, because they won't be paying money into Social Security and thus cannot collect any when they retire.
Remember, there are drawbacks to everything—even traditional jobs. Freelancing may not be for everyone, but for others, it's the only thing that makes them happy.
Services
First, we're going to talk about some of the different services you might be interested in offering as a freelancer. Some of these will probably be obvious, but since you might not immediately think of all of them.
There are so many different services you could potentially offer to clients, and you can make money with whatever you find most interesting and have the most talent and ability to do.
Writing
Writing is the first thing most people think of when it comes to freelancing, because it's the one thing that doesn't take a lot of natural talent or technical training to do. Most people have enough of a grasp of basic English spelling, grammar and punctuation to take at least basic writing jobs.
In fact, some freelance designers or programmers do writing work on the side to supplement their income in between design jobs.
Because writing has a fairly low barrier to entry, it's also highly competitive and doesn't pay as much as some other types of freelancing. A simple article can pay as low as $1.50, but more complex jobs, especially if they need to be very high in quality, can pay significantly more.
There are many different types of writing you can do as a freelancer. For example:
• Blog posts and articles
• Short reports
• Non-fiction e-books
• Fiction (books, stories, poetry, etc.)
Different types of work pay different amounts, but technical writing and fiction writing (such as ghostwriting romance books for authors) can pay quite a lot.
Design
Design requires a little bit more technical ability than writing, but if you have the aptitude for it and the experience, you can make good money doing all types of freelance graphic work.
At the basic end of the design spectrum are things like advertising banners and book covers. These require only a graphics program like Photoshop or GIMP, some stock photos, and a decent level of talent.
At the higher end are projects like posters, as well as projects that require some more technical ability like designing websites and user interfaces for apps and programs.
Here are some ideas for the types of graphics you can create:
• Book covers for authors
• Advertising banners
• Posters and flyers
• Websites and blogs
• Logos
If you want to get work as a designer, it's extremely important to create a good portfolio with examples of what you can do. If you have never done a particular type of work before, create a few examples for your portfolio, even if they are fictional. (For example, create a cover for a book that doesn't exist, or create your own version of the cover of a popular book.)
You could also offer to do work for people for free in the beginning to build your portfolio, but keep in mind that even if you're offering free work, some people will want to see what you can do before they commit to working with you so they don't waste your time and theirs if they end up not liking what you produce.
Artwork
If you're a talented artist in any medium, there's a great opportunity for you to earn money with that talent. Gone are the days when the only way an artist could make money was by selling original paintings. These days, artists have a lot of possibilities for earning!
Other Details
- 1 Ebook (PDF, DOC), 24 Pages
- 7 Part Autoresponder Email Messages (TXT)
- 1 Squeeze Page (HTML, PSD)
- File Size: 3,836 KB