Salespage Snapshot: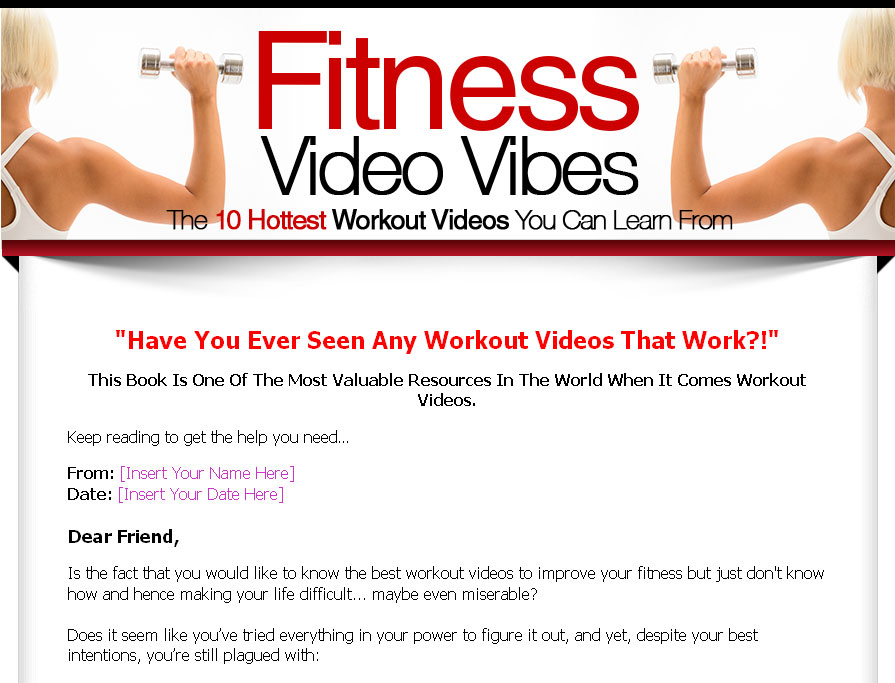 >>> Click Here To View Full Sales Page…
Table Of Contents
Foreword
Chapter 1: The Pit Work Out Chapter 2: Aerospace- Savage and Serene
Chapter 3: Tony Horton's P90X
Chapter 4: Turbo Fire
Chapter 5: Strength Building Yoga
Chapter 6: Men's Health-15 Minutes Workout
Chapter 7: Insanity: 60 Day Total Body Conditioning Program
Chapter 8: Billy Blank's Taebo T3
Chapter 9: Brazil Butt Lift
Wrapping Up
Jari Love's Get Ripped Series
Sample Content Preview
Chapter 4:
Turbo Fire
Synopsis
Turbo Fire is yet another workout video that will get your heart pumping and your body burning calories in the quickest and safest way possible.
The system behind Turbo Fire was developed by Chalene Johnson and requires you to complete a high-intensity cardio conditioning program in ninety days.
The thing that truly makes the system unique is its one-minute Fire Drill workouts where you have to work out as hard as you can. Afterwards, you'll enjoy a short rest to give your metabolism time to recover and work again in the next set. With Turbo Fire, you can expect to shed calories nine times faster than your regular workout.
What You Get from the Turbo Fire Challenge Pack
This 12-DVD set includes the following types of workouts:
10-minute class on Abs
10-minite class on Stretches
Core 20 Workout
Tone 30 Workout
Sculpt 0 Workout
30-minute and one-hour videos on Advanced HIIT Workouts
20 and 25-minute videos on Low HIIT Workouts
15, 20, and 25-minute videos on Extreme HIIT Workouts
Fire Starter Workout
30, 40, 45, and 55-minute videos on Fire HIIT Workouts
Also included in the set are some thigh-firming bands and resistance bands which you can use during sculpting and toning exercises. You have the option as well of following the 5 Day Inferno Plan, which is aimed to help you lose as much as ten pounds in just five days!
Class Schedules
Those who have successfully completed the program consider its excellent workout music and its equally wonderful trainer Chalene Johnson as two of the greatest strengths of Turbo Fire. Of course, it also helps if you follow the Class Schedule provided by the system as well.
You are strongly advised to start your schedule on a Monday, as this is likely to achieve the best and speediest results. If you take a glance at the program's recommended schedule, one day of the week – Wednesday to be specific – is set aside for rest. This is just as essential to follow as your body needs proper time to recover. Without sufficient rest, your body might be forced to burn off muscles instead of excess fat.
Fuel the Fire Nutrition Guide
Working out is just one half of your journey if you want to burn as much calories as you can in the shortest time possible. The other half consists of your diet or nutrition. It's not just a matter of reducing your daily intake but it's also about knowing what to eat and when best to eat. You will know more about this with the nutrition guide provided with your Turbo Fire pack.
Similar to other workout videos and weight loss systems, Turbo Fire is often accompanied with a recommendation for health supplements. There's nothing wrong with giving those a try either. After all, you have much to gain if those supplements work for you!
To further improve your results, you should also take advantage of all the other free resources that come with your pack. These include private access to online sites or social networking groups where you can check out how other individuals are doing as well
Chapter 5:
Strength Building Yoga
Synopsis
Though it has only gained popularity in the past decade, yoga has actually been practiced centuries ago in Ancient India. It started more than 5,000 years ago. It is used in religions such as Hinduism and Buddhism as a form of Spiritual pursuit. These days, it is most commonly used as a form of mind-body fitness and therapeutic purposes.
What makes yoga different is that it is very low-impact and it has meditative components added. Unlike other cardio exercises that require faster movements of the body to speed the heart rate, yoga focuses on the breathing technique.
A lot of people might not be aware of this, but yoga is also used to strengthen the body. Can yoga replace popular types of strength training such as lifting weights? As a matter of fact, yes. The biggest misconception about this exercise is that it's only functionality is focused on meditation and relaxation. That is not the case.
Yoga
There are styles of yoga that are designed to teach the body how to move in ways that develops balance, flexibility and most importantly, strength. We will discuss the different yoga movements that will help build muscles in different parts of your body. There's no need to lift weights, instead; lift your own body weight!
What are the different yoga positions that help tone your body?
For the core, Plank Pose is the simplest and the best way to tighten the core muscles. It is done by going on all fours. Starting with the arms and knees in table pose then straightening the legs to form a line between your shoulders and your heels. This pose will have you balancing your body weight on your hands and toes. This pose will help tone your abdomen.
For strengthening the entire core, the Dolphin Plank Pose is like a step higher from the regular plank pose. The only difference in the position is that the elbows are dropped down and your palms are together.
The Chair Pose is for strengthening the thighs and ankles. It also reduces the abdominal fat. It is called chair pose for a reason. You will literally shape your body as if you are sitting in an imaginary chair but with your arms stretched up high. The challenging part is holding the position for a few seconds to minutes. For a more challenging move, every time you exhale sit deeper down into your chair pose.
For toning most parts of the body in one pose, Virabhadrasana or the Warrior Pose is perfect. It hits the thighs, shoulders, arms, abs, ankles and neck are all getting toned. There are three different levels of the Warrior pose, each getting a bit harder but strengthening each muscle more.
To do the warrior pose, take a large step forward then bend that knee forward, making a lunge position. Then bring your hands over your head. You can keep your palms separated or join them together like a prayer.
All of these poses are good for the entire body. However, if you have no prior experience doing yoga it is best to learn with a teacher to avoid any injuries.
Other Details
- Ebook (PDF, DOC), 39 Pages
- Salespage (HTML, PSD)
- Ecover (PSD, JPG)
- Thank You, Earnings Disclaimer & Privacy Policy Page (HTML)
- File Size: 19,733 KB