Salespage Snapshot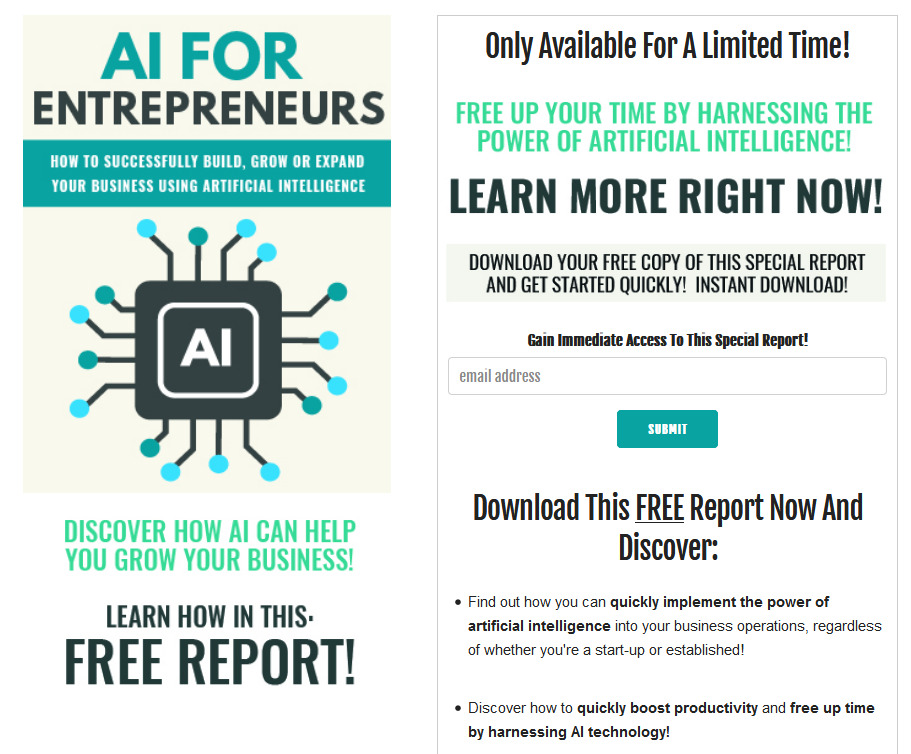 >> Click Here To View Sales Page...
Table of Contents
Introduction 5
What AI Can Do for You 8
How to Incorporate AI into Your Business 14
How to Get Started Quickly 20
Taking Your Business to the Next Level with AI 24
3 Tips to Using AI Successfully 29
Final Words 34
Resources 36
Sample Content Preview
The goal is to help improve and even automate the sales process.
Platforms like Salesforce have begun using AI that helps small businesses analyze the data from those communication channels and then adjust lead generation activities and marketing based on that information.
AI-infused CRMs can help you generate more leads for the same amount of marketing money. They also show how AI can be used to gather marketing- and sales-relevant insights to optimize nearly the entire customer acquisition process.
Automating customer communication. Many small businesses have started using chatbots on their websites.
Chatbots can initiate conversations and help answer customer questions. It's like a 24/7 sales or customer service rep.
You've probably already encountered a chatbot, even if you didn't think of it as artificial intelligence. It's that little pop-up chat box at the corner of a website that asks if you have any questions or problems.
If you don't have a dedicated customer service or sales team yet, a chatbot might be the way to go, taking some of the pressure off your shoulders and letting you put your focus on the things that are important.
Streamlining human resources tasks—An unexpected area where AI has started appearing is in the field of human resources.
AI tools are available to not only streamline the hiring and "onboarding" processes, but also gather information from new employees that helps HR improve those processes. And both of these can have a major impact on your bottom line.
AI can automatically sort through that stack of applicants to find the people who most closely match the criteria you're looking for.
This can not only improve your odds on finding the perfect candidate, but also save you valuable time and resources.
And once that candidate is brought onboard, the software can help educate employees with questions about company benefits or policies.
This can reduce the time you spend on the hiring process and increase the number of high-quality candidates you see, since you just don't have the time to wade through all those applications yourself.
It then reduces the amount of time HR spends on answering questions from your new employees.
Acquiring competitive intelligence—You've probably dreamed of being able to gather and analyze your competition easily—from written and video content to social media posts and marketing campaigns that help them better position their business.
Well, the great news is that artificial intelligence can do that for you!
There are several tools that let you keep tabs on your competitors and their activities, including collecting the information for you, and then convert it into easy-to-read reports.
Crayon, for example, a competitor analysis tool, uses artificial intelligence to track competitors across a variety of digital channels such as their websites or social media posts.
It then collects a variety of information for you, like slight adjustments in their marketing language or pricing changes.
These types of AI tools allow you to gather more detailed information faster, which means you respond faster and more efficiently to industry changes that might affect your business!
How to Incorporate AI into Your Business
There are many ways you can begin to implement AI into your business to maximize exposure and growth.
Here are a few ideas:
Become familiar with AI, and what it's capable of.
Luke Tang's TechCode Accelerator can give you a wide variety of resources since it partners with organizations like Stanford University and with "corporations in the AI space."
Take advantage of the treasure trove of information out there, and familiarize yourself with the basic concepts of artificial intelligence.
Tang himself recommends some of the workshops and online classes offered organizations like Udacity.
They're easy ways for you to get started with artificial intelligence and help improve your knowledge of things like machine learning and predictive analytics.
Here are some resources you can use to get started (not all are free):
Udacity's "Intro to AI" course and their Artificial Intelligence Nanodegree Program.
Stanford University's online lectures: Artificial Intelligence, Principles & Techniques.
Microsoft's open-source "Cognitive Toolkit" (previously called CNTK) to help master deep-learning algorithms.
Google's open-source "TensorFlow" software library for machine intelligence.
AI Resources, an open-source code directory from the AI Access Foundation.
Start by identifying the problems you want artificial intelligence to solve for you.
Once you've got the basics down, the next step is to start exploring and brainstorming ideas.
Start thinking about how you can incorporate AI into your existing services and products. You probably already have specific cases in mind where artificial intelligence could solve some of your problems or provide demonstrable value.
Maybe it's streamlining the hiring process or helping your customers by answering questions.
"When we're working with a company," Tang says, "we start with an overview of its key tech programs and problems. We want to be able to show it how natural language processing, image recognition, machine learning, etc. fit into those products, usually with a workshop of some sort with the management of the company. The specifics always vary by industry.
For example, if the company does video surveillance, it can capture a lot of value by adding machine learning to that process."
Prioritize value.
Other Details
- 1 Ebook (PDF, DOC), 36 Pages
- 7 Part Autoresponder Email Messages (TXT)
- 1 Squeeze Page (HTML)
- Year Released/Circulated: 2021
- File Size: 3,556 KB
License Details:
[YES] Can be sold
[YES] Can be used for personal use
[YES] Can be packaged with other products
[YES] Can modify/change the sales letter
[YES] Can modify/change the main product
[YES] Can modify/change the graphics and ecover
[YES] Can be added into paid membership websites
[YES] Can put your name on the sales letter
[YES] Can be offered as a bonus
[YES] Can be used to build a list
[YES] Can print/publish offline
[YES] Can convey and sell Personal Use Rights
[YES] Can convey and sell Resale Rights
[YES] Can convey and sell Master Resale Rights
[NO] Can be given away for free
[NO] Can be added to free membership websites
[NO] Can convey and sell Private Label Rights