Salespage Snapshot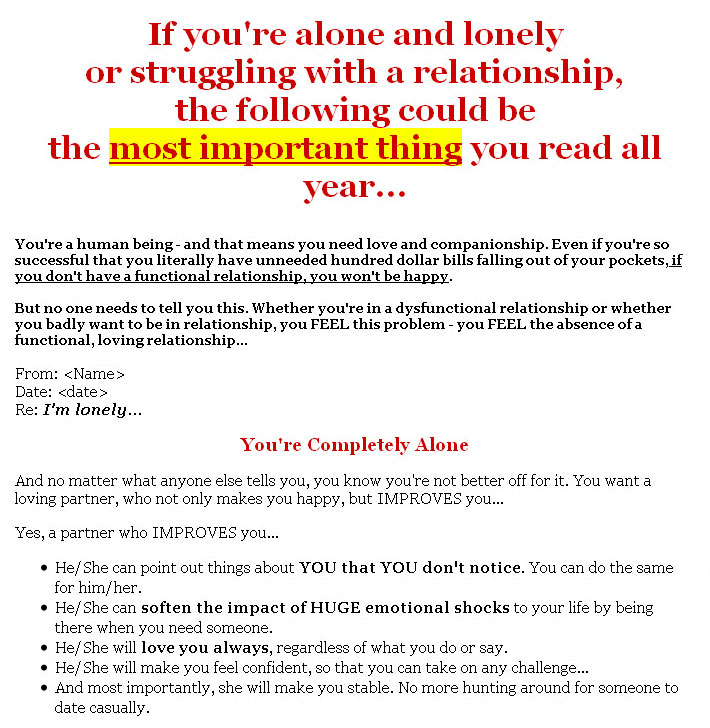 >> Click Here To View Sales Page...
Ebook Sample Content Preview
Introduction:
Finding the right partner can be a challenge. Many people spend their entire lives looking for the perfect partner to share their lives with. Sadly some never do find the right person for them and these people end up either spending their lives alone or going through many separations and divorces.
Others somehow find their soul mate and spend many years together. You see couples who are complete opposites getting on well and understanding each other. On the other hand some are just drawn to each other like magnets from day one. There is a certain mystery to lasting relationships that can never be fully explained.
Much of your choice will be determined by your past relationships. Experience plays a large part in how you will form relationships with others. The good times, the bad times and just plain ugly times will all have an effect on your current relationship.
Family plays a big role in forming later relationships: Were you very close to your Father, or did he leave when you were too young to know him? The dominant male figure in a family will have a lasting impact on the sort of men you may like to be with and form relationships with.
Is your Mother a sweet loving person? Or is she a dominant force in the family? Is she overprotective? Or did she never have time for you? All these factors will add up in your subconscious mind and affect the sort of woman you will feel attracted to.
What are you actually looking for in your relationships? Do you just drift in and out of them or form deep and meaningful relationships?
There are so many questions to think about and so many factors to take into consideration when you form a relationship with anyone. This book will set you thinking and also offer some tips and points to help you find your perfect relationship.
Other Details* Sales Page:
Included, HTML
* File Format:
MS Word Doc, PDF
* Number of Pages:
51
* Included Graphics:
Ecovers, PSD
* Extras:
30 Articles
* Download File Size:
905 KB