Salespage Snapshot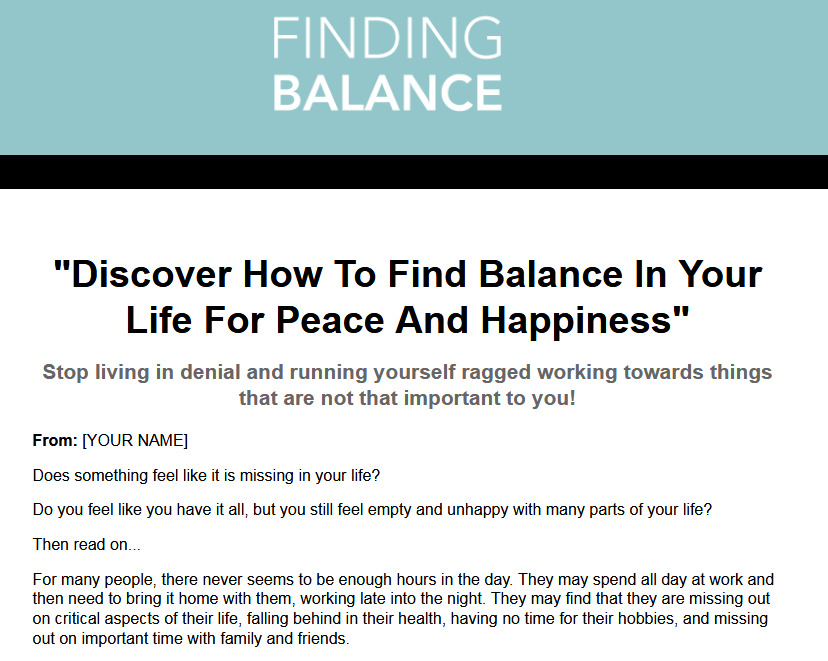 >> Click Here To View Sales Page...
Table of Contents
Introduction 6
Chapter 1: Know What Matters 9
Find Times When You Were Happiest 9
Find the Times When You Were Proud 10
Find Times When You Were Satisfied and Fulfilled 10
Determine Your Top Values 11
Reaffirm Your Values 13
What If I Have More Than One Value? 14
Chapter 2: Balancing Work Without Compromising Your Career 17
Consider How You Work 18
Stop Comparing Yourself to Others 19
Learn How to Say No 20
Leave Work at the Office 20
Chapter 3: Balancing Family and Time With Loved Ones 23
Plan Ahead 23
Turn Off the Technology 24
Listen to the Needs of Others 25
Use Words of Affirmation 25
Chapter 4: Balancing Relationships to Faster Stronger Social Ties 28
What Makes Social Connections Healthful? 28
What Counts 29
How to Strengthen the Ties 30
Chapter 6: Make Life Worth Living By Balancing Your Hobbies And Passions 36
Chapter 7: Don't Forget To Act 41
Chapter 8: Put It All Together 45
Start Small 45
Do One Day At a Time 46
Know When to Say No 47
Stop Adding More Activities 49
Take Time to Breathe 49
Cut Out the Electronics 50
Consider Time Management 51
What is Your Organizational Pattern? 52
Conclusion 55
Sample Content Preview
you know is right. This makes it easier to approach all decisions with clarity and confidence. You will also have some peace of mind to know that what you are doing is going to be the best for your future and current satisfaction and happiness, based on what is the most important for you.
The most important thing to remember is that the answers to all of these questions will be different for each person. Each person has their own values and what they find is the most important for them. Do not compare yourself to someone else. Figure out what your values are on your own for the best results.
What If I Have More Than One Value?
It is possible to have more than one value at a time. In fact, most people do. You probably will take a look at the list that we will talk about and all the aspects that come with balancing your life and will want to work on all parts of it at some point. But the important thing to consider is what your biggest values are right now and what you feel is the most important in your life right now.
All of the areas of your life should hold some value for you. And your most important value will probably change. If you do not have kids right now, your work may be one of the most important parts out there. But if you do have young kids, you may want to focus more on personal time with them and less on your career for now. It all depends on the unique individual and what works the best for them.
Chapter 2: Balancing Work Without Compromising Your Career
One area that a lot of people struggle with is trying to figure out how they should balance their work and their home life, without sacrificing their career. They have a lot of big ideas on how to create a great career and getting ahead, but they also worry about not getting a chance to spend time developing their family when they are short on time there too.
Prioritizing your work life balance is going to reduce the amount of stress that you have and prevent things like burnouts. This will help lead to a healthier and happier life overall. Recognizing the value of this, many professionals are trying to look for ways to have flexible work days and hours and choosing jobs that help them get ahead while still getting a chance to spend time with the family.
But how are professionals supposed to achieve a good work life balance without having to sacrifice your career ambitions? Some of the steps to make this happen includes:
Consider How You Work
Finding the right work and life balance is all about redefining the attitude that you have to work and then figuring out where all of your priorities lie. You do not need to do a deep soul search to make this happen, but you can go through and look at some of the practical elements. Map out what you would like to achieve in your personal and professional life, and then put a timeline that is realistic on it.
For example, start by looking at how you divide up the working day, how long you spend commuting, and when you seem to be the most productive. Would remote working make life a bit easier? Is there the right supports for you to achieve success in this business while still being at home sometimes?
Once you have a better idea of what is occupying your time and what you would like to give more of your time and energy to, it is easier to compartmentalize some of the different elements without having unrealistic expectations on yourself. Realize that it is not always possible to get the perfect split with home versus work time.
Some weeks you may get more home time and others you may have to do more work time. But if it is balancing out from one week to the next, this is a good sign that you are focusing on your values.
Stop Comparing Yourself to Others
This can be important for your personal and professional life. Stop looking to others to validate how happy or successful you feel. While it is a good idea to have some tracker for your progress to make sure that you are performing well, you do not need to add in the progress or the accomplishments of others to make this work.
The biggest issue here is that how well others are doing is not going to be important to your own trajectory for work. Plus, you are probably not seeing a true comparison. Sure, that other person is probably ahead in work, but maybe they do not have kids at home to take care of? Maybe both you and your spouse are working with they have someone at home. The grass always looks better on the other side of the fence, so stop comparing and focus just on your own goals along the way.
Other Details
- 1 Ebook (PDF), 55 Pages
- 2 Graphics (JPG, GIF, PNG)
- 1 Salespage (HTML)
- Checklist, Resource Cheat Sheet, Mindmap, Optin Page, Social Media Images, Email Swipes
- Year Released/Circulated: 2021
- File Size: 54,097 KB
License Details:
You're granted master resell rights, resell rights or to resell with personal use rights. Price for resell is strictly $7.00 minimum
You may add this product to your PAID membership site
You may giveaway the product as a bonus when people buy through your affiliate link
You may edit the included sales page and opt-in page
No, you may NOT edit the contents of the eBook(s) & videos
No, this product does NOT include private label rights. You are granted Master Resell Rights only
No, you may NOT giveaway the eBook(s) & videos for free.
Must be sold for at least $7.00 (videos $17)