Salespage Snapshot: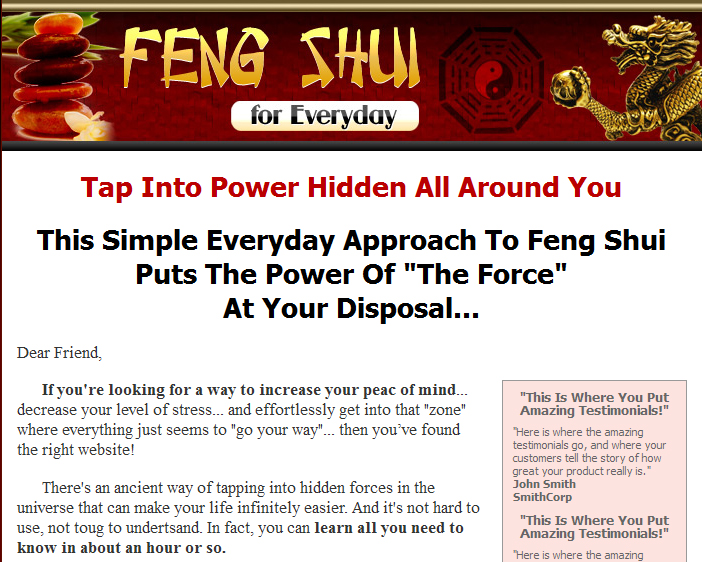 >>> Click Here To View Full Sales Page…
Table of Contents
Introduction
What is Feng Shui?.
Ten Benefits of Using Feng Shui
The History of Feng Shui.
The Foundations of Feng Shui.
Chi.
Polarity
Bagua or the Eight Symbols of Feng Shui.
The Three Schools of Feng Shui
1. The Form School.
2. The Compass School
3. the black hat sect school
Feng Shui in the Modern World
Mapping a Room ACcording to Feng Shui.
Items You can Use to Balance Different Areas of a Room.
Feng Shui and Your Health
Five Ways to Use feng shui to help your health.
Color and Feng Shui.
Feng Shui Color Basics.
Tips for Using colors in feng shui.
Why Furniture Placement Matters in Feng Shui.
Feng Shui Furniture Placement Tips
Common design and decorating Mistakes according to feng shui.
Feng Shui Tips for the Living Room.
Feng Shui Tips for the Bathroom
Feng Shui Tips for the Kitchen.
Feng Shui Tips for the Master Suite and Bedrooms.
Feng Shui Tips for a Home Office
Feng Shui for Your Yard and Garden.
Create a Meditation Space Using Feng Shui.
Feng Shui Tips for Your Cubicle or Office at Work.
10 Feng Shui Tips to Use all Around Your Home.
Where to Find Feng Shui Products
Five Ways to Find Great Deals on Feng Shui Products.
Five Feng Shui Products You Need to Have
Five Important Feng Shui Symbols
Hiring a Feng Shui Consultant.
What to Ask a Feng Shui Consultant
Conclusion.
Sample Content Preview
"everything bowl" in English. The lo-pan represents the mysteries of the Universe and using it to determine the best spot in a room to put furniture or to decide where is the best spot build a new building is believed to be the best way to make sure that your home is balanced properly.
The Chi in Feng Shui represents the Universal life energy that flows through every living thing on the planet, including the Earth itself. The science of Feng Shui is finding ways to manipulate items like furniture or clothing, or even the body itself, to tap into that energy and make it work for you instead of against you. The theory behind Feng Shui practices says that by harnessing the Chi in a room, or in the earth, or in your own body and making it work positively instead of negatively will allow you to get rid of stress, negativity, illness, and other things that can negativity impact your life.
Feng Shui teaches that if you can tap into the power of positive, life giving Chi you can achieve success and be healthy through the power of Chi. The healthy Chi that will positively impact your life and that Feng Shui tries to harness is called Sheng Chi, while the negative Chi that comes from misusing or misunderstanding Feng Shui principles are called Sha Chi and Si Chi.
If you take the time to explore and understand Feng Shui you'll be amazed at how easily you can take control of your life and reshape the vital energy that flows through you and your home every day in order to get the things that you want and need. Happiness, health, wealth, great relationships and more creativity can all be yours quickly if you just learn to use the power of Chi that is already around you.
Ten Benefits of Usi ng Feng Shui
People use Feng Shui in their lives in many different ways because Feng Shui can benefit many different areas of your life. If you have never used Feng Shui before here are some of the benefits that you can get from using different Feng Shui techniques to improve the flow of energy and positivity in your life:
1. Increased balance – One of the biggest benefits that Feng Shui brings is a balanced home. So even when your life seems crazy and chaotic and you feel like you can't catch your breath your home will be a peaceful sanctuary where you feel relaxed and balanced. Improving the Chi in your home with Feng Shui decorating techniques will balance your home, which in turn can help you balance your life.
2. Better focus – By bringing together the Chi in a room, whether it's in your home or in your office, and harnessing the energy of that Chi to create a focus on positivity and creativity you will find that you will be able to concentrate more on your work, or on your creative passions at home. Feng Shui techniques can help you focus more on your life and getting your life in order the way you want it to be.
3. You can redecorate without spending a fortune – When you use Feng Shui techniques to rearrange the furniture in a room or to move objects from one room to another in order to create better flow you will be able to completely change the look and feel of a room without spending a lot of money. Sometimes you don't have to spend any money at all.
Other Details
- 30 Articles (TXT)
- 2 Ebook (PDF, RTF), 33 Pages
- 7 Part Autoresponder Email Messages (TXT)
- 1 Salespage (HTML, TXT)
- 3 Ecovers (JPG)
- File Size: 1,121 KB