Salespage Snapshot: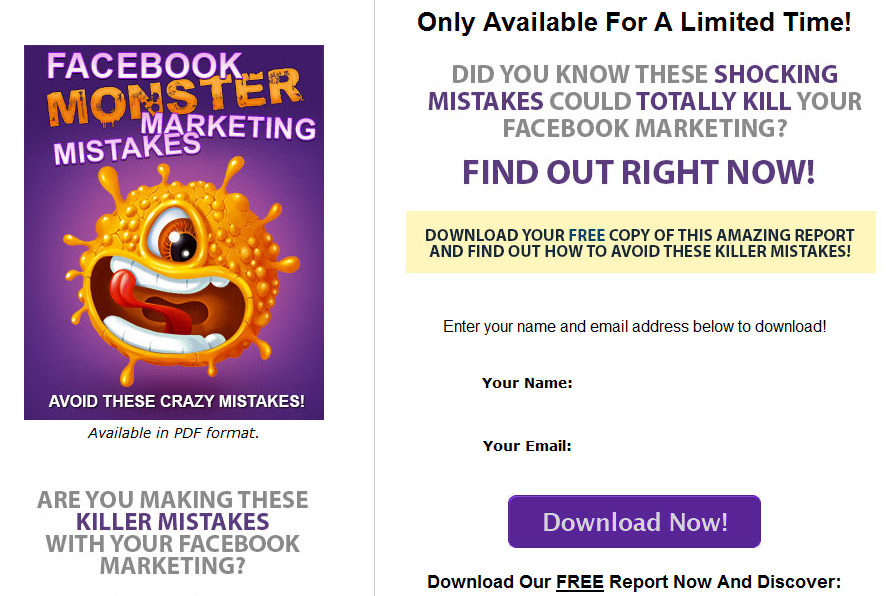 >>> Click Here To View Full Sales Page…
Sample Content Preview
Mistake #1:
Depending on Paid Advertising
It's true that Facebook has a relatively effective ad setup. A well thought out ad can definitely perform well, but many marketers seem to think paid ads are the be-all and end-all of Facebook marketing, and that simply isn't true.
For one thing, many people are "ad blind" and no longer pay attention to "Sponsored Posts". They have learned what they look like and simply tune them out.
For another thing, Facebook makes it incredibly easy to get traffic without paying for it. So if you concentrate solely, or even mostly, on paid ads, you're ignoring a huge potential for traffic. (And traffic that costs nothing!)
One of the best things you can do with a portion of your paid ad budget is to spend it on more likes for your page. (Do NOT make that your ONLY ad type, though!) Every "like" is another person you can market to for free through your page instead of having to pay for the ad impression later.
Bottom line? Paid ads are great, but you should put just as much effort into building your page.
Mistake #2:
Forgetting the Social Aspect
Facebook is, above all, a social site. Too many people forget that aspect, and it causes them to miss out on a lot of potential traffic.
You can't expect to just post, post, post and get results. You need to constantly interact with your fans. When people comment, respond! Be friendly and courteous. This will win fans over quicker than you think!
Also, you must remember that the thing that will get you the most traffic, by far, is for your fans to interact with your page in various ways, such as:
1. Liking your posts
2. Sharing your posts
3. Commenting on your posts
Not only will these activities ensure that they see your posts more often (due to Facebook's newest methods of content delivery), but their friends will also see this activity and potentially get you more likes to your page and your content seen by more people.
Always remember to socialize!
Mistake #3:
Being Overzealous
Being overzealous is a huge problem on Facebook. In fact, so many pages have become overzealous with their posts that Facebook had to add new algorithms to combat the problem.
Users were complaining that their feeds were being clogged up with dozens of daily posts by the same pages, so they made it so that only a small portion of a page's posts are actually seen by a particular user.
And yes, this benefits Facebook in the form of "promoted posts", but this wasn't the only reason they started limiting the reach of pages.
The fact is, if you post too often, people either won't see all of your posts or they will eventually "unlike" your page and you've just shot yourself in the foot as far as marketing goes.
Post often, and consistently, but don't inundate your fans with more content than they can handle. Three to five posts per day is generally more than enough. Even one a day is fine.
Mistake #4:
Ignoring the Rules
Facebook has a number of rules that you must obey if you want to market successfully without risking your account. The sad fact is that most marketers, or even individual users, don't read the rules, thus they miss a lot of important ones and break them inadvertently.
For example, did you know about these rules regarding cover photos?
1. You cannot include any pricing or purchase information on your cover photo. This includes text such as "buy it now" or discounts like "25% off this week only".
2. You cannot include any calls to action whatsoever. You can't ask people to like, share, comment, etc.
3. You cannot include any contact information on your cover photo. That means no URLs or email addresses!
Most users simply don't know these rules exist.
Admittedly, the rules are daunting. The terms and conditions are very long, and can be time consuming to wade through. However, if you're serious about marketing on Facebook, it's vital that you become familiar with the rules and obey them carefully. Take the time to learn the rules before you lose everything you're working for!
Mistake #5:
Being Lazy
Laziness is the kiss of death of just about any venture, but if you fail to adequately complete your company's page, you might as well not be using Facebook for marketing at all.
If you're going to go into this halfheartedly, you might as well not go into it at all.
Be sure to fill out your profile completely. Yes, it takes time to add your company's URL, add information to the "about" section, create and add a cover photo and profile picture, etc. But it's well worth it to ensure the information your fans care about is accessible when they need it.
Also, don't get lazy with your socialization. I know this was mentioned earlier in this guide, but it cannot be overstated. If people take the time to comment on your page or your posts, respond to them! Taking the time to respond to each and every comment will show your fans you care.
Take a look at the pages of brands like McDonald's and Olive Garden. These brands take the time to respond to user comments, and they are rewarded with passionate, loyal customers who buy from them again and again.
Mistake #6: Caring Too Much About Likes
Sure, likes are a great metric to pay attention to, but if you focus solely on getting more likes to your page, you're ignoring the big picture.
Likes are but one aspect in a large number of factors. A page could have a million likes, but if those users aren't properly cultivated and managed, they could be all but useless. Whereas a small, loyal following of just a few hundred could be invaluable if they have been treated properly.
Don't focus so much on how many likes your page has, or on how many likes your content receives.
Instead, focus on results, such as:
1. Are users sharing your content?
2. Are you seeing more traffic to your website?
3. Are you seeing more sales?
Likes will always be an important metric, but ultimately if they aren't benefitting you in some way, they're pretty much useless.
Other Details
- 1 Ebook (PDF, DOC), 15 Pages
- 7 Part Autoresponder Email Messages (TXT)
- 1 Squeeze Page (HTML, PSD)
- File Size: 27,423 KB