Salespage Snapshot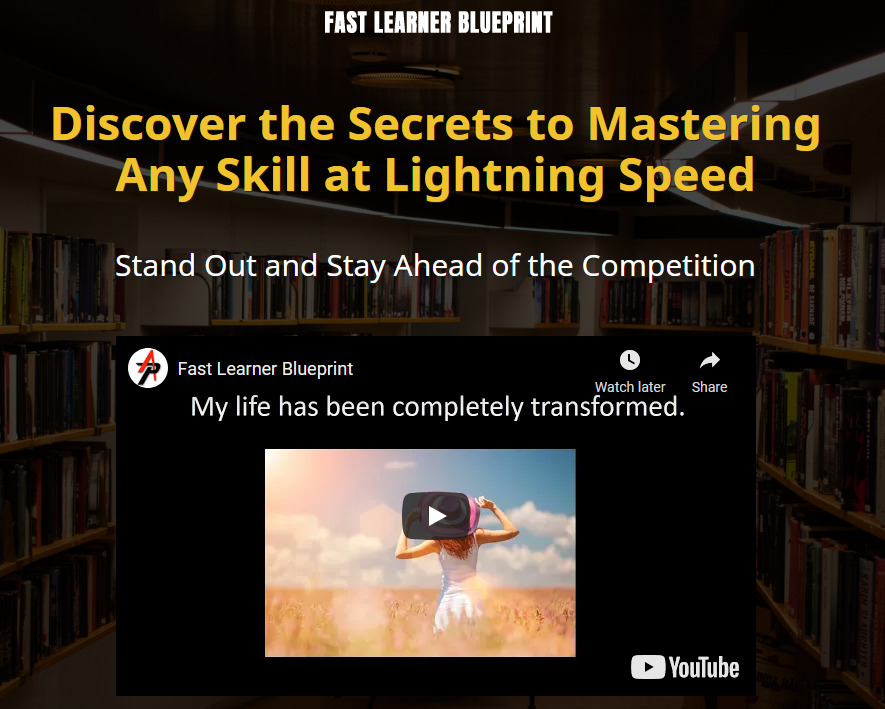 >> Click Here To View Sales Page...
Table of Contents
Introduction…….. 5
Chapter 1: Skill, Learning, and Acquisition…… 8
Why you Should Learn a Skill… 9
Why is it Difficult to Learn a Skill?…….9
How Long Does It Take to Learn a Skill?…….11
Types of Skill…… 12
Top Skills You Should Develop……….. 14
Chapter 2: Smart Learners and Efficient Learning 20
What is Efficient Learning?…..20
What You Can do to Learn More Efficiently. 21
Chapter 3: 10 Remarkable Traits of Successful Learners 26
Chapter 4: Learning Styles to Help You Learn Faster and
Smarter….31
What are Learning Styles?……. 31
Visual Learning Style….32
Auditory Learning Style……….. 33
Reading/Writing Learning Style…….. 34
Kinesthetic Learning Style…….34
Tips for Faster and Easier Learning…34
Chapter 5: 10 Tactics to Increase Brain Power, Memory,
and Motivation to Learn Better….38
Chapter 6: 8 Powerful Learning Hacks to Boost Your
Learning Ability………. 46
Chapter 7: 5 Hacks to Speed up the Learning Process……. 52
Chapter 8: 8 Ways to Train Your Brain to Learn Faster
and Remember More 56
Chapter 9: Simple Brain Training Habits to Boost Your
Brain Power…… 62
Conclusion 67
Sample Content Preview
changes and new connections between neurons because a specific part of your brain is about to get rewired.
Sounds funny or clumsy? Well, it isn't. The simple science is that, when you make things more difficult and challenge yourself, you open yourself up to a new change that may shake you a bit. However, do you ever wonder why some people learn something today and in the next few hours they're blank? Have you ever tried to master something and you feel you're doing great at it until you have to do that thing and you realize that you're blank?
Many of us have experienced this at a point in time and one of the reasons why this happens is because the learning conditions we used were too easy and the simple thing we need to do to overcome this for our subsequent learning is to work on improving our learning by practicing smarter. Identify what works for you and stick to it. You may want to use effective methods such as spaced repetition (increasing your interval between the repetitions when you're first learning something), variation and complexity (checking if your performance can be affected by varying the weather, the rules, the distractions, the environment, the exercises, or other elements — basically, purposely challenging yourself to see your stance), or retrieval.
Before you ask anybody for help, try your best to remember that thing.
How Long Does It Take to Learn a Skill?
Most of us are haunted by the possibility of not doing something better and this thought often prevents us from getting engaged in something new. We have no choice but to quit and find something else to do just to get rid of that feeling of angst. However, one thing we often miss out on is that we don't know that we can benefit from huge increases in a skill when we give in a little persistence while we're experiencing the usual challenges during the early hours of trying something new.
In a very short period, you can experience dramatic improvements if you persist and practice intelligently. Picking up new skills extremely quickly is quite easy for the brain for it's optimized for such a task. Take note that the 10,000 hours of mastering a skill is nothing but an illusion because it takes only 20 hours to move from "knowing nothing to being pretty good".
Types of Skill
Hard skills (also known as technical skills) and soft skills are the two major types of skills. For optimal performance and advancements in most jobs, both skills are necessary and it's recommended that you possess the two. Speaking of hard skills, these are the skills you gain through any life experience via training or technical knowledge. For example:
– You may be able to speak a new language fluently if you studied a foreign language.
– You may know how to use Microsoft Excel if you've taken an accounting class.
– You may know how to use a point-of-sale system if you've worked in food service or retail.
Some of the most in-demand hard skills include:
– Programming languages like Ruby, Java, Python, and Perl
– Storage systems and management
– Marketing campaign management
– User interface design
– Mobile development
– Data mining
– Statistical analysis
– SEO/SEM marketing
– Network security
– Adobe software suite
– Database management
– Bilingual or multilingual
On the other hand, if you're still searching for work, you'll find soft skills to be very essential for your career because they're the traits and personal habits that frame your interaction and work-relation with others and how you work
Some of the most in-demand soft skills include:
– Empathy
– Willingness to learn
– Organization
– Adaptability
– Critical thinking
– Problem-solving
– Creativity
– Teamwork
– Open-mindedness
– Effective communication
– Dependability
– Integrity
Top Skills You Should Develop
To start with, no skill is useless, and whatever it is that you're able to get your hands on, make sure you work on it, groom, nurture it, and keep growing. However, if you're looking for a job, these are some of the skills recruiters are always after. 1. Business acumen or commercial awareness. For someone who's in the business field, you're expected to bring something to the table. You should be able to provide insight on how your prospective company can compete in its marketplace and the changes it can make to achieve higher sales. You should know what makes a company tick and be cognizant of how a business or industry works.
Other Details
- 1 Ebook (PDF), 68 Pages
- 2 Graphics (PNG)
- 1 Salespage (HTML)
- 1 Promotional Ad Material (Emails)
- Checklist, Mind Map, Landing Page, Lead Magnet, VSL
- Year Released/Circulated: 2021
- File Size: 37,767 KB
License Details:
[YES] Can be packaged
[YES] You Can Use This Product Yourself
[YES] Can be sold as it is not less than $7 price tag!
[YES] Can pass on the Resell Rights privilege to your customers
[YES] Can Add This Product to a Membership Site or Bundled Within a Product Package as a Bonus
[YES] Can be used to create audio/webinar/video products
[YES] Can Give Away The Product (NOT Source Code Files) To Your Subscribers, Members or Customers as a Bonus or Gift
[YES] Can change sales page and/or graphics
[YES] Can be added to paid memberships
[YES] Can sell master resale rights
[NO] Add to a free membership sites
[NO] You can't just pass away the product to anyone
[NO] Contents of the product can be edited, modified or altered