Salespage Snapshot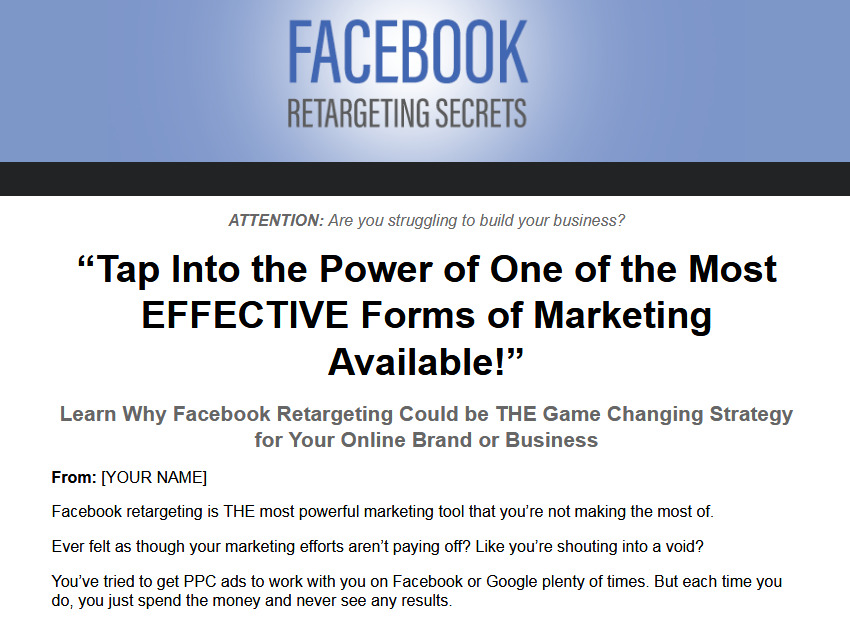 >> Click Here To View Sales Page...
Table of Contents
TABLE OF CONTENTS
INTRODUCTION …. 4
CHAPTER 1: WHY FACEBOOK RETARGETING WORKS .. 7
CHAPTER 2: HOW FACEBOOK RETARGETING WORKS 14
CUSTOM AUDIENCES EXPLAINED … 16
FACEBOOK DYNAMIC ADS 19
CHAPTER 3: HOW TO GET STARTED WITH FACEBOOK RETARGETING 20
GETTING STARTED WITH FACEBOOK ADVERTISING … 21
SETTING UP FACEBOOK RETARGETING . 22
CREATING THE AD …. 27
CHAPTER 4: DESIGNING THE PERFECT AD – TIPS AND TRICKS 31
CREATING A HIGHLY PROFITABLE CAMPAIGN …. 35
CREATING ADS THAT WORK FOR YOU .. 39
CHAPTER 5: LIMITATIONS OF FACEBOOK RETARGETING . 41
CONCLUSION 44
Sample Content Preview
Chapter 2: How Facebook Retargeting Works
Chances are that you have been on the receiving end of retargeting at some point or other. You've probably also heard people talk about retargeting without really knowing what it is. Maybe your Mum exclaimed at some point how weird it was that she kept seeing ads for a new heating unit… and just when she was shopping for a new heating unit!
How did Facebook know to show her those ads? That's some incredible coincidence!
Of course, you and I know that this is not a coincidence at all. But perhaps you're not entirely sure how precisely it works. The answer is cookies. Cookies are actually small files that can get saved on your computer via the browser. These files are stored there by websites, and that in turn enables the website to identify that user again in future. This is how you can stay logged into a website when you return to it later on – because the website checks for the file, which identifies you.
This also means that other websites can interact with cookies placed by yours. In the case of Facebook retargeting, your website might leave a file on the visitor's computer, and then Facebook can identify that file in order to use it to show you the correct ads.
Any page on a website can leave a cookie, which means that you can not only tag users, but also tag their specific actions. So, one cookie might tell Facebook that a visitor came to your website, but another might tell Facebook that they looked at THIS specific product and then added it to their checkout but stopped just short of clicking buy.
The cookie can even contain additional information – such as the time of day that they were active.
Facebook retargeting actually allows you to do several different things with this basic functionality though, and uses some unique terminology to describe the various different methods. These can work in slightly different ways in some cases too.
Many of these fall under the category of the 'Custom Audience'. Custom Audiences Explained
Custom audiences on Facebook are basically lists or filters that you create in order to show your adverts only to specific members off the public that you have somehow pre-selected.
One example of this is the 'Website Traffic' custom audience. This is the type we just discussed – audience members who have visited your website OR your specific web pages. That allows you to use cookies to identify visitors at different points in your sales funnel, and thereby help to push them toward clicking buy. We'll go into depth on how to set this up, as well as how to make it work wonders for you in a moment.
First, we should address the two other types of option here. One is the Customer List.
A customer list is exactly that: a list of people with their details. You will collect things like their emails, their phone numbers, their
Facebook IDs, etc. You can also integrate this with email marketing tools such as MailChimp and simply upload an entire list.
Facebook will then match those visitors to its own huge userbase, looking for users that added those same numbers and emails as their contact details.
This form of retargeting works slightly differently in that it doesn't look for a specific action the user has taken, but rather looks for leads that you have already generated.
A lead is any contact that has had some kind of interaction with your brand and that you have the contact details of. Leads are important because they give you the option to take further action and convert them into customers.
Leads can further be broken down into cold leads, warm leads, and qualified leads. The more engaged with your brand the lead is, the 'warmer' they are, and the more likely they are to be persuaded to buy from you.
If someone has willingly and knowingly subscribed to your mailing list, then you should certainly consider them 'warm' – as they clearly know your brand and at least want more information about them.
And of course, you can always create lists based on the engagement of the users. Some autoresponders (mailing list tools) will allow you to organize your lists based on how many emails they open, and how many links they click.
Likewise, you may have one mailing list for people who are interested in your brand generally, and another mailing list for people who want to hear about news for a specific product. In that way, this form of retargeting can become just as highly targeted. Finally, the 'App Activity' option is for retargeting to people who have taken an action of some sort in an app or game that you created. This is a useful option for those marketing across multiple formats, but otherwise works similarly to the two mentioned above.
There are other methods you can use to target your audiences. You might use a 'Lookalike Audience' for instance, which looks for potential customers that share similar properties with your lists and your warm leads. Likewise, you can filter audience members based on a whole range of different factors from their interests, to their age, to their geographic location.
These alternative forms of Facebook marketing may be useful when used in conjunction with retargeting strategies, but are distinct and separate from that approach.
Facebook Dynamic Ads
Another great feature Facebook has introduced to make retargeting that much simpler, is its dynamic product ads. These are adverts that you only have to create once, but which will adapt to show visitors the products that are likely to be most relevant to them.
Facebook's dynamic product ads will employ a simple template which will show a number of different products, along with their details, depending on the data provided by the cookie or the app SDK you provide.
To use this, you will need to create a product catalog, which Facebook lets you do by adding your products through your account. It's worthwhile doing, as it allows you to effectively turn Facebook into a storefront!
Chapter 3: How to Get Started With
Facebook Retargeting
Now you know how custom audiences and retargeting work, the next question is how to go about setting up your own retargeting campaign and get it up and running.
What's important to recognize at this point is that Facebook is a constantly evolving platform and is constantly updating its UI, it's systems, and its features. That is to say that while this instruction is accurate at the time of writing, it may well have changed by the time you get around to employing it.
That said, the changes introduced are gradual and in most cases, it should be easy enough to extrapolate the information and work out where things have changed.
Getting Started With Facebook Advertising
Before you can get started, you will first need to have a Facebook account, and it is a good idea to set up a Facebook page as well. To do this, you first need to set up a Facebook Ads Manager account. One of the best ways to do this is by making a Facebook business page. We recommend doing this as it will provide a very powerful way to interact with Facebook's 2.2 billion users, and provides a hub that will be very useful when used in conjunction with your advertising.
Creating a page is very simple: just go to facebook.com/business and then click 'Create a Page' (it's currently found in the hamburger menu on the left, or on the right from a drop down button where it also says 'Create an Add'. You can then type of page you want to create (local business or place, company, brand etc.).
From here, it is very easy to then set up your page by filling out the information prompted – such as a profile image, a description of your business, a link to your website, a call to action etc.
Setting Up Facebook Retargeting
From here, you can log into the Facebook Ads Manager. This will show you any live campaigns you have going on, which of course will be empty if you're signing up for the first time. Click the button that says 'Create' in order to get started creating your ad. But we're going to rewind for a moment, because there's a little more you will need to do when creating a retargeting campaign specifically.
To get this working, you are going to need to use what Facebook calls a 'Facebook pixel'. This is simply the name of the cookie, and it works by storing information on the user's computer as described. This will be a small snippet of code that you will need to paste onto the HTML of your relevant pages. But don't worry – if you aren't sure what that is then you can ask your website developer. Better yet, if you have a WordPress site, then you'll be able to use a number of plugins to automatically add the pixels to every relevant page.
The pixels can either be added to ad campaigns that are already live, or can be used to set up brand new ones – so it is up to you which order you do this in.
To create a pixel, go to the hamburger menu on the left and then select 'Pixels' from the category beneath 'Measure and Report'.
From here, the next steps are fairly self-explanatory. You can then choose to 'Create a Pixel' and then name and create said pixel. The pixel itself is neutral and won't in any way contain any information pertaining to your audience.
This makes it very important that you choose a sensible name for your pixel, so that you can easily identify it when you're looking at your list of pixels and thereby apply the correct one to the correct campaign.
So, for example, if you want to identify visitors who have looked specifically at a brand of trainer, then you should call the pixel by the brand and the model of that product. If you want to identify all customers who have been to your site however, then you might use something more generic like 'Site Visitor'. Or you might create a pixel for a specific category of product, such as 'shoe shopper'. These aren't either/or decisions. You can create a pixel for all these different categories and then use them in conjunction to cast your net far and wide, then hone in on specific members where you have enough information.
Once you have made the pixel, you can then return to your ad manager to create your custom audience. Select 'Website Traffic' for this example, and then choose the parameters that the site visitor is going to need to meet.
You can actually add some other interesting and useful metrics in order to get more granular information without making a million different pixels – for example you can look for visitors who have been to pages that contain the word 'shoe' in the URL!
Once you have built your custom audience, you then need to create your ad. That is where you can apply the custom audience to the particular campaign.
Of course, you will now also need to go ahead and copy and paste the Facebook pixel code onto the relevant pages of your website.
Where do you place the pixel? The idea is that you're trying to identify specific actions that the user has taken, which in turn gives you specific information about that user and what they may be interested in purchasing.
Other Details
- 20 Articles (TXT, DOC)
- 1 Ebook (PDF), 45 Pages
- 1 Graphic (PNG)
- 1 Salespage (HTML)
- 4 Keywords List (CSV, PDF)
- Checklist, Lead Magnet, Optin Page, Social Media Messages, Opt-in Page Headline, Email Swipes, Salespage Headline, Infographic
- Year Released/Circulated: 2019
- File Size: 24,925 KB
License Details:
[YES] Can be sold
[YES] Can be used for personal use
[YES] Can be packaged with other products
[YES] Can modify/change the sales letter
[YES] Can be added into paid membership websites
[YES] Can put your name on the sales letter
[YES] Can be offered as a bonus
[YES] Can be used to build a list
[YES] Can print/publish offline
[YES] Can convey and sell Personal Use Rights
[YES] Can convey and sell Resale Rights
[YES] Can convey and sell Master Resale Rights
[NO] Can modify/change the main product
[NO] Can modify/change the graphics and ecover
[NO] Can be given away for free
[NO] Can be added to free membership websites
[NO] Can convey and sell Private Label Rights