Salespage Snapshot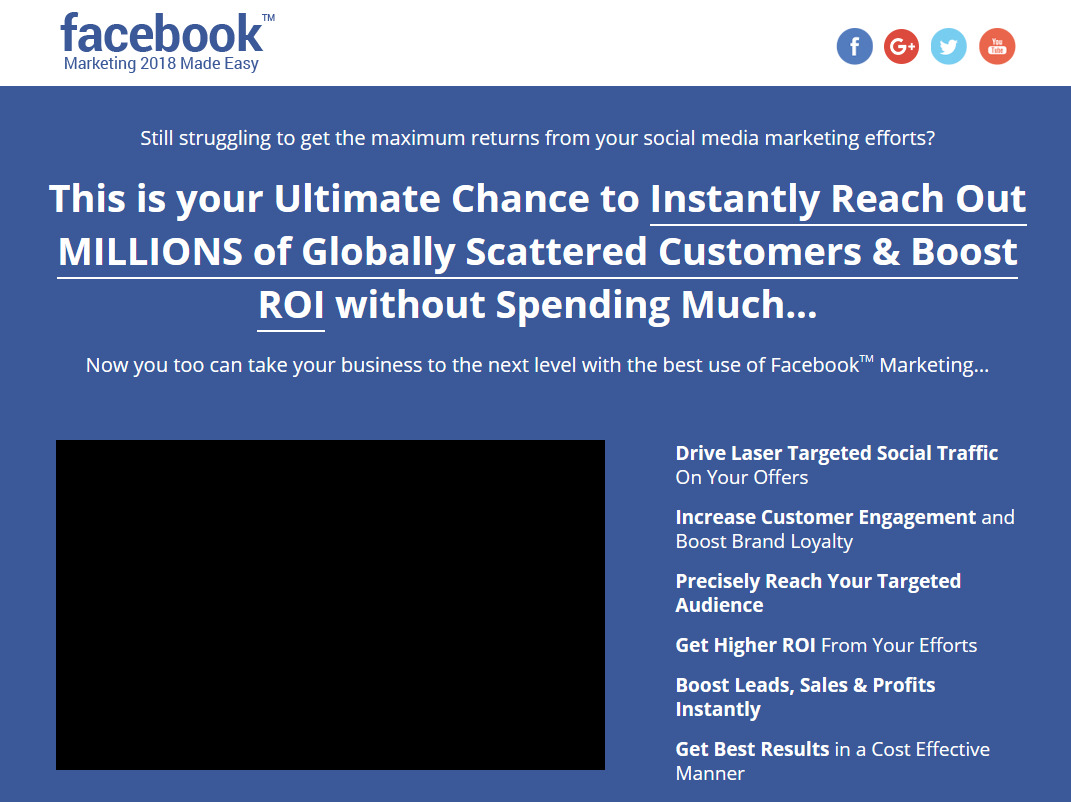 >> Click Here To View Sales Page...
Table of Contents
Section 1: Facebook Marketing Basics
Chapter 1: What Is Facebook All About? 07
Chapter 2: What is Facebook Marketing? 10
Chapter 3: How Can Facebook Marketing Help Your Business In 2018? 14
Chapter 4: Shocking Facebook Marketing Facts To Consider 18
Section 2: Facebook Marketing in 2018 – Step by Step
Chapter 5: Facebook Walkthrough 22
Chapter 6: Creating A Facebook Page for Marketing 27
Chapter 7: Creating And Promoting A Facebook Page Post 30
Chapter 8: The Facebook Ads Manager 35
Chapter 9: Creating Your First Facebook Ad Campaign 39
Chapter 10: Creating A Lead Generation Campaign On Facebook 45
Section 3: Advanced Facebook Marketing Strategies
Chapter 11: Using Facebook Live For Marketing 51
Chapter 12: Creating A Facebook Remarketing Pixel 55
Chapter 13: Creating A Custom Audience 58
Chapter 14: Creating A Facebook Remarketing Campaign 61
Chapter 15: Facebook Marketing Strategies That Convert In 2018 64
Chapter 16: Crazy Simple Tricks To Boost Your Organic Reach In 2018 67
Section 4: Additional Tips to consider
Chapter 17: Do's and Don'ts 71
Chapter 18: Premium tools and Services to consider 77
Chapter 19: Shocking Case Studies 82
Chapter 20: Frequently Asked Questions 92
Conclusion 97
Top Resources 98
Special Offer 99
Sample Content Preview
Instagram
Instagram is by far the most popular visual discovery platform for social users, and Facebook has integrated it into its own advertising network. On Instagram you will be able to tell your business' story, and to inspire action by showcasing your products in ways that no other platform would allow you to.
Audience Network
You don't have to limit your ads' exposure to people on Facebook or Instagram. So if you want to go a step further, you can always turn to the audience network, which will allow you to extend your advertising reach into mobile apps and partner websites.
As you can see, Facebook is not a simple platform for exposure, but a complete, multi-channel marketing platform that allows you to execute several types of marketing activities, including brand building, native advertising, and automated customer service.
What's more, Facebook marketing will help you to unleash your brand's potential with features such as Facebook Live and Facebook video posts, which can help you rank higher on search results inside the platform, or Facebook groups, where you can nurture a community of qualified customers around your business activities and values.
And the list goes on and on and on! So please stay tuned if you want to learn about how Facebook Marketing can help your business in 2018 and beyond. See you in our next chapter!
Chapter 3: How Can Facebook Marketing Help Your Business?
Hello there my friends!
Facebook's full potential to help you grow your business can be difficult to grasp at first glance, but there are specific benefits of leveraging the platform's marketing features.
Here are our favorite ways in which Facebook has helped us grow our own business!
Facebook Marketing Will Help Your Business To Reach The Perfect Customer
One of the most defining characteristics of the Facebook Advertising platform is its powerful targeting capabilities. With Facebook ads you will be able to hyper-target your audience down to the minutest detail.
Facebook Ads not only allow you to target an audience based on common attributes such as gender or location. It will also let you target audiences based on their interests, on the things they don't like, on very specific stuff such as band pages they follow, even on who they are friends with.
All that means that you'll be able to reach the exact type of people that you need to like your business page, even if they don't end up buying from you initially.
Facebook Marketing Will Help Your Business Attract More In-Store Visits
One of the coolest capabilities of Facebook ads is that they allow you to target people that live a specific distance from your business, or people that live close to your competitor's businesses, or both, which creates opportunities to encourage in-store visits.
Facebook Marketing Will Help You Advertise Your Business For Cheap
Running Facebook ad campaigns is cheap, and remains cost effective for even the smallest business on the tightest budgets. You can easily start running ads for $1 a day and then to push it from there once you start seeing positive results.
Facebook Marketing Will Help You To Easily Engage Potential Customers
F acebook will allow you to natively interact with your potential customer base in ways that aren't possible on other platforms without some heavy tinkering. On Facebook, you'll be able to set up contests, promotions, to offer coupons and discounts, to promote events, and to manage exclusive groups and communities built around your business. And you can easily do it all without ever leaving Facebook!
Facebook Will Help Your Business Reconnect With Past Customers
Facebook is not only a native advertising platform, it also doubles as a remarketing platform. Remarketing is the use of advertising strategies to reach back to customers that have interacted with your business in some form in the past. These could be website visitors, people who did not complete purchases on your online store, or people on your mailing lists.
With Facebook remarketing, you will be able track those lost customers on Facebook and to serve them ads there, which will encourage them to engage once again with your business!