Salespage Snapshot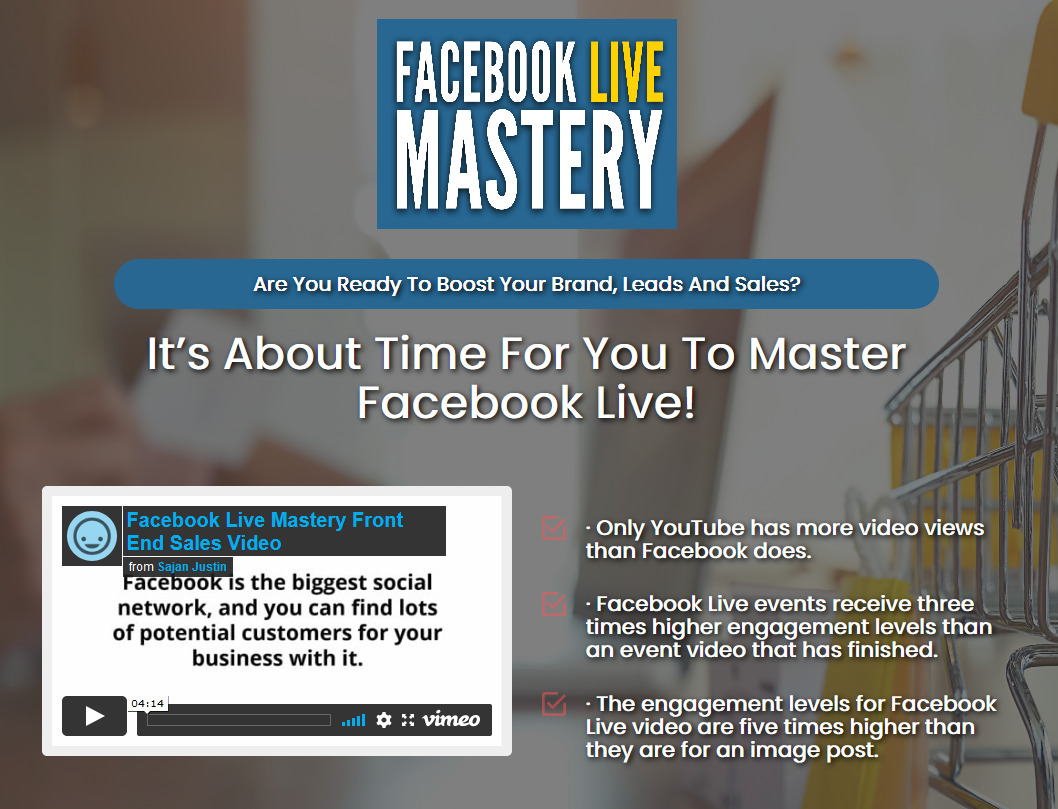 >> Click Here To View Sales Page...
Sample Content Preview
Is Facebook Live worth it?
Yes it certainly is! Video marketing is a lot more effective than text based content. People like to watch videos online. Only YouTube has more video views than Facebook does. Video is a great way to establish and promote your brand.
But it gets even better. Adweek have data to prove that a Facebook Live event receives three times higher engagement levels than an event video that has finished (a recording or replay). Adweek also state that the engagement levels for Facebook Live videos are five times higher than they are for an image post.
So if you are looking to give your brand a boost, get more leads for your business and make more sales then Facebook Live is a great way to do it. If you have been reluctant to make videos before and show your face on camera then you need to get over this. With Facebook Live you can really put your brand on the map.
Facebook Live on any Device
It doesn't matter if you use a desktop computer like a laptop or a mobile device such as a smartphone or tablet, you can create a Facebook Live event. There is a simple process to go through depending on what device you want to use.
With a laptop or desktop computer just use your Internet browser (Chrome, Firefox, Opera etc) and login to Facebook as you would normally. At the top of your news feed you will see a box with "What's on your mind" so click on this. Then choose the "Live Video" option.
There are Facebook apps available for both Android and iOS powered mobile devices. You can easily find these at the Google Play Store or the Apple Store. Download the app on your device and install it.
With an Android device you will need to tap on "What's on your mind" and then tap on "Go Live".
With an iOS device it is slightly different. Find "What's on your mind" at the top of your feed and then tap the icon for video recording that will also say "Live Video".
Whatever device you use you just follow these steps now. You will need to give your live event a name and provide a description about it (this is optional but recommended). You can also upload a video thumbnail.
The next step is to choose the audience for your Facebook Live event. Click or tap on "Next" and when you are ready to go just click or tap on "Go Live".
You need to be aware that there is a 4 hour time limit for Facebook Live videos. This is more than enough time for your event. Nobody is going to want to sit through a 4 hour Facebook Live session no matter how good it is. We will discuss this in more detail in a later chapter.
In the next chapter we will discuss the benefits of using Facebook Live for your business…
Businesses all over the world are experiencing good results with video marketing. Surveys suggest that businesses that use videos to promote their brand and their products and services experience nearly 50% higher revenues than those that do not use video.
One survey revealed that nearly 60% of their participants stated that video marketing provided them with the best return of all content marketing types. In the same survey 78% of the participants said that they preferred live video as it enabled a deeper connection with their audience.
Main Benefits of Facebook Live
Here are the main benefits for businesses to use Facebook Live as we see it. There are others too and we will discuss the benefits in more detail:
• You can reach the largest audience in the world using a website that they use all of the time – Facebook
• Facebook Live has some excellent audience engagement features including two unique ones which are live reactions and commenting real-time
• Businesses can use Facebook Live for internal meetings or external meetings with customers etc
• Video performance analytics provide excellent insight
• You can use paid Facebook ads to boost your live events to reach more potential viewers
When you use Facebook Live to connect with your audience you bring a real human touch. You are not a faceless organization that customers and potential customers do not know the people behind it. This is very important for developing trust and establishing credibility for your brand.
A Facebook Live event provides a "face to face" opportunity that text posts and image posts cannot achieve. You can have a single host or introduce other members of your business to your audience.
Questions and Answers
Another benefit of holding a Facebook Live event is that you can hold a real time question and answer session. This will boost your engagement and it is a good idea to let people know that there will be a Q & A session prior to the event going live.
People like to ask questions. It is likely that a lot of the people attending will have their questions answered by other attendees asking the questions. This is fine as not everyone feels comfortable about asking questions on a live video stream.
You can either take questions as they come up or request that people wait until the end of the event and you will answer all questions then. By waiting until the end, you will increase the chances of your followers watching the entire event.
Some businesses set up recurring Facebook Live events where they take questions as they arise. Recurring events are good if you have a lot of content to share with your audience. It is best of the content is different each time and not a repeat of what you have presented already.
Great during a Pandemic
At the time of writing this guide, the world is in the grip of the Covid-19 pandemic. Some countries and states are in total lockdown so they cannot attend physical events. So the interest in your Facebook Live event is likely to be higher in this scenario.
Applications like Zoom have seen a significant increase in users over the past few months. So attending a live event on Facebook will not be a problem for most people. After the pandemic we estimate that the demand for online events will remain strong so the time to get started is right now.
Share Product or Service updates
A Facebook Live event is a great way for you to share the latest information about your products and services. Do you have a new product or service? Have you made enhancements to existing products or services? Are there any special discounts that you are offering right now?
In some industries things change rapidly. If this applies to your business then you can let your followers know about the changes with a Facebook Live event. Your audience will appreciate you keeping them informed and will spread the word for you.
Behind the Scenes
People want to know who is behind your business. They want to see faces and know the names of your team. If it is possible (pandemic permitting) you can shoot a live event during your opening hours and give your followers a tour of your business.
Interviews with other employees are a good tactic as well. Your audience can see that your team is totally committed to providing them with the highest quality of service. All of this will help to establish you as a brand that truly cares about its customers.
Facebook Live is well established
These days a lot of social platforms offer live event streaming. The good thing about Facebook Live is that it has been around for a few years now and has undergone a number of enhancements to make it better and fix any issues.
Facebook Live has some great features that other live platforms do not have such as their advanced notification system which will let your audience know when an event is going live. You also have the capability to promote your Facebook Live event in advance now.
Other Details
- 1 Ebook (PDF), 33 Pages
- 6 Graphics (PNG)
- 1 Salespage (HTML)
- 10 Ecovers (PNG)
- 2 Promotional Ad Materials (Emails, Banners)
- Resource Report, Cheat Sheet, Mindmap, Social Media Images, Legal Page, Sales Video, Email Swipes
- Year Released/Circulated: 2021
- File Size: 208,112 KB
License Details:
[YES] Can be sold
[YES] Can be used for personal use
[YES] Can be packaged with other products
[YES] Can modify/change the sales letter
[YES] Can be added into paid membership websites
[YES] Can put your name on the sales letter
[YES] Can be offered as a bonus
[YES] Can be used to build a list
[YES] Can print/publish offline
[YES] Can convey and sell Personal Use Rights
[YES] Can convey and sell Resale Rights
[YES] Can convey and sell Master Resale Rights
[NO] Can modify/change the main product
[NO] Can modify/change the graphics and ecover
[NO] Can be given away for free
[NO] Can be added to free membership websites
[NO] Can convey and sell Private Label Rights