Salespage Snapshot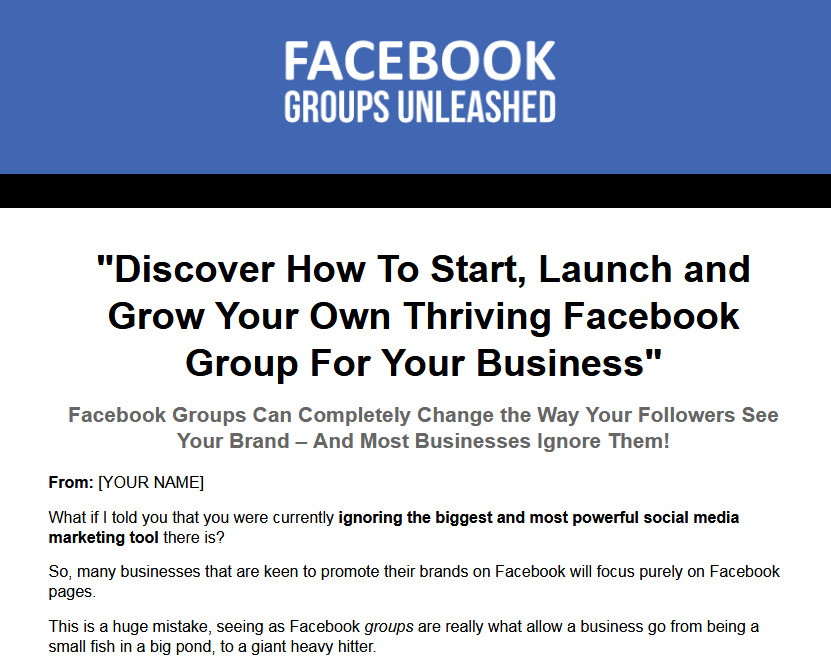 >> Click Here To View Sales Page...
Table of Contents
Introduction ….. 6
Chapter 1: Why You Need a Facebook Group… 8
Facebook Group Posts Versus Facebook Page Posts …….. 9
"1000 True Fans" – Creating a Thriving Community Around Your Brand ……. 9
Chapter 2: More Uses For a Facebook Group . 12
Top Ways to Make Use of a Facebook Group for Business ……. 13
Membership as a Reward 13
Customer Feedback/Market Research ……. 14
Competitions and Promotions … 15
Events …. 15
Special Offers . 16
Topic Group …. 17
Advertising …… 18
Internal Uses … 19
Chapter 3: Creating Your Facebook Group, Step by Step …….. 20
More On Setting Up …… 27
Chapter 4: Advanced Features, Tools, and Settings …….. 29
Facebook Group Settings …… 30
Group Type ….. 30
Location . 31
Apps ……. 31
Linked Pages .. 32
Color …… 32
Web Address .. 32
Membership Approval……. 33
Chat Creation Permissions …….. 33
Membership Pre-Approvals ……. 33
Posting Permissions 34
Post Approval . 34
Story Posting Permissions and Approval …. 34
Icon …….. 34
Chapter 5: How To Grow Your Facebook Group ….. 36
Start Small and Extremely Targeted …….. 37
The Next Step: Discussing Your Group … 40
Chapter 6: How To Combine a Facebook Page and Group …… 42
Linking Your Facebook Page and Group 43
Why Combine Both ……. 43
Chapter 7: What to Post and How to Engage .. 47
Exclusive Content. 48
Interesting Finds from the Web ……. 48
Community Posts . 49
Stories 50
Creating New Posts …… 50
Chapter 8: How To Manage Your Facebook Group and Maintain Regular Content .. 52
Moderation and Letting a Group Run Itself ……. 53
Create Rules … 54
Set Moderators …….. 54
Automatically Flagged …… 54
Conclusion….. 56
Sample Content Preview
Chapter 2: More Uses For a Facebook Group
In the last chapter, we discussed at length the importance of having a Facebook group. Here, we saw that it would allow you to contact your followers and customers in a more direct and intimate manner, which could in turn be highly effective in creating a stronger relationship and more engagement with those users.
But that's just one thing that sets Facebook groups apart as being such useful part of your digital marketing strategy. There are actually a number of different ways that you can utilize Facebook groups in order to mobilize your fan base and potentially increase your engagement and profits. Read on for some of the most effective.
Top Ways to Make Use of a Facebook Group for Business
Membership as a Reward
One wat to think of a Facebook group is as a reward or an incentive. In other words, you can use this as a way to encourage your most loyal fans to take certain actions, and to thank them for their loyalty.
Imagine that you regularly follow a particular blog or vlog and you are a huge fan of the content they put out. You find it exciting and interesting, and you love the community that often enjoys lively discussion each time a new piece of content goes live. You consider yourself fan, but you haven't quite taken the leap when it comes to signing up to the mailing list or joining the Facebook group.
Then you hear that as a thank you for joining up to the list, users will be given access to a private Facebook group that will discuss the topics tackled on the site in much more depth, that will be given privileged access to new products before anyone else, and that will be able to vote on the direction of the brand. This is a great incentive that will encourage many people to sign up right away.
You can likewise use this as a way to encourage people to join your Patreon, to buy particular products during a promotion, or to share your link and encourage more people to sign up!
Customer Feedback/Market Research
What many businesses forget, is that social media is first and foremost a tool for communication. Many companies think of it purely as a platform or a pedestal from which they can shout about new products or services. They think of this as a one-way means of communication in other words.
But that is to miss out on perhaps the most valuable and important aspect of social media. Being able to not only speak with your audience, but also have them respond is immensely valuable, as it will allow you to get customer feedback, to conduct market research etc.
And this is invaluable when it comes to deciding the future of your business. Investing lots of money or time into a new business venture such as a product or a service is always going to involve a large element of risk. But if you first speak with your audience, you can ensure that there are actually people out there who are willing and interested in paying for said product. In many ways, this is one of the closest things to a truly 'flawless' business plan: you ask what people want, then you create it!
Likewise, this is an amazing way to get more ideas for content, to get ideas for promoting your site, and to find out more about the people you are selling to. Many companies pay thousands of dollars for market research; with a Facebook group, you can conduct it entirely for free. Just keep in mind that your most die-hard fans are not necessarily the most representative when it comes to reflecting the interests of your followers at-large.
Competitions and Promotions
We've seen that Facebook groups can be powerful incentives or "prizes" when running competitions and promotions. People who are engaged with your brand will love the idea of being invited to an "exclusive" VIP club only if they should sign up to your Facebook page or like a post etc.
But at the same time, you can also use the Facebook group in order to run future promotions and competitions. This is a great way to reach out to your most proactive followers, which in turn means you can motivate them to take action by spreading the word.
Events
Many people use Facebook groups privately to run events. This is a perfect tool for creating stag parties and hens, or just organizing trips with friends. Not only does this put everyone involved in one place (making it easier for you to see everyone in one spot and communicate the plan) but it also creates a forum where everyone can contribute ideas.
This is something you can equally benefit from as a business. In fact, running events as a business or brand is another of the most effective and under-utilized strategies for increasing engagement and even just making direct profit!
It's one thing to run a fitness blog or a make money blog. But if you run an event, this gives people a chance to see you in person and to really feel involved. At the same time, it will allow you to Special Offers
If you are cutting the price of one of your products or services, if you are running a two-for-one deal, or if you are introducing any other kind of special offer, then having a Facebook group will provide you with an ideal way to communicate this and to get more people to act on it.
You have to be careful with this, however. After all, Facebook groups are not 'for' promoting your products, and there is always the danger that people will find this off-putting and be moved to leave your group entirely. Groups have 'special access; to the home feed as compared with pages, and you need to treat this with respect.
BUT there is a way to do this, and that is to make the special offers part of the appeal of your group in the first place. In other words, make it clear when promoting and marketing your group that you will be using it to present special offers and deals. You can do this by saying things like 'sign up to the Facebook group for exclusive offers and deals. If you get this right, it can work extremely well: if people are truly engaged with your brand and they love your products, then getting to hear more about them might genuinely be seen as a powerful incentive and source of excitement. This is about how you manage your brand, but if you accomplish it, then you will effectively have carte blanche to promote your business and to 'sell' directly to your audience.
Topic Group
Perhaps the most powerful way to use a group and the one that this book has been promoting so far, is to build a private, members-only area for your most dedicated followers. While this can work wonders, another extremely powerful marketing option works completely differently.
That is to create a group about a topic that ostensibly has no particular connection to your brand. For example, if you sell law courses, then you could create a group for legal students. Let anyone create new posts and make the group public. When you notice some of your members are highly involved, promoted them to admin status.
This group will now run itself and you can pretty much forget about it and leave it to its own devices.
But come back in a year and there's a chance it will have grown. It might be extremely large and active at this point. And that in turn means that you can then use it for gently marketing your courses. This gives you a huge, highly targeted, extremely engaged audience to market to and to help springboard any new project you come up with in that niche.
Advertising
Speaking of which, you can also monetize your Facebook groups directly by using this direct access to promote other products and other offers from different brands. In other words, once you have built a large and engaged audience, you can then sell access to that audience.
Advertising is a good way to make some quick money, and it can even be a long term revenue stream. But again, it's important that you go about this the correct way – which means ensuring that your audience knows they're going to be receiving these offers before you begin, and which means being highly selective and not taking every offer that comes along. Communicate to your audience that they will be receiving only hand-picked, exclusive, and special offers that are likely to appeal to them. Then make sure you are true to your word on those points.
Other Details
- 20 Articles (TXT, DOC)
- 1 Ebook (PDF), 57 Pages
- 2 Graphics (JPG, GIF, PNG)
- 1 Salespage (HTML)
- Checklist, Resource Cheat Sheet, Mindmap, Optin Page, Social Media Images, Email Swipes
- Year Released/Circulated: 2019
- File Size: 31,456 KB
License Details:
[YES] Can be sold
[YES] Can be used for personal use
[YES] Can be packaged with other products
[YES] Can modify/change the sales letter
[YES] Can be added into paid membership websites
[YES] Can put your name on the sales letter
[YES] Can be offered as a bonus
[YES] Can be used to build a list
[YES] Can print/publish offline
[YES] Can convey and sell Personal Use Rights
[YES] Can convey and sell Resale Rights
[YES] Can convey and sell Master Resale Rights
[NO] Can modify/change the main product
[NO] Can modify/change the graphics and ecover
[NO] Can be given away for free
[NO] Can be added to free membership websites
[NO] Can convey and sell Private Label Rights