Salespage Snapshot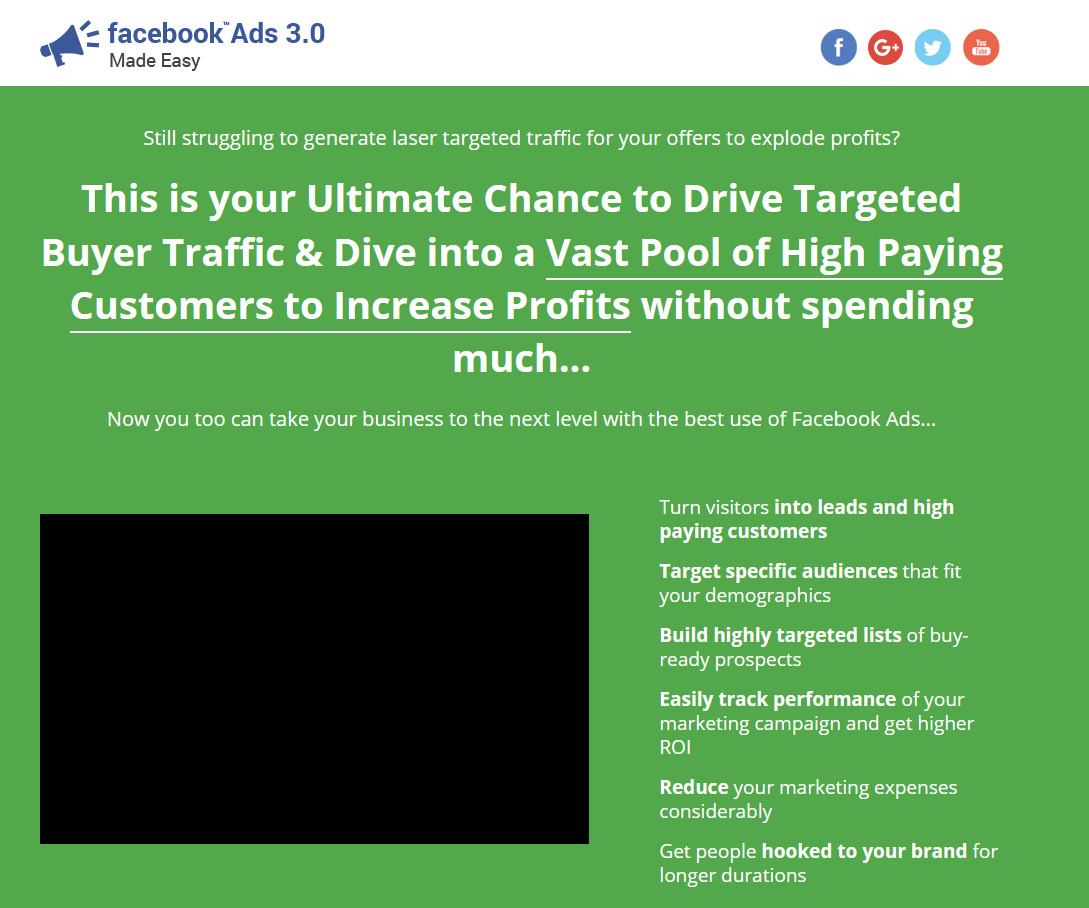 >> Click Here To View Sales Page...
Table of Contents
Introduction 03
Section 1: Facebook Marketing Basics
Chapter 1: What is Facebook all about 07
Chapter 2: What are Facebook Ads? 10
Chapter 3: What Is Retargeting And What Makes Facebook The Top Retargeting Platform? 13
Chapter 4: How can your business benefit from Facebook Ads 16
Section 2: Marketing on Facebook – Step by Step
Chapter 5: Shocking Ad Facts To Consider 20
Chapter 6: Facebook Walkthrough 23
Chapter 7: Facebook Ads Manager Walkthrough 26
Chapter 8: Creating A Facebook Page To Run Ads 30
Chapter 9: Promoting A Basic Page Post The Right Way 34
Chapter 10: Creating a basic ad using the ads manager 39
Chapter 11: Creating A Custom Audience 45
Section 3: Advanced Facebook Marketing Strategies
Chapter 12: Adding The Facebook Pixel From A Campaign To Your Business Website 49
Chapter 13: Sending More Traffic To Your Site With Facebook Ads 53
Chapter 14: Increasing Conversion Through The Ads Manager 58
Chapter 15: Creating A Facebook Retargeting Campaign 61
Chapter 16: Creating A Lead-Generation Funnel 64
Section 4: Additional Tips to consider
Chapter 17: Do's and Don'ts 68
Chapter 18: Premium tools and Services to consider 72
Chapter 19: Shocking Case Studies 76
Chapter 20: Frequently Asked Questions80
Conclusion 84
Top Resources 85
Sample Content Preview
Chapter 3: What Is Retargeting And What Makes Facebook The Top Retargeting Platform?
Hey there everyone! Let's take this training one step further right now. Let's talk about an advertising strategy so awesome and advanced that only a handful of marketers get it right.
You know how you have to pay top dollar to reach a certain percentage of your desired audience only to have them abandon your offers right after landing on your business site from your ads? And how bad does it feel to know that you might have lost a potential customer forever?
Well, what if we told you that there is a way to track and reach those potentially lost customers once again, and what if we told you that it really works? Wonder no more, because you are about to discover all about it!
What is Retargeting?
Retargeting, also referred to as "remarketing" in some instances, is an online advertising method that allows advertisers to stay relevant to bounced traffic. In other words, retargeting is an advertising strategy that will allow you to reach your leads long after they have clicked through your ads or visited your website.
How Does retargeting Work?
Retargeting works on the basic principle of following your potential audience across the internet. It "follows" your audience because, unlike traditional advertising, which advertisers use to show adverts to users on fixed channels, it tracks visitors and shows them adverts wherever they go.
Ok, but how can you track and follow visitors with retargeting? Easy enough: You insert a code on your website which function it is to save a cookie on your visitors' browsers.
This code is provided by the retargeting network, and the cookie that it inserts on the visitor's browsers will allow the retargeting provider to know when to serve ads to said visitors.
As you can see, what retargeting will allow you to do in turn is to serve ads to people that have already visited your website, which means that they're more likely to respond to those ads because they have already demonstrated interest.
Retargeting is used by many online marketers as a complimentary advertising strategy, because they can send people to the business website that they are promoting through a common advert unit and then to retarget those same users through retargeted adverts.
What Makes Facebook The Top Retargeting Platform?
There are a lot of different retargeting platforms out there, but Facebook is the only one that will allow you to retarget a unique custom audience, and to also reach its wide user base of more than 2 billion active people a month.
One of the most powerful retargeting features offered by Facebook is that it will also reach out to Facebook users that are similar to your retargeted audience.
Also, retargeted Facebook ads will be served to users right on their Facebook feeds on desktop and on mobile devices, making its retargeted ads less intrusive and easier for users to engage with. How far can you take your profits with all this? Let's find out in the next chapter!
Chapter 4: How can your business benefit from Facebook ads?
It is no longer a secret that Facebook is by far the social media platform of choice for online marketers for reasons that are not obvious up until you start using it to promote your business.
We already talked about Facebook's large and active worldwide audience, and that right there is an enormous benefit for any business because of exposure, and the good news is that businesses can create their own profiles as Facebook pages.
Then we talked about Facebook's advertising platform and how it works to help businesses to easily achieve their marketing objectives. Thanks to non-intrusive
and retargeted ads, the Facebook Ads platform is one of the best options there is for advertisers.
Now we want to talk about how Facebook Ads can help your business to grow. These are some of the most under reported yet more relevant benefits offered by the Facebook advertising network for businesses.
Facebook Ads are cost-effective
One of the reasons why the majority of businesses have a difficult time breaking through online is because of costs, mainly the cost of paid advertising, which can easily eat most of a business' marketing budget on a whim.
The Facebook Ads platform is one of the cheapest advertising options not only among online advertising networks but also when compared to any other form of advertising period. You can easily assign $15 to your advertising budget on any given day and reach 1,000 people. It doesn't get cheaper than that anywhere else!
Your potential customers are already spending lots of time on Facebook
Close to 80% of internet users use Facebook, and a good chunk of them are using it daily, and we guarantee you that a good portion of your target audience is in that 80%, which means that they're pretty much likely to interact with your advertising at any given moment.
Other Details
- 1 Ebook (PDF), 85 Pages
- Top Resource Report, Cheat Sheet, Mindmap, Special Report
- Year Released/Circulated: 2018
- File Size: 5,896 KB
License Details:
[YES] Can use
[NO] RESELL OR GIVEAWAY