Salespage Snapshot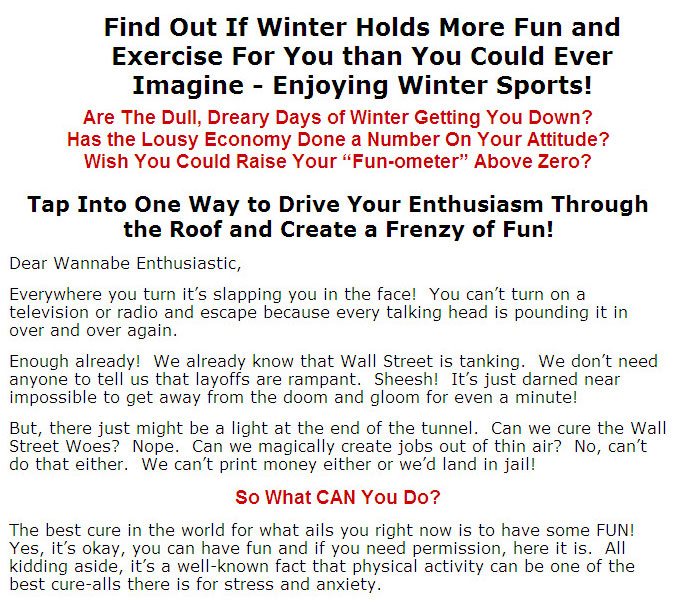 >> Click Here To View Sales Page...
PLR Ebook Table Of Contents
Getting Your Body Fit For Winter Fun
How to Figure Skate
Speed Skating
Cross-Country Skiing
Downhill Skiing
Ski Jumping
Sledding
How to Play Ice Hockey
Snow Boarding
Fishing on Ice Snow Mobiling
What to Wear – Keeping Warm
Safety First for Winter Sports
Buying Winter Sports Equipment
Winter Resorts
Ebook Sample Content Preview
Getting Your Body Fit For Winter Fun
Being fit in the winter requires some special preparation since you have to deal with extreme temperatures. You can battle the cold better by following a few guidelines. You may also find that you burn fat more efficiently, plus perform better by staying focused on your objectives and goals. The transition does not have to be stressful or difficult. Here are some of the best ways on how you can stay fit for the winter.
Setting Your Goals
Every individual has unique capabilities and tolerance for winter sports, which is why it is important that you get a physical examination first. The test will determine how well you may do in the activities you have chosen. It also prevents overexertion, especially for those who have not been physically active for quite some time. Winter fun means gradually building up your strength and endurance to perform better each time.
Determine your objectives specifically like the particular activities or events you wish to join, how many times per week you plan to go, how long each session takes and all the needed items for each. Make sure you put in enough rest periods to recover fully after each strenuous item.
Starting Off
Make a routine which includes the definite period of the day and duration of exercise. You may want to allocate 30 to 60 minutes, 3 to 4 times a week to begin. Divide the days accordingly to build strength, improve conditioning and boost endurance. You may pick the first 2 days for weight training, followed by cardio over the remaining days. Include stretching exercises as well to keep your muscles warm and prevent injury.
Other Details* Sales Page:
Included, HTML, MS Word Doc
* File Format:
MS Word Doc, PDF
* Number of Pages:
55
* Included Graphics:
Ecovers, PSD
* Download File Size:
2,154 KB