Salespage Snapshot: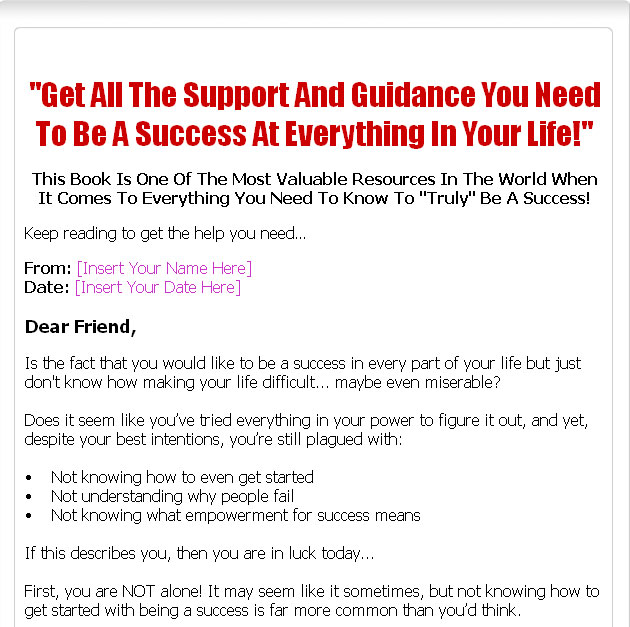 >>> Click Here To View Full Sales Page…
Table Of Contents
Foreword
Chapter 1 Basics on Success
Chapter 2 Why People Fail At Success In Today's World
Chapter 3 What Is True Success
Chapter 4 What Is The Empowered Success Mindset
Chapter 5 Traditional Success Ideas vs. New Age Ideas
Chapter 6 What Does Empowerment For Success Mean To You (How to Set Goals)
Chapter 7 Why Adopt The Empowerment Mindset For Success
Chapter 8 Tips For Becoming Empowered For Success
Chapter 9 The Good And Bad About The Empowerment Mindset For Success
Chapter 10 Conclusion
Sample Content Preview
Chapter 2: Why People Fail At Success In Today's World
Synopsis
For a lot of people, success can be elusive. There are some people who are good at setting their goals, but still leads to a poor success rate in achieving their goals in life.
And one of the primary reasons of that is that most people don't take proper and guided action at all, and there are also some that don't finish what they have started. They usually gave up on the middle of their goals. For some people, it is easier not to continue what they've started than failing.
But failing seems to be easier in short term. But in long term, the mental suffering from living an unsuccessful or unfulfilled like can be very difficult to bear. And there is definitely no doubt that by not working hard to achieve your goals, you won't be living a fulfilled life.
What About Failure
Aside from the illusion of people that letting go of their goals can be the easiest option, there are also other reasons why people fail to succeed in today's world.
– People were pursuing wrong goals in life.
– They usually perceive that pursuing their goals in life would be tough for them.
– They are not entirely confident about achieving their goals.
Another reason why people fail at success in today's world is because of the lack of passion. Some people fail to be successful in life is because they don't have a passion.
Whenever individuals have an intense and strong passion for anything, they will do everything they could just to achieve what they have set out in life. They will try everything regardless of how tough their situation can be.
In trying to be successful, people needs to have clear goals in life. They should know what really their purpose is and what their calling is all about.
If people don't actually know the destination that they really want to go, chances are they will only end up in the wrong direction and with the wrong purpose.
Therefore, people needs to be specific about what they really want in life. You actually have a supreme power of taking control of your life; you have all the capability of designing your own life.
Additionally, people fail to succeed in today's world for they lack focus. Successful people think mainly about their goals and their dreams, as well as to how they can reach these goals. It's what separates the extraordinary with the ordinary. If you really are serious about being successful, about being able to achieve your goals, consider focus as a vital element.
When it comes to being successful in life, God's wisdom is a powerful commodity. The Book of Proverbs will show people that wisdom brings utmost knowledge in the right things to do in any situation. And this will result to prosperous, long life, and success.
"If anyone lacks wisdom, let him ask of God, that gives to all men liberally, and it shall be given him. But let him ask in faith, nothing wavering. For he that wavers is like a wave of the sea, driven with the wind and tossed." — James 1:5-6
Therefore, Wisdom is definitely required in living a prosperous and successful life. And God is always willing to provide Wisdom to all those people who ask for it through faith.
Chapter 3: What Is True Success
Synopsis
What does success mean to people? To most people, success can mean different things. But can anyone really find the real meaning of true success that will apply to all the people? Success is about discovering and implementing the 'Will of God' in your life, as well as your Divine purpose, the reason why a person has been created.
Each individual has a destiny to be fulfilled. All people actually have been sent on earth for a reason, a purpose. Regardless of how people got here, God already knew that they're coming and God has fashioned a purpose and plan for their lives.
What Does The Bible Teaches People About True Success?
Attracting success is all about the application of the spiritual principles, which if activated by their decisions will produce excellent effect. These essential spiritual principles are all given by the Almighty God and were written in God's word, which is the Bible. And these principles are always available to those people who would want to learn about them.
It is actually the Will of the Lord that people prosper, be in good health, and to enjoy and live a life in true success. A good life in true success is life without disease, sickness, misery, poverty, hopelessness, and misery. In fact, if a person has no hopes beyond life then regardless of how much money a person possesses, living a life with the fullness of a God life is impossible. If people have hopes in just the world alone, they will find themselves utterly terrified, suffering, and miserable.
These facts are not to scare people. It's to empower them and teach them that if they truly want to live their life in true success, they must put all things in appropriate and proper perspectives, in accordance with the Scriptures, the Bible, and also realize that their lives is truly about balance.
Success certainly belongs to everyone. But success can't be considered as true success if prosperity is attained only in the areas of riches. But this shouldn't be misunderstood, a person should really prosper in almost every way, and this include financially. But life is more than that; it's more than success itself but rather True Success.
It's definitely all about the absolute Bible Prosperity and Success and its way more than money, even though prosperity includes money. It's way more than that. People are soul, body, and spirit. People are actually tri part creation of the Truine God, God the Father, Son, and the Holy Spirit. And If God speaks about prosperity in the Bible, His Word, all these areas should be included and if not, people are lacking with True Success.
What good would it be for people to have wealth, but don't have the ability of really enjoying it because of other reasons like disease or sickness? What good would it be for people to be successful in life, only to learn that they don't actually have a real relationship with the Almighty God the Creator.
God's purpose for your life is the main thing that can truly fulfill you, and bring your heart with true success and satisfaction. Aside from your Divine purpose, you will never going to be truly happy and successful from deep within.
Other Details
- 1 Article (DOC)
- 1 Ebook (DOCX, PDF), 32 Pages
- 1 Lead Magnet Report (DOC, PDF), 13 Pages
- 1 Autoresponder Email Messages (TXT)
- 1 Salespage (HTML)
- Ecover (JPG)
- File Size: 7,546 KB