Salespage Snapshot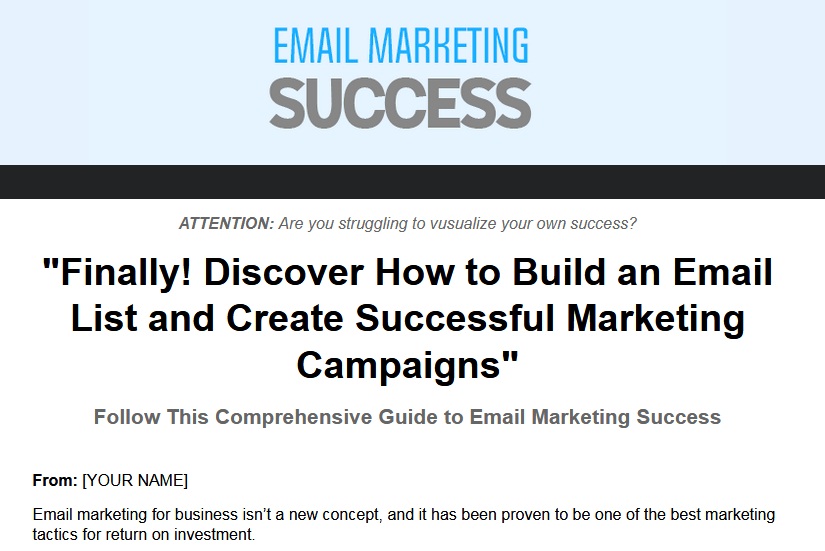 >> Click Here To View Sales Page...
Table of Contents
INTRODUCTION .. 5
CHAPTER 1 – WHAT'S EMAIL MARKETING AND WHY YOUR BUSINESS NEEDS IT . 8
WHY YOUR BUSINESS SHOULD IMPLEMENT EMAIL MARKETING . 11
CHAPTER 2 – GETTING STARTED WITH EMAIL MARKETING . 16
ESTABLISHING YOUR GOALS AND OBJECTIVES 16
BUILDING YOUR BUSINESS EMAIL LISTS .. 17
CHOOSE THE TYPE OF CAMPAIGN YOU WANT TO SEND 18
CREATING YOUR FIRST EMAIL MARKETING CAMPAIGN 23
CHAPTER 3 – BUILDING YOUR MAILING LIST .. 25
LEAD MAGNETS 26
CHAPTER 4 – WRITING EMAILS THAT WILL INSPIRE YOUR AUDIENCE TO TAKE
ACTION 31
UNDERSTANDING YOUR AUDIENCE .. 32
PARTS OF AN EMAIL 33
KEEPING YOUR EMAILS BALANCED 35
WRITING GREAT SUBJECT LINES 36
BEST PRACTICES TO FOLLOW WITH YOUR EMAIL 37
CHAPTER 5 – MEASURING RESULTS AND OPTIMIZING YOUR STRATEGY .. 41
DELIVERY RATE AND BOUNCE RATES 42
DEFINING YOUR GOALS .. 45
CONTINUOUS OPTIMIZATION . 46
CONCLUSION . 47
Sample Content Preview
Advanced List Maintenance
This feature allows you to add and remove email subscribers from your list quickly. You can use this feature to automate subscription and opt-outs. It helps you keep your email lists updated.
CAN-SPAM Compliance
This is a feature that is designed to check compliance with the unsolicited pornography and marketing, CAN-SPAM Act of 2003. This act has given the United States Federal Trade Commission the right to enforce all necessary standards to protect email owners from unsolicited contents like pornography.
Easy Integration Feature
This feature allows for the integration of other services into your email marketing campaign. You can incorporate your e-commerce website with your email campaigns through this feature, and you can also include several mobile apps, loyalty programs, and social media apps to your email marketing campaign.
You can connect Google analytics to your email campaign through Easy Integration feature so you can track the clicks on your email, as well as incorporating product recommendation features into the email, through the use of this feature.
Dedicated IP Address
A dedicated IP address is incredibly essential for the integrity of your email. This IP address should be one that is solely dedicated to your business, and it should be the only one used to send emails to potential customers. Your email recipients will have peace of mind when they receive your emails with this dedicated IP address.
Deliverability
Deliverability is a feature that is included in an email marketing software that ensures that your emails are delivered to the right place. If your emails aren't delivered, then your marketing strategy just won't work. This features constantly deploys the tools that you need to track down deliverability issues with your emails.
Why Your Business Should Implement Email Marketing
Email provides you with the opportunity to send a message to your audience for any purpose on any day of the year that costs you next to nothing. This makes email an incredibly powerful way to communicate with your target audience.
When you are able to create a solid email marketing campaign and send the right messages to the right people at the right time,
you are sure to build an audience of highly engaged fans that can't wait for your next message to hit their inboxes. Additionally, they are ready to buy whenever you have a product or service to promote. There are several compelling reasons why you need to start implementing email marketing for your business.
Generates Massive ROI
A recent study conducted by the Direct Marketing Association found that businesses will earn an average of $43.00 for every dollar invested in email marketing.
In fact, marketers have consistently ranked email marketing as the single most effective strategy for generating awareness, acquiring leads, generating sales, and improving customer retention, compared to the other marketing strategies most commonly employed.
Generates Long-Term Results
In 2010, the company MarketBeat first started collecting opt-ins for their newsletters. Almost two decades later a good number of subscribers that signed up during the first year continue to read their content, engage with their advertisers, and buy products and services from their business.
Your email list is a long-term asset that will continue to generate revenue and social capital for your business well into the future.
Most Customers Want Email from Companies
MarketingSherpa conducted a study that showed that 72 percent of U.S. consumers say that email is their favorite way to communicate with the companies that they do business with. They also discovered that 61 percent of consumers like to receive weekly promotional emails from their favorite brands, while 28 percent of consumers would like to receive promotional emails more frequently.
Additionally, 70 percent of consumers say they will always open email from their favorite companies, and 95 percent of people who opted in to receive an email from brands say that the marketing emails they receive are incredibly useful.
Outperforms Social Media Marketing
A recent study found that businesses are more than 40 times likely to create a new customer from email marketing than they are through social media. When it comes to email marketing, many marketers feel that it delivers a better return on investment than social media marketing.
Email is Universal
Almost 87 percent of the U.S. population has access to the Internet in their home, and 95 percent of consumers use email. With email marketing, you don't have to worry whether or not your target audience has an email address or not, unlike social media.
It's a Resilient Technology
Email has existed in its current format since the early 1980s, a full 15 years before most homes had a personal computer and Internet access, and 25 years before the first iPhone was released. Despite the world's massive amount of technological progress and the proliferation of smartphones, personal computers, and tablets, the technical specifications for email have only been updated a handful of times.
While other communication technologies have come and gone, email continues to withstand the test of time. When your business invests in email marketing, you know that a bigger and better thing won't replace it in the next couple of years.
Email Marketing Is Federated
When you build an audience on YouTube, Facebook or Instagram, you are at the mercy of companies whose best interests aren't aligned with yours.
You can put a lot of time, energy, and money into building an audience on one of these platforms only to have that platform change the rules in a way that kills the profitability of your campaign. That will never be the case with email because no one company has control of the technical specifications for email or control over the technology infrastructure that allows email to be delivered to the world's six billion inboxes.
Email marketing will continue to be one of the most effective and most resilient marketing strategies for both brick-and-mortar companies and digital businesses. It is hard to match the potential ROI offered by email marketing, and you can rest assured that your efforts will continue to generate revenue well into the future.
Chapter 2 – Getting Started with Email Marketing
When it comes to starting an email marketing campaign, there are specific steps that you should follow if you want to be successful. You need to establish clear goals and objectives, build your business email lists, choose the type of email campaign that you want to send, create and design your first email campaign and measure your mail campaign results.
Establishing Your Goals and Objectives
Like with any marketing strategy, you need to develop clear goals and understand your objectives before you dive in head first.
Before you sign up for an email marketing tool, you have to clearly set out what it is you want to achieve with the emails that you want to send to your target audience. You want to make sure that your email marketing campaign aligns with your broader business goals and objectives.
For instance, your business goals might be to attract new leads to sign up for your branded products and services, or perhaps to get more attendees to attend your company events, or maybe you are looking to get more donations for a specific cause. Whatever your overall business goals are, you have to make sure you take the time to think about how you are going to use your email marketing campaign to reach those goals.
Building Your Business Email Lists
After you've established your email marketing campaign goals and objectives, you can start to create your email lists so you can start sending out your email marketing campaigns. There are several ways that you can go about building your email lists. The first option is by importing emails from known contacts.
These are typically the details that you have on your existing customers that you can import into your email marketing tool. You can either manually enter these addresses into your email marketing software, or you can link your email marketing tool to your email account to automatically extract the information.
Other Details
- 20 Articles (TXT, DOC)
- 1 Ebook (PDF), 48 Pages
- 2 Graphics (PNG)
- 1 Salespage (HTML)
- 4 Keywords List (PDF, CSV)
- Checklist, Lead Magnet, Optin Page, Social Media Messages, Opt-in Page Headline, Email Swipes, Salespage Headline, Infographic
- Year Released/Circulated: 2019
- File Size: 18,356 KB
License Details:
[YES] Can be sold
[YES] Can be used for personal use
[YES] Can be packaged with other products
[YES] Can modify/change the sales letter
[YES] Can be added into paid membership websites
[YES] Can put your name on the sales letter
[YES] Can be offered as a bonus
[YES] Can be used to build a list
[YES] Can print/publish offline
[YES] Can convey and sell Personal Use Rights
[YES] Can convey and sell Resale Rights
[YES] Can convey and sell Master Resale Rights
[NO] Can modify/change the main product
[NO] Can modify/change the graphics and ecover
[NO] Can be given away for free
[NO] Can be added to free membership websites
[NO] Can convey and sell Private Label Rights