Salespage Snapshot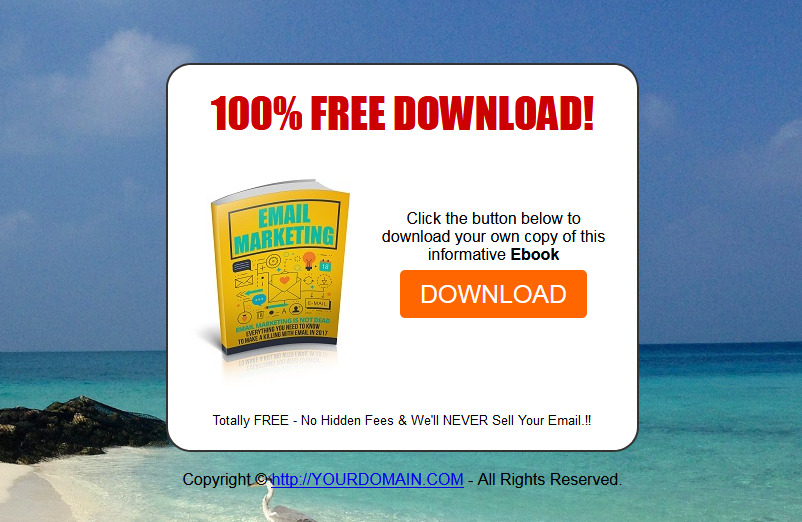 >> Click Here To View Sales Page...
Sample Content Preview
The benefit of posting the e-mail that you send on your blog as well so you can get tons of content out there for search engines to pick up, not to mention with the social interactivity the blogs have nowadays you can get a lot of new traffic when you put twitter and Facebook buttons on your blog so people can re-tweet or like your blog postings of your e-mails which will give every e-mail that you send a little bit of a viral effect.
Think of it this way, what you sent an e-mail to your customer list you probably got a matter of a few hours if you're lucky before that e-mail is buried in your customer's inbox and possibly will never be seen again.
By blogging all of your e-mail you get all the content that you create an unlimited shelf life that never expires. You will be surprised how many of your customers that may miss one of your e-mails catch it for five days after you send it because they follow your blog.
One important thing to remember though posting your e-mail content to your blog is to stay relevant on the topic of your marketing niche. If you spent years building up an e-mail list of customers that like to buy material on NLP or hypnosis but then suddenly your blog start showing e-mail posts talking about how to give a great massage, you will quickly lose your customers interest. If they were looking for information on massage they would be on another e-mail list not yours. Following Up With Email
While social marketing is great to help grow your e-mail list the best way to stay in contact is through e-mail follow-up and that won't be changing anytime soon.
I assume if you are reading this guide on e-mail marketing for your business in 2018 then you most likely already have an autoresponder account.
If you don't you need to stop reading right now and go get a free trial account over at http://www.Aweber.com Once you have done that then please come back to this guide and continue on .
Why Do You Need An Autoresponder?
If you've ever been on a website and filled an opt in form to get more information about a product or service, or signed up for an e-mail newsletter on the Internet, and received a nearly instantaneous response in your e-mail inbox, an autoresponder program was responsible for delivering the reply.
Simply put, autoresponders are e-mail programs that send out a preset message in response to every incoming e-mail received. Some autoresponders, like sign-up services for e-groups and forums, are one-shot deals: a single response for every message received.
Just about every Internet-based company uses autoresponders for a variety of purposes, from automating tasks that would otherwise take up hundreds of man-hours to building lists and tracking prospective leads.
Multiple autoresponders send a series of messages to received e-mail addresses on a predetermined, timed basis. For instance, a multiple autoresponder can be used to send an instant response, then a follow-up message three days later, then another five days after that, and so on.
It can be programmed to send a message a day, one per week, twice monthly, or any interval that satisfies the purpose of the message series.
Autoresponders are the most powerful Internet marketing tools available. They are easy to use, and once they're set up the entire marketing process is automated and instant. When you use autoresponders, your Internet business runs itself 24 hours a day. Launching an effective autoresponder campaign can mean the difference between a struggling business and a wildly successful one.
How can I make money with autoresponders?
Just about any online business can benefit by using autoresponders. In fact, with a properly arranged campaign, your brand-new Internet business can be built around an autoresponder program. All you need is a product and an effective series of autoresponder messages, and you can start carving your piece of the Internet pie.
Your autoresponder is your golden goose: the marketing tool that will sell your well-developed product far more effectively than any other form of advertising. Few sales are made by impulse buyers, particularly on the internet. But if you are able to get your message out repeatedly to people who are already interested in what you have to offer, you will see an explosive sales response.
This guide will give you all the information you need to begin profiting with autoresponders and e-mail marketing.
I'm going to help you choose a niche topic that works best for you and your situation; then together were going to research your market and find or develop great content that people want to buy so that you can start you own automated storefront web site; tailor your autoresponder messages for maximum effectiveness; and build a powerful opt-in autoresponder list that will make money even while you sleep.
Are you ready to get started?
To make money with autoresponders, you need a product. Most of the time, the product you're selling or giving away to build your e-mail list is going to be an information product of some sort. These will include but are definitely not limited to: an e-book, print book, e-course, e-zine or newsletter, CD, or downloadable audio program.
Your topic must be something that appeals to a wide audience—you could have the world's best book on raising Amazon boa constrictors at home, but the only people interested in it would be people who already own an Amazon boa constrictor, or have thought about buying one. In this case, your sales base would be limited (to put it nicely). On the other hand, if your book or product tells people how to make five hundred dollars a minute—well, you might have quite a few potential buyers.
Once you start building your e-mail list there are going to be things you need to do to help nurture it, so you can start developing a personal one-on-one relationship with your new customers. Here are some things to consider…
1)Get your customers to trust you and your products first. Just launching your opt-in list would not make you an expert and a believable seller. Put many articles
first before you start an opt-in list. Write about the topic you know and have started and used for your site. Try to put forums first to gain knowledge about your customers about their wants and needs and target those wants and needs.
Join forums from other sites as well. Provide expert advices and recommendations. When you feel that people trust you already, you will be able to start your own opt-in list. You can build a base as well with other forum users. You can ask them to join your list. Friends are always good customers. Put up a link to your site so that they may be able to see what you're business is all about.
The certain truth is, the money will only come in when the consumers and subscribers believe and trust in you. They want a product or service that could be a good exchange for their money. People are not going to buy something out of your recommendation if they don't know you.
2)Find a product or service that people want and need. Although it may not be your forte, if you provide a service and product that you have researched and learned about well, you can carry it on forward. Invest your time, effort and money that you could sell as well as the buyers or subscribers of your opt-in list can use.
While it is true that it is best to sell something that you have interest in, there are not many people who have the same interest as you if you decide to sell something that is not entirely popular or profitable. Do your research well and you would see the profits come in. Also provide your subscribers with promotional material that they could actually use and spread around.
3)Make friends with other opt-in list users. This is basically beneficial especially if it is someone who has already launched a successful opt-in list. These are people that have the experience in this venture and experience is still the best teacher. While there are many articles available for you in the internet to use, there is nothing like getting a firsthand account from someone you trust.
Experienced opt-in list users will be able to tell you what to do and what not to do because they have gone through it. While different situations occur for different people, the general concept can still be very helpful. There are many things to avoid and these people will be able to tell you which ones.
Building a profitable opt-in list don't just happen overnight. There are many preparations and effort to do. Opt-in lists are built from scratch, as your list grows, you should also maintain the quality of your list. Keep it organized and manageable. Get or hire help if need be, just make sure that your subscribers are happy and satisfied and they will be willing to buy from you.
Other Details
- 26 Articles (TXT)
- 1 Ebook (PDF), 23 Pages
- 1 Squeeze Page (HTML)
- 2 Ecovers (PNG)
- Year Released/Circulated: 2018
- File Size: 1,924 KB
License Details:
[YES] Can sell and keep 100% of the sales.
[YES] Can edit the squeeze page.
[YES] Can be bundled into another paid package and sell at a higher price.
[YES] Can be used as a bonus to another product you are selling.
[YES] Can be sold in a Dime sale event.
[YES] Can be added into a paid membership site.
[YES] Can pass on the Master Resell Rights privilege to your customers.
[YES] Can be given away for free AGAINST an email address (lead generation)
[NO] Contents of the product can be edited, modified or altered.