Salespage Snapshot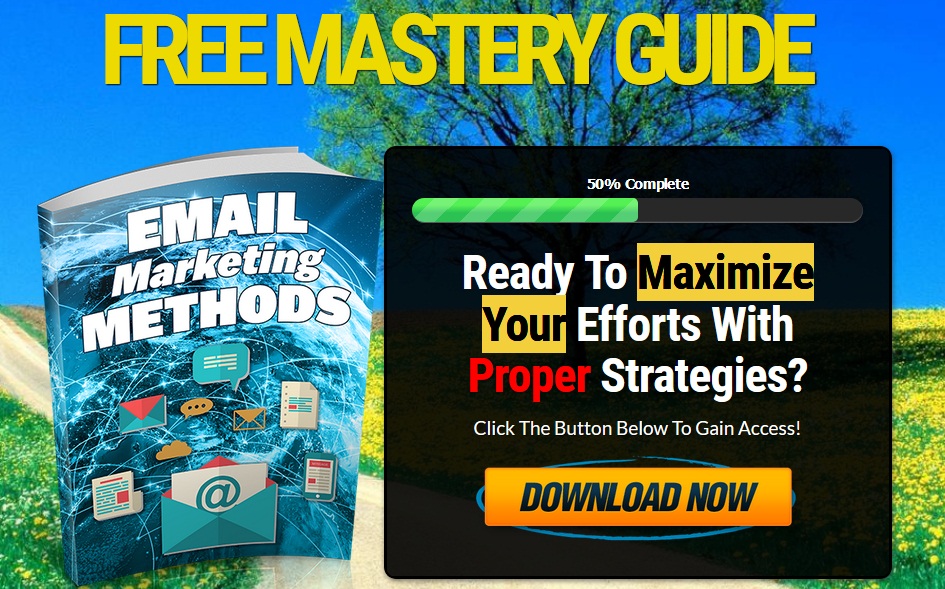 >> Click Here To View Sales Page...
Sample Content Preview
DON'T SKIP YOUR CONTACT INFORMATION
In the United States, it is required by law that all commercial solicitations have some form of contact information on them. This is designed to allow those who receive the emails to be able to contact you ask you for removal. Often, all that needs to be provided is your email address or your business's mailing address.
If your area requires the use of this type of solicitation, use it. You do not want to find yourself out of business before you start.
In addition to providing your contacts with this legal requirement, by publishing your company's contact information at the bottom of emails like this, you help show them that your business is, in fact, authentic and this could help them decide to work with you.
IT ISN'T THAT BAD
While each of these items may seem like overkill, and they may push you away from wanting to use email marketing, they should not do so. In fact, once you get the process underfoot you can easily manage your email marketing methods without thinking about them. This takes the pressure off you and allows your clients to feel better about working with you.
MARKETING METHODS YOU HAVE
With email marketing, there are various ways to get started. You may want to use several of these options, or perhaps just one or two. The key is to personalize the methods to match your business's need. Ultimately, you have to ask yourself, "What will help my potential customers invest?"
Consider the following options that you have. Chances are good it will only take you a short amount of time to start implementing and benefiting from these email marketing methods.
DAILY COMMUNICATION
One of the first places to start with email marketing is to get the daily message out. Email has become so commonplace it has even taken over the short phone calls people make to each other to check in. On the same token, daily communication to your clients is one of the best ways to let them know what is happening within your business.
Daily communication with your email list is not meant to be something that sells to them hard every time. Rather, look at it as a way of getting in touch with the clients that you have. You are just sending them a note, which of course has links back to your website to help you to sell your service or products.
Why do you want to communicate like this? One reason for doing so is to simply keep your company, your product, or your service in the minds of the potential client or customer. It allows them to know who you are and helps you to develop a relationship with them.
It is important not to overdo it. As mentioned, you do not want your commercial messages to be considered spam. Rather, you want to make sure you always offer something of use, some form of information or otherwise alerting the customer or client to what you have to offer. If you are not running a special, instead offer some advice or wisdom in the email.
The best way to manage this type of personal communication is to use a simple email client that will allocate email addresses into the appropriate groups. Then, you can send out one email address to a group of contacts appropriately.
Especially at first, there is no need to invest in a hefty email marketing program like an autoresponder. Instead, invest in good organization through your Outlook program or any other email client you use. This way, you are not investing anything additional.
EMAIL NEWSLETTERS
The next type of email marketing method to incorporate into your business is the email newsletter. Email newsletters only different from small messages by length. These usually will provide you with more in depth information and may teach a topic.
In terms of email marketing methods, the email newsletters are a good option for most businesses. Many businesses will allow their customers to opt in to a monthly newsletter. The newsletter will let the customer know what is happening within the business, alert the consumer of new opportunities or discounts, or provide some other type of information.
Be sure that your email newsletter is interesting to the reader and relates in some way to your business. For example, if you offer credit card information and resources on your website, in which you hope your email list will sign up for a credit card through you, then your email newsletter should somehow relate. It may offer helpful tips to choosing the right type of credit card or may explain what rewards programs are available.
Newsletters do not have to be expensive, especially if you learn to create them yourself. A variety of pc programs are available to help you do this. You can also outsource this work if you would like to. If you do the work yourself, you may spend more time rather than money on the process.
Email newsletters should always point the consumer back to your website. For example, it should include a number of links (without going over board) to your website or the affiliate link you wish them to use. The key is to get on top of the program by offering a useful, insightful newsletter that gets people to react. A sales like pitch is not always the way to go as that may cause more of your clients to hit the removal link on the bottom of that newsletter instead.
USE EMAIL FOR LEAD GENERATION
After you have some experience using email as a marketing method in the above mentioned ways, you can begin to explore the options of using it as a lead generation tool. Most often, companies will start off using email marketing as a means of communicating with the client after an initial purchase or visit to their website. This is not always the only way to go.
You can gather email addresses in a variety of forms and send them commercial emails (without spamming them.) Many companies use this method to help them find new customers and then to generate sales from these programs.
When using your email marketing methods to gather leads, you have to keep a few specific things in mind. First, you need to be sure you are not spamming anyone and that you have permission in some form to email the person.
MAKE IT SUCCESSFUL
In order to make your email promotion successful, you need to be sure you are getting the best information across. To be successful, you will need to get leads from these messages. Here are some tips to help you to accomplish this.
#1: Use Images Correctly
One mistake many people make is not using images properly. Since most email clients will block images received from your newsletter or other email, realize this. It means that half of your audience is not likely to see your images when they open your email. Most of these programs have a default setting that, unless changed, will block images from being displayed in emails.
Other Details
- 1 Ebook (PDF), 12 Pages
- 1 Squeeze Page (HTML)
- 2 Ecovers (PNG)
- Year Released/Circulated: 2019
- File Size: 3,689 KB
License Details:
[YES] Can sell and keep 100% of the sales.
[YES] Can edit the squeeze page.
[YES] Can be bundled into another paid package and sell at a higher price.
[YES] Can be used as a bonus to another product you are selling.
[YES] Can be sold in a Dime sale event.
[YES] Can be added into a paid membership site.
[YES] Can pass on the Master Resell Rights privilege to your customers.
[YES] Can be given away for free AGAINST an email address (lead generation)
[NO] Contents of the product can be edited, modified or altered.