Salespage Snapshot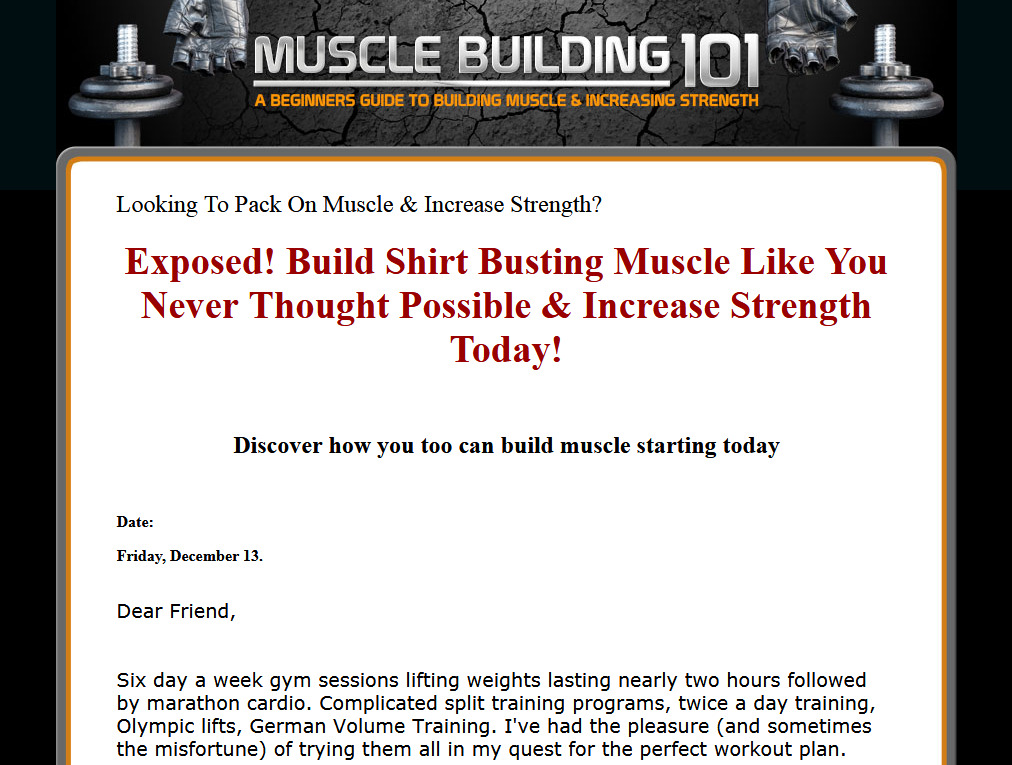 >> Click Here To View Sales Page...
Table of Contents
Introduction – Why Is It So Hard To Build Muscle? .. 6
Chapter 1 – My Current Situation .. 9
Why Visit the Doctor? .. 9
Self-Evaluation Checklist .. 10
Chapter 2 – Getting Your Head In The Game .. 13
How to Set Goals 13
Step 1: Set a 5-year Goal 14
Step 2: Set Monthly Goals 15
Step 3: Set Up Rewards 16
Chapter 3 – Nutrition Guidelines For Building Muscle 18
Protein .. 19
Fat . 19
Carbohydrates 20
Chapter 4 – Which Popular Muscle Building Diet Is Right For Me? 22
80-10-10 Diet . 22
Split-Meals Diet .. 23
Intermittent Fasting Diet.. 24
Chapter 5 – Best Type Of Training For Muscle Building. 25
Chapter 6 – Sample Training Schedule & Exercises .. 27
Day 1: Arms 28
Day 2: Legs . 29
Day 3: Shoulders 30
Day 4: Chest .. 31
Day 5: Back . 32
Days 6 and 7: Rest! .. 33
Chapter 7 –Rest & Recovery . 35
Cool Down 35
Stretch . 36
Eat Protein .. 37
Get Potassium and Calcium . 37
Drink Water . 38
Sleep 7 – 9 Hours Every Night 39
Eat Right .. 39
Reduce Stress . 40
Chapter 8 – Beginner Mistakes To Avoid .. 42
Pushing Yourself Too Hard 42
Not Having a Schedule . 43
Step 1: Set a Time . 44
Step 2: Plan Your Routine 44
Step 3: Write it in Your Calendar 44
Imbalance 45
Bad Form . 45
Skipping Days . 46
Going it Alone . 46
Chapter 9 – Apps & Technology to Enhance Muscle Building 48
Apps for Workouts . 48
You Are Your Own Gym 49
Fitness Buddy . 49
App for Nutrition. 50
My Fitness Pal . 50
App for Tracking Fitness .. 51
Globe Gripz . 51
Weighted Jump Rope. 52
Foam Rollers 53
Conclusion – Making Muscle Building A Lifestyle . 54
Sample Content Preview
Be sure to keep the list of these measurements somewhere that you can refer to often as you re-evaluate to make sure that you're on track with your goals. It will also help to keep these handy when you are setting goals for yourself, so you know how high to set the bar for yourself based on where you are now.
Now that we've set a path towards muscle building and assessed our current situation the next thing to get in order is our mind…or mindset to be a bit more precise, which is what we will cover in the next part.
Chapter 2 – Getting Your Head In The Game
If you don't believe in yourself, then you'll never reach your goals. It's as simple as that. By saying that you can't do something, then you are condemning yourself to failure before you even start. For that reason, the most important step of your muscle-building journey is to get your mindset right by getting your head in the game.
First and foremost, you need to think of yourself as a muscle builder, not simply someone who does some muscle-building exercises a few times a week. This will allow you to live a lifestyle that focuses on building muscle. As your lifestyle revolves around muscle-building, every decision you make about what you eat and how you spend your time will help you build muscle.
How to Set Goals
Before you really start muscle building, you'll need to set goals for yourself. It's important for your goals to be attainable or else you'll never reach them. More than that, you're more likely to give up before reaching your goals if they're set too high. So, keep that in mind as you start the three-step process of setting muscle-building goals.
Step 1: Set a 5-year Goal
The first goal you're going to set for yourself won't be reached for several years, but it gives you something long-term to reach for that will help keep you motivated to keep going. This goal should be difficult enough that it will take a lot of work over a long period of time to reach it, but easy enough that you will be able to get to it in about 5 years.
Your 5-year goal is going to look different from everybody else's. It could be to get your body measurements to a certain size, your muscle percentage to a certain number, or your 1RM up to a certain weight.
Whatever your 5-year goal, be as specific as possible so you know exactly what you're aiming for. This helps in the long run and right now as you continue the goal-setting process.
Step 2: Set Monthly Goals
Break down your 5-year goal into 60 months and it becomes significantly easier to reach. Rather than simply going for one long-term goal, you are now able to focus on just one goal per month. This not only makes the process less overwhelming, but it also helps you feel motivated to keep going as you reach your goals every month and see your progress much more often.
To make things easier, you may want to focus on just one part of your body every month. If, for example, your goal is to reach a certain 1RM for every exercise, make your goal for February to add a couple pounds to your squat. While you should still be working the other parts of your body, allowing yourself to focus on one per month will simplify your process.
Step 3: Set Up Rewards
What's something huge that you've always wanted but never allowed yourself to get for whatever reason? Set that up as your ultimate reward, that you will indulge in only once you reach your 5-year goal. This may involve taking a vacation, or buying a new vehicle. Whatever it is, set this up as your reward, and it will help you self-motivate.
You'll also want to set up smaller rewards at the beginning of every month that you can enjoy if you reach your goal for the month. These should be smaller goals that will keep you motivated during that month. It could be something like going to see a movie at the end of the month or buying yourself something you can add to a collection.
Once your goals and rewards are in place, you're ready to get started as a muscle builder.
If you're not sure what goals are reasonable, then ask a muscle builder you know to help you set goals. You could also look for online muscle-building communities to find out more about what are attainable 5-year and monthly goals.
Now that you've assessed your current situation, got the all clear from your doctor and set some clear and precise goals for your muscle building efforts, it's time to start looking at the day to day things you need to do to see the results you're looking for. In the next part we are going to look at foundational nutrition guidelines for muscle building.
Chapter 3 – Nutrition Guidelines For Building Muscle
Part of your new muscle-building lifestyle involves changes in the food that you eat. Getting the right balance of macronutrients will help your body do what it needs to do in order to build muscle so you can reach your goals. For that reason, we're going to detail the three macronutrients and let you know about how many of each you should be eating every day.
Before we get too much into diet, keep in mind that every body is different, and what works for one person may not work for another. That's why these are just guidelines. We recommend that you track your food intake at the beginning of your journey and make changes as necessary until you've established the perfect balance for you.
Other Details
- 5 Articles (DOC)
- 1 Ebook (PDF), 55 Pages
- 1 Salespage (HTML)
- 1 Promotional Ad Material (Banners)
- 3 Keywords List (EXCEL, DOC, PDF)
- Report + Lead Capture
- Year Released/Circulated: 2019
- File Size: 13,047 KB
License Details:
Yes can be used for Persoanl use
Yes can be given to List subscribers
yes can be packaged with other products
yes can be offered as a bonus
yes can be edited and Your name put on it
Yes can be used as web content
Yes can be broken Down into smaller articles
Yes can be added to an e-course Or autoresponder as content
Yes can be sunmitted to article directories
Yes can be added to paid membership sites
yes can be added to an ebook/pdf as content
Yes edit title sales letter any way you want
Yes can sell resale rights
yes can sell master resale rights
No can sell PLR rights
No cannot give away PLR rights