Salespage Snapshot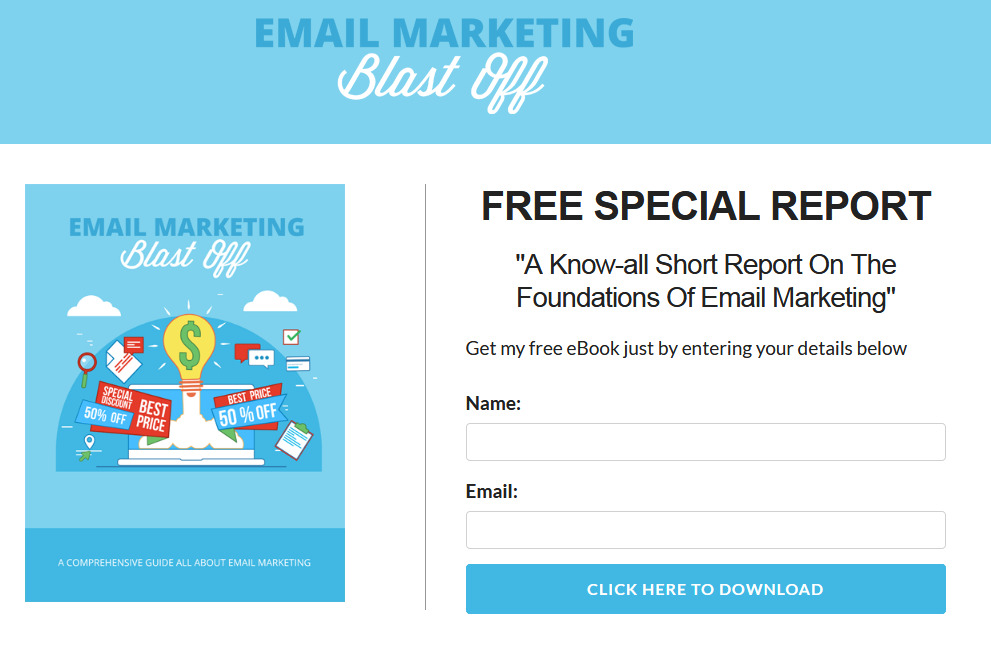 >> Click Here To View Sales Page...
Table of Contents
Introductory . 4
Chapter 1: Advertise, Do not Spam .. 7
Chapter 2: Creating Email Lists for Marketing Campaigns 10
Chapter 3: Understanding Email Marketing . 12
Chapter 4: Why Not Email Marketing? .. 14
Chapter 5: The Reaction to Your Email Marketing …… 16
Chapter 6: Email Marketing Strategies . 18
Chapter 7: Is Your Email Marketing Spam? .. 20
Sample Content Preview
Chapter 2: Creating Email Lists for Marketing Campaigns
If you plan to do some Internet marketing to promote your business endeavor, you should seriously consider email marketing as at least one tier of your Internet marketing campaign.
Many business owners shy away from email marketing because they believe all email marketing campaigns are purely spam. However, this is not true and not partaking in this type of marketing can cause your business to lose out on a great deal of business.
By not appealing to potential customers via email, your business may lose a great deal of business to competitors who are using email marketing campaigns to reach customers around the world. However, the first step of an email marketing campaign should be creating an email distribution list. This article will discuss some popular options for doing this and should help to the reader to learn more about what is acceptable and what is not when it comes to email marketing.
Once you have made the decision to start using email marketing to promote your business you are likely facing the dilemma of compiling an email distribution list. This is essentially a list of email addresses to which you will email your advertising and promotional materials. One common way to gain a list of email addresses is to purchase a list from distributors.
However, this method is not very effective at all and we do not recommend it. The problem with purchasing an email list if you have no way of knowing whether or not the members of the list would have any interest at all in your products or services. This is very important because while you want to reach a large audience with your email marketing you also want this audience to be members of your overall target audience.
When you purchase an email list you may be sending your email messages to some users who might be interested but this is largely coincidental and is not likely to be well received because the message was not solicited. Internet users are very quick to delete materials they believe to be spam without even opening or reading the emails. In fact, some Internet service providers include spam filters which may automatically delete your emails if your messages are deemed to be spam. These filters run complex algorithms on the subject heading and content of the message to determine whether or not it is spam and are quite adept at weeding out spam. Therefore, you run the risk of having your email marketing effort turn out to be a complete waste if the majority of recipients never even read or receive the message.
A far better way to create an email distribution list for your email marketing campaign is to ask current customers as well as interested potential customers to register with your website to receive additional information and periodic updates about your products and services as well as other information which might be of interest to them. This provides you w ith a database of email addresses from current customers as well as potential customers who have a genuine interest in your products and services and who are interested in learning more about these products and services.
Once you have a list of interested customers or potential customers you can send emails or create e-newsletter for distribution to the members of your email list. These documents should contain a wealth of valuable information as well as a soft sell pitch for your products and services.
This information will be valued by the readers and may help to persuade them to try your products and services. You might also want to include useful links to either your website as well as other websites which may be of interest to your readers. Your content should also contain a portion which urges the reader to take a specific action such as making a purchase or at least investigating a product further.
Chapter 3: Understanding Email Marketing
Do you understand email marketing? If you do not, you do not have to worry just yet.
This is because the concept of email marketing is relatively new and many business owners have not started to take advantage of this wonderful marketing tool yet. However, there are some savvy business owners who are already employing email marketing techniques to create additional business for themselves and to gain an advantage over the competition.
While not having a great deal of knowledge about email marketing is not an immediate threat to your business, you should start learning about this concept to ensure it does not become a problem for you later as more and more business owners in your niche begin to take advantage of the concept of email marketing. This article will provide information on email marketing which should be useful to business owners who do not have experience with the subject matter.
Business owners should first understand the options available to them in terms of email marketing. The most common options include sending out mass emails with promotional materials, publishing and distributing e-newsletters and offering correspondence courses via email. The advantage to all of these marketing strategies is the ability to reach a worldwide audience.
Unlike traditional methods of marketing such as television and radio ads or print media ads which only reach an audience in a limited area anyone with access to the Internet can benefit from your email marketing techniques.
Mass emails are the most popular form of email marketing. This includes emails which are sent to hundreds, thousands or even millions of recipients at once. The problem with this type of marketing is the potential for having your emails viewed as spam. This is likely to occur if you send your emails to recipients who have no interest in your products or services and have not expressed interest in receiving emails from you.
E-newsletters are also becoming increasingly popular as a form of email marketing. E-newsletters can be a simple or as complex as you prefer and may include text, graphics, advertisements, links or any combination of these elements.
One of the first decisions you will have to make is whether you wish to make your e-newsletter strictly text or include graphics in the e-newsletter. If you are on a tight budget, it may be worthwhile to only include text to avoid the need to hire a graphic artist. You may be able to incorporate graphics yourself but they won't look nearly as professional as the graphics provided by a professional.
Likewise, you can certainly write your own copy for your e-newsletter but you will likely create a much better impression if you hire a qualified professional writer to create the content for you instead.
Hiring a professional graphic artist and a professional writer may seem like an extraneous expense but it is actually quite important. Your e-newsletter may be the first impression many potential customers get of you and your work so it is important to make sure everything is of the highest quality.
Correspondence courses offered via email is the final email marketing strategy we will discuss. These courses may be either offered for a fee and turn into a source of income themselves or they may be made available for free.
The theory behind offering these courses for free is they often contain subtle advertising urging visitors to invest in the products and services offered by your business. Whether you charge for your email correspondences courses or offer them for free, care should be taken to ensure the information contained in these courses is completely accurate.
Other Details
- 1 Ebook (PDF), 21 Pages
- 1 Salespage (HTML)
- 3 Ecovers (JPG, PNG)
- Year Released/Circulated: 2017
- File Size: 1,636 KB
License Details:
[YES] Can be sold
[YES] Can be used for personal use
[YES] Can be packaged with other products
[YES] Can modify/change the sales letter
[YES] Can be added into paid membership websites
[YES] Can put your name on the sales letter
[YES] Can be offered as a bonus
[YES] Can be used to build a list
[YES] Can print/publish offline
[YES] Can convey and sell Personal Use Rights
[YES] Can convey and sell Resale Rights
[YES] Can convey and sell Master Resale Rights
[NO] Can modify/change the main product
[NO] Can modify/change the graphics and ecover
[NO] Can be given away for free
[NO] Can be added to free membership websites
[NO] Can convey and sell Private Label Rights