Salespage Snapshot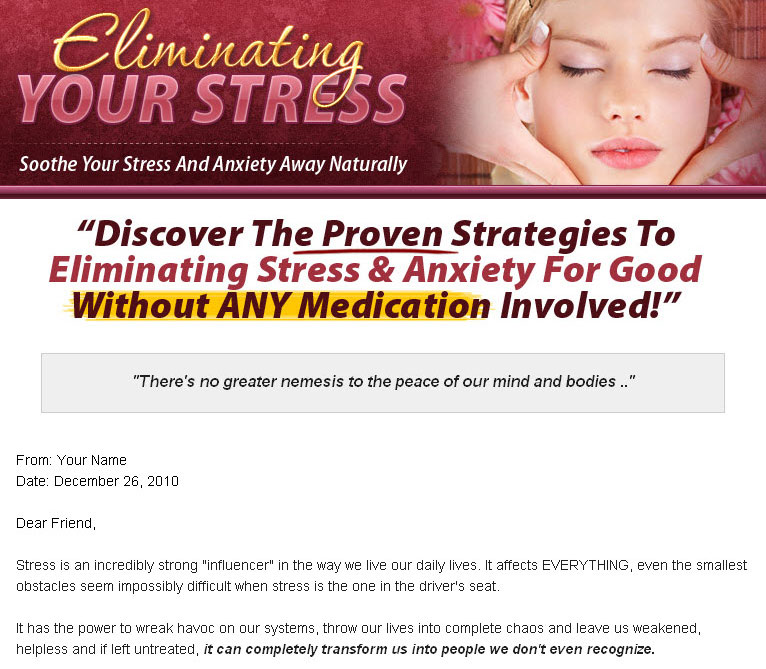 >> Click Here To View Sales Page...
PLR Ebook Table Of Contents
Introduction    5
Chapter One: Effects of Stress    7
Immune Suppression    7
Headaches    7
Back and Neck Pain    8
Hives and Other Skin Issues    8
Panic Attacks    8
Depression    9
Suicide    9
Chapter Two: Stress Reduction Basics    10
Discovering Your Stressors    10
Customizing Your Plan    11
Implementing Your Plan    12
Chapter Three: Managing Common Stressors    13
Money Issues    13
Relationship Issues    16
Workplace Issues    18
Time Management Issues    19
Family Issues    21
Friendship Issues    22
Illness    22
Chapter Four: Stress and Your Diet    24
Excess Carbohydrate Consumption    24
Caffeine Consumption    25
Chapter Five: Stress Reduction Treatments    26
Therapy    26
Massage    26
Yoga    27
Meditation    27
Medication    28
Get More Sleep    28
Hobbies    29
Pets    29
Conclusion    30
Ebook Sample Content Preview
Introduction
Did you know that stress is one of the most common causes of illness in today's society?  Stress is becoming an extremely serious problem for all of us.  As the expectations that are made of each of us increase, we are under extreme pressure every day, both at work and at home.
Stress can have very severe detrimental effects on the immune system, which can lead to a variety of different illnesses and ailments.  It can also cause chiropractic problems that are caused by tension in the muscles of the neck and back.  Furthermore, stress can lead to severe tension headaches, anxiety, panic attacks, and other physical and mental disturbances.
Even some major corporations are beginning to realize the serious effects that stress can have on their employees, and are instituting stress reduction programs at their own expense.
Stress-related issues are one of the most common causes of workplace absenteeism, and corporations realize that reducing stress in their employees will save them money in the long run, because employees will be present more often and more efficient and effective while they are there.
In order to truly treat any type of illness or condition, you must first understand it.  Then you must develop a solid plan for managing symptoms, and treating the underlying causes.  In this book, you will learn the most common causes of stress, and how to manage those issues in order to treat the condition.
Other Details* Sales Page:
Included, HTML
* File Format:
MS Word Doc, PDF
* Number of Pages:
30
* Included Graphics:
Ecovers, PSD
* Extras:
7 Part Autoresponder Email Message Series
* Extras:
Affiliates Programs
* Extras:
Squeeze Page
* Extras:
Wordpress Blog
* Extras:
MS Word Doc, PDF Report
* Extras:
Report Cover
* Number of Pages:
6
* Download File Size:
40,833 KB