Salespage Snapshot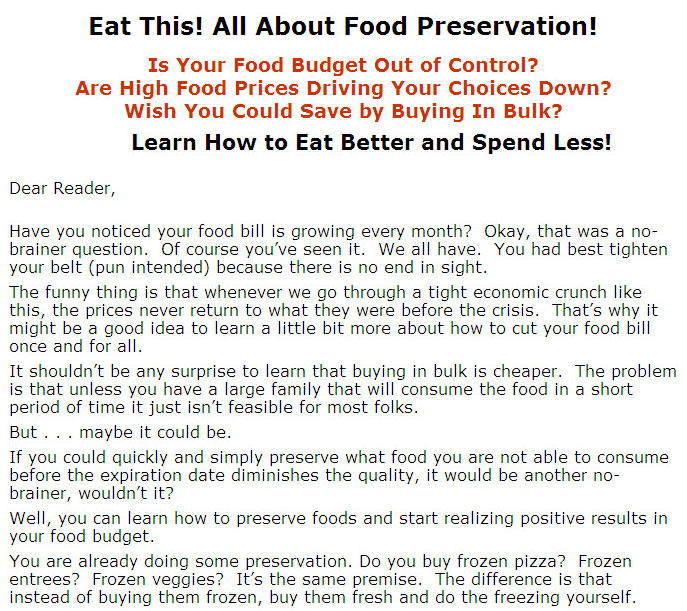 >> Click Here To View Sales Page...
Ebook Table Of Contents
Why You Should Learn About Food Preservation
How to Can Food
Canning Fruits and Vegetables
Canning Meats
Canning Supplies and Equipment
How to Freeze Food
Freezing Fruits and Vegetables
Freezing Meats
Freezing Supplies and Equipment
How to Dry Food
Drying Fruits and Vegetables
Drying Meats
Drying Supplies and Equipment
How to Cure and Smoke
Tips for Safe Food Preservation
PLR Ebook Sample Content Preview
Why You Should Learn About Food Preservation
Food preservation has been around since the ancient times. It is one of the oldest technologies that humans use and you will see that up until today, this technology is still used. There are plenty of methods when it comes to preserving food and many people disagree on which is the best way to preserve food and make it last longer.
In general, you have to keep in mind that people want safe, nutritious food that are good in quality and it should be fresh, wholesome, and rich in texture, flavor, aroma, and color. Most of the time, food is considered to be safe as long as there are no dangers from naturally occurring toxins, or other harmful chemicals that occurs on food naturally. Food contains no bacteria if it is sterile. For instance, milk contains bacteria that lives in it and it will spoil for two days if left in room temperature. However, when you put it in the refrigerator, the milk can last for a week.
In the past, food preservation was considered essential in society. Food was scarce that time and people were only able to harvest or hunt once or twice per year. So, during hunting or harvesting season, they need to stock up on supplies but the problem was that the fruits and vegetables they harvest and the meat they hunt for spoils way before the year ends.
This fact alone made people realize the importance of food preservation. Wasting food back in those days was considered to be dangerous as a lot of people really did die of hunger. They needed to preserve as much food as they can in order for them to survive. Today, we now have supermarkets where we are able to get food with the use of our credit cards. We no longer have to hunt for food as supplies are plenty.
Other Details* Sales Page:
Included, HTML, MS Word Doc
* File Format:
MS Word Doc, PDF
* Number of Pages:
66
* Included Graphics:
Ecovers, PSD
* Download File Size:
1,331 KB