Salespage Snapshot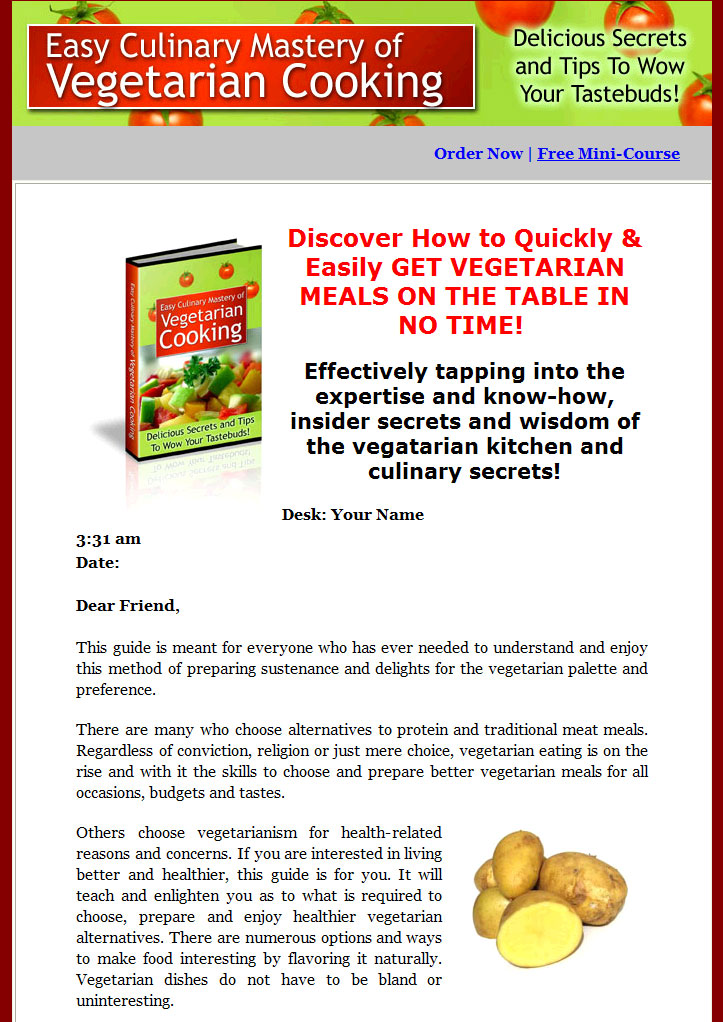 >> Click Here To View Sales Page...
Ebook Table Of Contents
Introduction and Foreword, Rationale, Target Audience, Purpose and Layout of the Book           3
I. Soups                                         7
II. Sauces                                          21
III. Rice, Macaroni, Oatmeal                           25
IV. Eggs And Omelets                               29
V. Salads And Sandwiches                                40
VI. Savory Dishes                                 43
VII. Vegetables, Substantial                             45
VIII. Vegetables, Fresh                                 46
IX. Preserved Vegetables And Fruits                          49
X. Jellies (Vegetarian) And Jams                          51
TABLE OF CONTENTS… (continued)
XI. Creams, Custards, And Cheesecakes                     55
XII. Stewed Fruits And Fruit Ices                         58
XIII. Cakes And Bread                                 62
XIV. Pies And Puddings                                65
Sample Content Preview
Introduction and Foreword, Rationale, Target Audience, Purpose and Layout of the Book
This guide is meant for everyone who has ever needed to understand and enjoy this method of preparing sustenance and delights for the vegetarian palette and preference.
There are many who choose alternatives to protein and traditional meat meals. Regardless of conviction, religion or just mere choice, vegetarian eating is on the rise and with it the skills to choose and prepare better vegetarian meals for all occasions, budgets and tastes.
Others choose vegetarianism for health-related reasons and concerns.
If you are interested in living better and healthier, this guide is for you. It will teach and enlighten you as to what is required to choose, prepare and enjoy healthier vegetarian alternatives.
There are numerous options and ways to make food interesting by flavoring it naturally. Vegetarian dishes do not have to be bland or uninteresting.
Fruits, spices and essences can be used to greatly enhance taste and flavor, bringing out the best in all types of food.
->    Almonds
->    Celery.
->    Ginger.
->    Lemon.
->    Orange.
->    Raspberries.
->    Ratafia.
->    Strawberries.
->    Vanilla.
Dried English Herbs.
->    Basil.
->    Garden Mint.
->    Lemon Thyme.
->    Mixed Sweet Herbs.
->    Parsley.
->    Sage.
->    Savory.
->    Tarragon.
->    Celery Seeds, Salt and Herbaceous Mixture.
->    LIME JUICE AND PURE LEMON JUICE.
->    Distilled Tarragon and Chill Vinegar for Salads and Sauces.
Here are some fast facts about vegetarianism to take to heart:
–    It focuses on the non-use of all animal flesh and products, including fish, flesh and fowl as a food …
Other Details* Sales Page:
Included, HTML, MS Word Doc
* File Format:
MS Word Doc, PDF
* Number of Pages:
66
* Included Graphics:
Ecovers, PSD
* Extras:
5 Part Autoresponder Email Message Series
* Download File Size:
10,549 KB