Salespage Snapshot: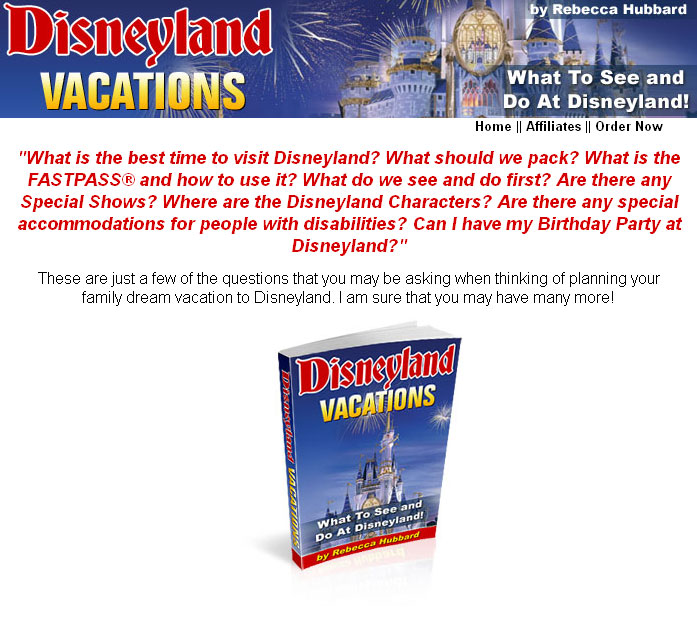 >>> Click Here To View Full Sales Page…
Table of Contents
Tips for Planning a Disneyland Vacation Page 6
Kid-Friendly Travel –
10Tips to Make Flying Easier with Kids Page 7 & 8
Traveling with your Baby –
10Tips to make it an Enjoyable Experience for the Family Page 9 & 10
Booking Your Trip to Disneyland Page 11
When Is the Best Time to be at Disneyland? Page 12
Saving Money (and Time) on Tickets to Disneyland Page 13
Tips and Facts on Services Available at Disneyland Page 14 & 15
Pack Your Suitcase Page 16 & 17
Ready to get in to Disneyland Page 18
Celebrate Birthdays at Disneyland Page 19
Disneyland Weddings Page 20 & 21
Family Reunions at Disneyland Page 22 & 23
Disneyland Surprises for Yourself and Loved Ones Page 24
Disneyland Magic Music Days Page 25 & 26
Entertainment at Disneyland Page 27 & 28
Christmas at Disneyland Page 29
Pamper Yourself at Disneyland Page 30 & 31
The Disneyland Hotel Page 32 & 33
Disneyland and Disabilities Page 34 & 35
Disneyland Vacations for Toddlers Page 36, 37, & 38
Disneyland Baby Centers Page 39
Getting Around Disneyland with Your Toddler or Baby Page 40
Disneyland Purchases – Package Express Page 41
Disney Dollars and Disneyland Merchandise Cards Page 42
Disneyland Ticket Security Page 43
Get More Out of Your Disneyland Vacation With FastPass Page 44
How to Reduce the Waiting Time on Various Attractions Page 45 & 46
Personal Comfort at Disneyland Page 47
A Typical Day at Disneyland Resort Page 48
Once Your Are in the Disneyland Park Page 49
Take a Disneyland Tour Page 50 & 51
A Quick Tour of Disneyland with Disneyland RailRoad Page 52
Start Your Day at Disneyland in Fantasyland Page 53 & 54
Where Are the Disneyland Characters? Page 55
How to Dine With Disneyland Characters Page 56 & 57
The Eight Lands of Disneyland Page 58 & 59
Categorization of Attractions at Disneyland Park – Part 1 Page 60 & 61
The Main Categories
Categorization of Attractions at Disneyland Park – Part 2 Page 62 & 63
Other Categories
Suitability of Attractions Page 64 & 65
All About the '1955 Experience' Page 66 & 67
Enjoy Yourself at New Orleans Square Page 68
Three Things to do at Frontierland Page 69
In the Critter Country Page 70
Family Fun at Tomorrowland Page 71
The Thrills in Tomorrowland Page 72
Enjoying Mickey's Toontown and the Characters at Main Street, U.S.A. Page 73
Entertainment Through Parades and Shows at Main Street, U.S.A. Page 74
Things to do at Adventureland Page 75
What to do at Fantasyland Page 76
Enjoy, No Matter How Little or Abundant Time You Have Page 77
Out and Around Disneyland Page 78
Sample Content Preview
– Tips for Planning a Disneyland Vacation
For many people, planning a Disneyland Vacation is part of the fun of the vacation itself! For others, however, it can be a headache. Before you start planning your vacation, determine whether or not you are really up to planning the trip yourself or not.
If you don"t want to plan your own trip, you have several options. Of course, you can have a travel agent make all of the arrangements for you, but for the best Disneyland experience, you might be better off using the Disney Vacation Planning Services. Either way, you can have every single aspect of your trip planned for you. Once you get there, all you will need to do is follow your Itinerary.
If you prefer the fun involved in planning your Disneyland vacation yourself, there are some things that you absolutely must not leave out of the planning stage. Before you can decide what you will be doing at Disneyland, you must determine which dates you will be there. The parks offer different things at different types of the year, with many different themes and entertainment to choose from.
Once you know when you will be at Disneyland, the next step is to figure out what you will be doing each day that you are there. Once you"ve set up your travel arrangements and your hotel reservations, there are a few more things you must consider.
Food is one thing you might want to arrange in advance. Disneyland is a very popular place, and having reservations at some of the more popular restaurants is recommended. These reservations can be made well in advance – before you ever leave home.
When planning which attractions at Disneyland you want to visit, use a map of Disneyland as a guide. This will make it easier to schedule time for attractions that are near each other. You want to see and do as much as possible, so as much walking or travel time as you can.
Keep your budget in mind. Often, by making arrangements through travel agents or through the Disneyland Vacation Planning Services, you will be able to get better deals – which can save you money. Look for these deals, and save as much money as you can on your hotel and food. If you have small children with you, keep their priorities in mind – they have less interest in where they will sleep and the food that they will eat, and more interest in what they will see and do!
Other Details
- Ebook (PDF), 80 Pages
- Salespage (HTML)
- Ecover (JPG)
- Year Released/Circulated: 2009
- File Size: 748 KB
License Details:
YES - Master Resale Rights
YES - Can be included in Membership Site ( see exceptions below)
YES - Can be Packaged with other products (see exceptions below)
YES - Can be given away as BONUS (see exceptions below)
YES - Sales Page can be edited but you MAY NOT remove the disclaimer.
NO - Can NOT be sold on an auction website.
NO - Can NOT be given away FREE.
NO - You can NOT edit the eBook.
NO - You can NOT edit or use the Graphics for anything else other than this product.