Salespage Snapshot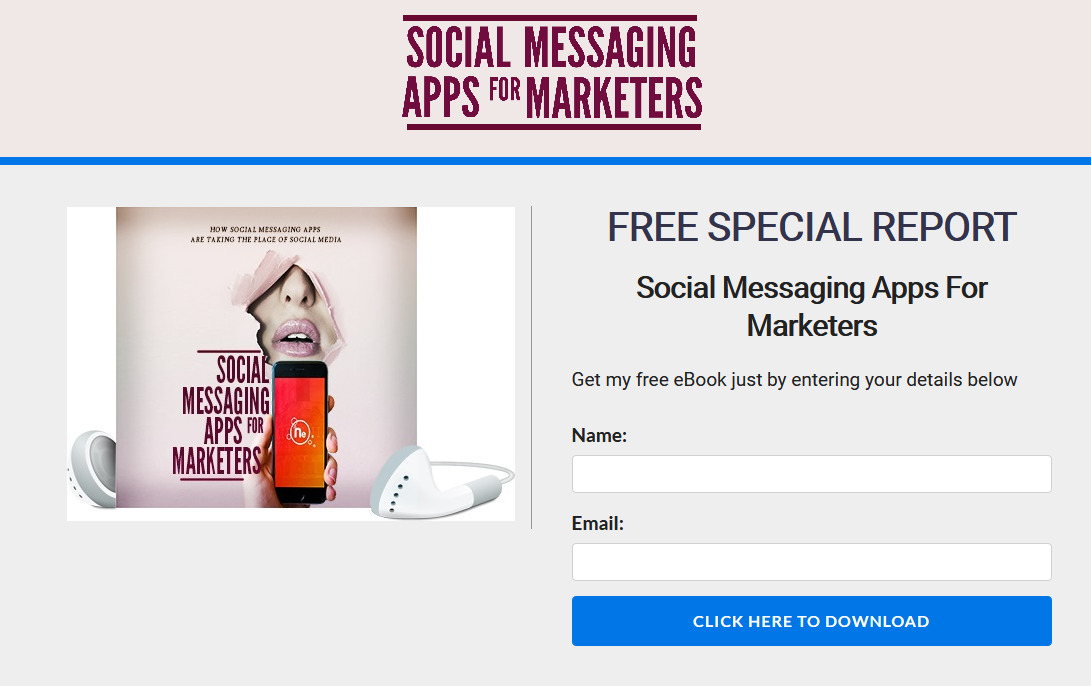 >> Click Here To View Sales Page...
Sample Content Preview
NLP stands for "Neuro–Linguistic Programming" and it's a series of different principles that all look at understanding how other people think and then making the most of that to get them to consider the topics we want them to.
NLP is very often taught to salesmen and women to help them shift more units and it can be very effective to this end. This is precisely the kind of business skill that is increasingly being lost in the world of digital marketing.
But the good news is that this is something you can utilize through social messaging apps and use to drive sales.
For instance then, a very basic example of NLP is looking at the different ways people deal with information. Some people work with a very visual brain, while others have a more acoustic one. You can get cues as to which the person you're talking to uses by listening to their language –– if they say things like "I see what you mean" rather than "I hear you loud and clear" then you know they're more visual and less auditory; and you alter your pitch accordingly.
Another technique comes from a part of NLP called "the Milton model" where your aim is to try and include subtle assumptions in your speech that will register only on an unconscious level. For instance if you say to someone "all the people who want their own one of these are going to be jealous" holds the assumption that there are a lot of people who want whatever it is you're selling. Looking around the function venues when you say this can help sell that idea further.
They key then is to listen –– or in our case read –– and to try and further read between the lines. Understand what the other person is really saying, and be extremely careful with how you respond. This way you can build rapport.
Appealing to Statistics and Authority
Something people tend to respond very well to in sale's pitches is authority and statistics. If you tell someone that four in five people rated your product highly, then you'll convince an audience more effectively than if you just say that "most people" enjoy your product. Likewise, if you can associate yourself with an authority figure of any time then this can help too to make your product or service seem more authentic and/or impressive.
This works really well as an opening gambit, and it's something you can use to encourage people to consider your product. By implying that your product is popular, that it is verified, and that it has a wealth of evidence backing it up, you will make it seem more impressive.
From that point, your job is to prevent the other party from doubting this and to convince them it's true.
Reducing Risk
Reducing risk means thinking about all the reasons they might be afraid to buy and then removing them. This can mean things like "what if the product doesn't work for me." You reduce risk here by offering a full money back guarantee. There is no reason NOT to do this, seeing as you will sell so many more items that the few you return aren't going to hurt your profits.
The great thing about social messaging versus a sales page is that you can actually respond to their concerns with solutions. Likewise, you can offer people to get in touch IF they have a concern. That way, they might read a sales page, worry that you don't deliver their address (or whatever) and then speak with you to find out that isn't the case.
Appealing to the "Value Proposition"
One of the most important concepts when selling ANYTHING is to remember the value proposition. This is "the way in which your product makes life better." The old saying is that you "don't sell hats, you sell warm heads."
Likewise, your ebook about fitness is not really an ebook about fitness at all –– it is a set of six packs, a hot partner, and tons of confidence. THAT is what you are selling. And that's what you have to really talk about when trying to get someone to buy.
This also means addressing their personal pain points. What are they not happy with right now and why are they thinking of buying your product? Ask them!
"I notice you've been looking at X product. What is it about that product that you like?"
Now you can understand what makes them tick, and thereby make your product sound perfect for them! It's an easy strategy that is very powerful and only possible through social messaging.
Other Details
- 1 Ebook (PDF, DOC), 10 Pages
- 1 Audio (MP3)
- 1 Graphic (PNG)
- 1 Squeeze Page (HTML)
- Year Released/Circulated: 2020
- File Size: 7,601 KB
License Details:
You're granted master resell rights, resell rights or to resell with personal use rights.
You may add this product to your PAID membership site
You may giveaway the product as a bonus when people buy through your affiliate link
You may edit the included opt-in / squeeze / landing page
You may giveaway the eBook for Lead Generation purpose
No, you may NOT edit the contents of the eBook
No, this product does NOT include private label rights. You are granted Master Resell Rights only