Salespage Snapshot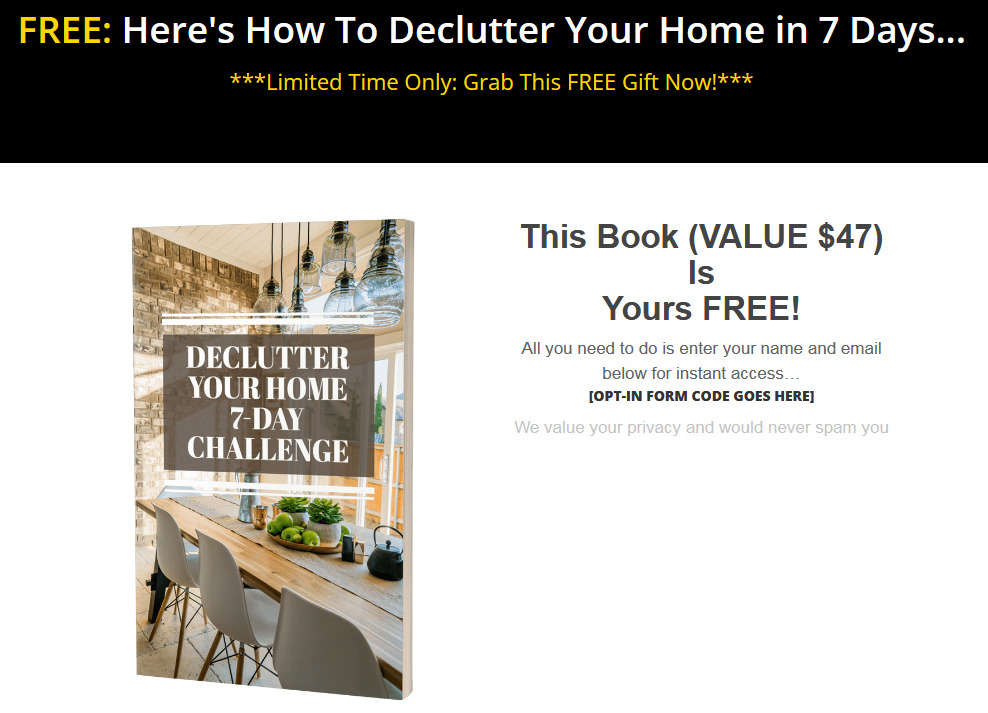 >> Click Here To View Sales Page...
Sample Content Preview
Chapter 1 – Why Less is More
In addition to the immediate benefit of having a tidier and nicer-looking home, decluttering has other powerful benefits, some of which go beyond the tangible.
It declutters the mind. Our minds are constantly processing everything around us even if we aren't aware of it. Clutter and mess cause the brain to go into overdrive, processing all the forms, shapes and colors in a space, often leaving us feeling drained and tense. After you declutter, you will notice that you feel calmer and happier in your space because your mind is calmer.
Decluttering relieves stress. Naturally, a decluttered mind will mean lower stress levels. In fact, a study carried out at UCLA found that families who lived in cluttered homes had higher levels of stress and tended to have more confrontations. In other words, decluttering is a great stress-buster!
3. Decluttering saves money. Once you experience the peace of mind that comes with a neat, decluttered home, you will be inclined to make wiser buying decisions to avoid bringing new clutter into your space. You will buy only what you really need – and plan beforehand where the item will go in your home and if you really have room for it. You will actually be amazed at how much money you were spending on things you didn't really need. Getting rid of duplicate gadgets and appliances that are just taking up space will also save money on maintenance and upkeep.
4. It makes cleaning easier. This is a no-brainer. Less stuff makes for easier cleaning and less time spent on cleaning. Your home will also stay cleaner longer because there's less clutter to gather dust.
5. Decluttering frees up time. Less cleaning and maintenance means you have more time to spend on things that bring you real value and enrichment, such as spending more time with family and friends, pursuing causes you are passionate about or spending more time outdoors.
6. It transforms your mindset. When you step inside your door into your neat, sparkling home and experience the peace and tranquility it brings you, you will reflect on your lifestyle. You will begin to realize that our crazy, consumer-driven culture does not bring us happiness after all. A simpler lifestyle with fewer possessions will allow you to focus on the truly valuable things in life like family, friendship, travel, and improving your mind. These are the things that bring happiness and contentment.
The bottom line is that decluttering has a profound effect on your overall wellbeing. So, with all these benefits in mind, let's roll up our sleeves and jump into the 7-day decluttering challenge!
Chapter 2 – Days 1- 4
Decluttering Key Rooms
The first four days of the challenge involve a major decluttering of the rooms that are used most often in the home. Once you have done this, you will have completed half the challenge. Remember, the goal is to declutter and not to organize or rearrange. That will come later.
Day 1: Declutter Bedrooms
• Head for the closets! The rule here is that anything that hasn't been worn in 6 – 12 months simply has to go. The same applies to things that don't fit well and duplicate items of clothing. Keep only the clothes that you currently wear, including shoes, handbags, belts, and other accessories.
Sort the clothes into three boxes: those that need to be thrown out altogether, those that can be donated and those that you absolutely want to keep but store away (these are things that have sentimental value like a wedding dress or a sweater your grandmother knitted for you years ago but of course, you never wore).
• Do the same for all drawers and shelves in the bedrooms. Get rid of books, gadgets and knickknacks that are just sitting there gathering dust. Sort them in boxes to be donated or stored later.
• Tackle the nightstands, which always tend to be cluttered with tissue boxes, phones, medicine and other junk. Declutter and place these things in the drawer, where they are still close at hand but out of sight. Nightstands should be bare except for a bedside lamp.
• If you have a vanity table, get rid of items like unused hairbrushes, perfume bottles and accessories you never wear. Keep only the things you use on a daily or regular basis.
• Sort toys in your kids' bedrooms keeping only the ones your kids play with often. Get rid of old stuffed toys unless they have a sentimental value, games your children have outgrown, broken toys like Barbie dolls without arms, deflated balls and that old Barney doll the dog chewed up. A colorful touch is a great way to keep all your kids' toys close at hand but out of sight when not used.
Other Details
- 1 Ebook (PDF, DOCX), 28 Pages
- 5 Part Autoresponder Email Messages (TXT)
- 1 Audio (MP3)
- 2 Graphics (PNG)
- 1 Squeeze Page (HTML)
- Year Released/Circulated: 2021
- File Size: 10,754 KB
License Details:
You're granted master resell rights, resell rights or to resell with personal use rights.
You may add this product to your PAID membership site
You may giveaway the product as a bonus when people buy through your affiliate link
You may edit the included opt-in / squeeze / landing page
You may giveaway the eBook for Lead Generation purpose
No, you may NOT edit the contents of the eBook
No, this product does NOT include private label rights. You are granted Master Resell Rights only