Salespage Snapshot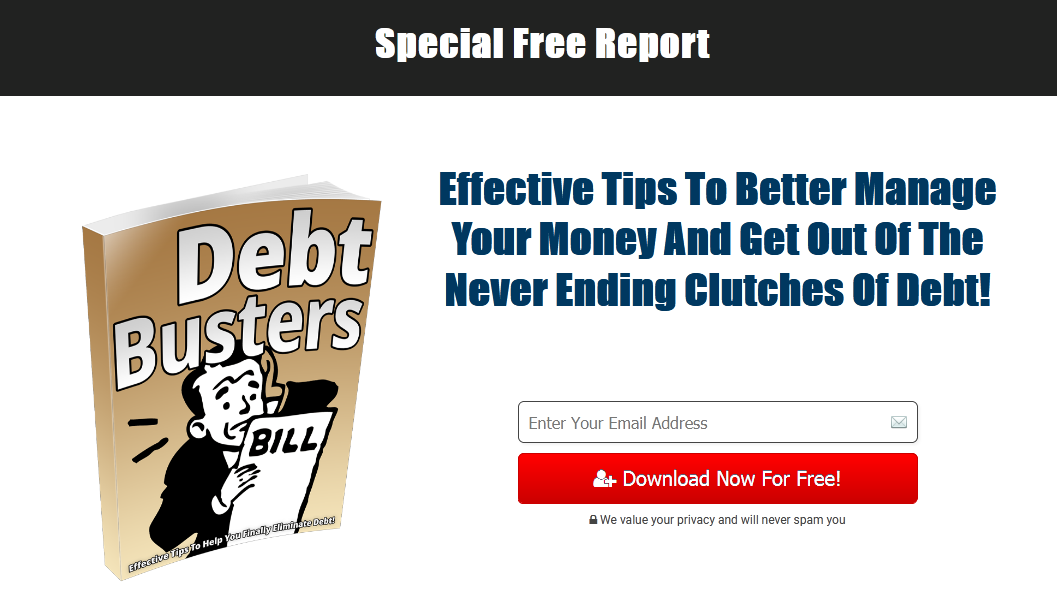 >> Click Here To View Sales Page...
Sample Content Preview
How To Not Be In Debt Right Now?
A not-so-impressive financial standing is a struggle to deal with. But, big debts can wreck your peace of mind. Don't you agree? Slipping into bad debt is not always due to losing control of your money. Sudden unwelcome circumstances like a medical crisis or a layoff in a job are financially burdening too. Regardless, carrying the load of a big fat debt is mentally draining. Do you feel crippled or bankrupt? Reckon there is no way to crawl out of the problem? Stop and breathe! A little planning and diligence can work wonders in freeing you from the monetary stress.
How to clear the credits and be financially stable yet again?
1. Strategize ways to dodge the crisis
Debts amplify when you are not regular in settling the dues. The interests shoot up in a blink of an eye. Sit back and prepare a list of the debts you owe. Do not miss counting the trivial dues too. It can add up and cost you riches in the long run. Categorize the debts that must be squared off urgently. Is there a loan that's burning holes in the wallets by charging you a swanky interest? Might as well pay off the loan first. Settling smaller debts that are not-so-burdening is a good idea too. It cuts the list short.
Wondering how will you wiggle a tight budget and pay off the dues? Knowing the ins and outs of budgeting play a big role. Track your expenses, come up with a financial plan that's realistic and easy to follow. Stay clear from the pitfalls when setting a budget. If you are not quite handy at chalking out a budget, use the assistance of professional consultants.
2. Stop being a waster and earn the big bucks
Are you forking out more money than you should? Probably a good reason that's made you strapped and indebted in the first place. Being mindful of how much you spend matters big. Are your earnings not enough to support your expenses? Now is the time to take up extra gigs and start bagging in more money.
Cutting down a few minor insignificant things can save you good cash. For instance, little do you realize frittering out riches on takeaways. Why don't you plan your meals at home using fresh groceries? Does it irk you to think of ways to square off multiple loans? Choose to consolidate your dues into one.
3. Clear your debts in the right way
Are you of the idea that slush funds to someone important can dwindle your dues? Incorrect! Debts must be settled out of your pockets. To make the process slightly less hard-won, list your debts as per the priorities. A credit card charging you riches as interests? Square off the dues on your credit card first and toss out the card. Handling one debt at a time is less taxing and hassle-free. Settling the shorter debts first is already a half-battle won. Keep tabs on your progress and set small milestones to be accomplished before hitting the easy street.
Silly Things You Didn't Realize You Spent A Fortune On
Little did you realize that misspending on the dumbest thing has cost you riches in the past. Unfortunately, the mistakes are still on a roll and so are the expenses. Wondering which brainless expenses are being talked about? Let's take a quick look:
1. Weekend movie treats
Stepping out for a movie and a pleasure-filled moment with family is a swanky expense. Confused? Scoring tickets for four is the first big expense. The coke and popcorn to snack upon cost you big bucks. Choose a recliner and the cost spirals. In short, a one-time movie with the fam is a pricey affair.
2. Magazines and books
Did you know that the local library up the streets is home to myriads of books and magazines? Paying extra for the books or the magazines stacked in the library hardly makes sense. It's up for grabs or can be rented at dirt cheap prices.
3. The outrageously priced gym membership
Are you struggling to trim the flabs? Doing the hard drills in a gym is not a pressing need. Strenuous rounds of jog or a walk in the park work wonders in scaling down the pounds. Opting for an expensive gym membership and not likely using it is no less than burning your money. Unfortunately, memberships like such are recurring and keep rolling unless you cancel the membership.
4. Multiple subscription services add up
Do you have a bunch of subscription services? Paying out riches for recreation hardly makes sense. How often do you subscribe to a plan, use it a couple of times, and forget about it? Juggling between several subscription services is difficult. The payments are mostly on autopay. Result? Your expenses continue to add up although the services are not utilized. Too lazy to unsubscribe? You certainly know how to sink your money mindlessly and embrace debt.
5. Surplus bank fee
Transaction charges are one thing. However, isn't it dumb to pay a bank to keep your hard-earned money? Bearing the brunt of an expensive service fees is uncalled for. Start hunting for a different bank instead. Numerous credit unions are in business offering zero-fee banking services. The banking fee that appears trivial now is enough to burn a hole in your account.
Other Details
- 1 Ebook (PDF, DOCX), 19 Pages
- 2 Graphics (PSD, PNG)
- 1 Squeeze Page (HTML)
- Year Released/Circulated: 2022
- File Size: 21,234 KB
License Details:
[YES] Can Edit & Rebrand The Report
[YES] Can Change/Alter Any Of The Graphics
[YES] Can Sell The PDF Report
[YES] Can Package The PDF with Other Paid Products
[YES] Can Offer The PDF as a Bonus to Paid Product
[YES] Can Add PDF Report to Paid Membership Sites
[YES] Can Can Turn The Report Into Other Products
[YES] Can Can Give Away The PDF Report for List Building Purposes
[YES] Can Be Used As Content On Your Website
[YES] Can Put Your Name on the HTML pages & Report
[NO] You CANNOT Sell or Give Away Private Label Rights
[NO] You CANNOT Sell or Give Away Master Resell Rights
[NO] You CANNOT Sell or Give Away Resell Rights
[NO] You CANNOT Sell or Give Away the Source Files (ie: DOCX, HTML, PSD, etc)
[NO] You CANNOT Sell or Give Away the Graphics
[NO] You CANNOT Claim Original Copyright