Salespage Snapshot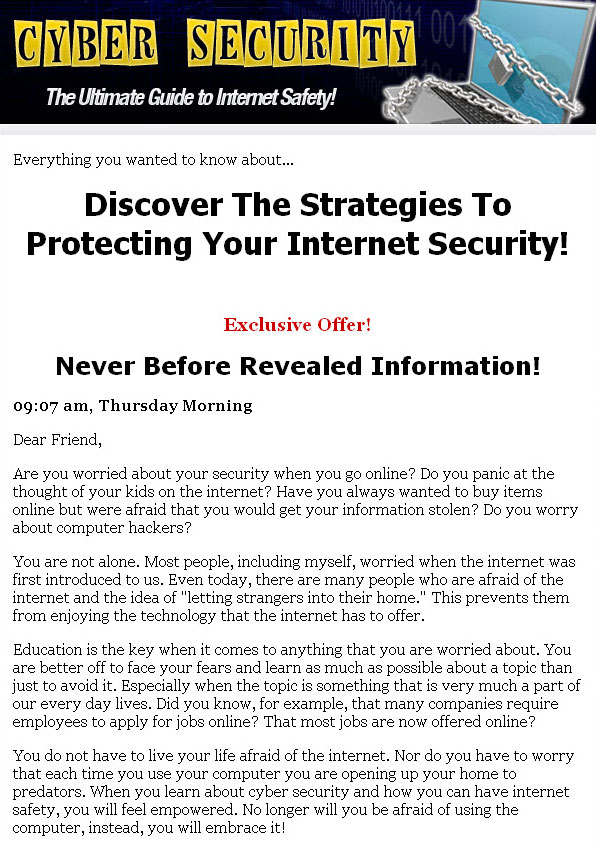 >> Click Here To View Sales Page...
PLR Ebook Table Of Contents
Chapter 1 – Introduction    3
Chapter 2 – Child Safety Online    5
Chapter 3 – Secure Payment Sites    9
Chapter 4 – Online Banking    11
Chapter 5 – How To Keep Your Password Safe    13
Chapter 6 – Common Scams    14
Chapter 7 – How I Got Pharmed    17
Chapter 8 – Virus Protection    19
Chapter 9 – Self Maintenance    21
Chapter 10 – Personal Information Online    22
Chapter 11 – Is The Internet Safe?    25
PLR Ebook Sample Content Preview
Chapter 1 – Introduction
When I got my computer in the late 1990s, my kids were young and my primary concern was their safety.  Most people, back then, were worried about computer safety back then and the fact that anyone could "come into their home" via computer and steal their children or money.  I still know people who think this way, even today, and who will not have a computer in the house for this reason.
Computers are safe, but you have to learn about internet safety and you should be aware of some of the tricks, con games and scams that take place online.  The internet is perfectly safe, as long as you know how to protect yourself.  Although child exploitation and identity theft are feared online, there are ways to protect yourself against these problems.
During the years, I managed to learn quite a bit about internet safety.  Much of what I reveal in this book has been learned through trial and error.  I did get viruses in my computers.  I did get my identity stolen.  I did have problems with people who found out too much information about me.  Fortunately, I was able to learn from past mistakes and prevent others from making the same mistakes that I did.
Internet safety is all about keeping yourself, your family and your personal information safe.  Once you learn how to do this, you will feel much more secure in using the internet for a variety of different purposes.  Despite the problems that happened to me, I still maintain a Facebook page.  I do all my banking online and most of my shopping.   I have had the same computer for a few years and it is virus free.  I also managed to keep my children, who are now grown, from falling prey to any internet predators.
The internet technology has also allowed me to make my living as a writer – if it wasn't for computers and the internet, I would be out of work.  I know quite a few people who met their spouses online and I have managed to make some nice cyber friends through this media.
Other Details* Sales Page:
Included, HTML
* File Format:
MS Word Doc, PDF
* Number of Pages:
26
* Included Graphics:
Ecovers
* Download File Size:
594 KB

* Private Label Rights Terms & Conditions :

[YES] Includes Professional Sales Letter.
[YES] Includes Professional ECover Graphics.
[YES] Can be added into a paid membership sites.
[YES] Can convey and sell Master Resale Rights.
[YES] Can be offered through on any auction sites.
[YES] Can Sell Private Label Rights
[YES] Can be offered as a bonus.
[NO] Can be given away for free (any format).