Salespage Snapshot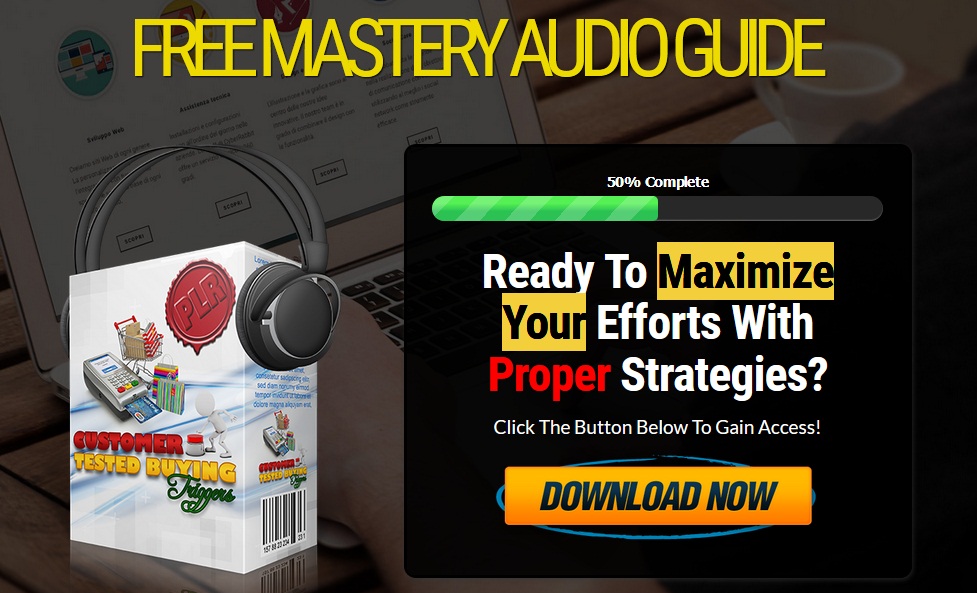 >> Click Here To View Sales Page...
Table of Contents
Chapter 1- Triggers 1-5
Chapter 2- Triggers 6-10
Chapter 3- Triggers 11-15
Chapter 4- Triggers 16-20
Chapter 5- Triggers 21-25
Chapter 6- Triggers 26-30
Sample Content Preview
Chapter 2
6 Allow your visitors' experience to be an enjoyable one at your web site. Provide easy navigation, good content, fast loading graphics, search options, etc. You could offer online games that are related to your web sites theme. You could offer prizes to the high scorers too.
7 Keep changing or adding freebies to your web site. If people see the same freebie in your ads they will say to themselves, "Been there, done that". For example, you could introduce a new freebie every month. People will revisit every month to get the new freebie.
8 Add a directory to your web site. When visitors submit their web site, e-mail them confirming their link has been added and remind them to revisit. In your e-mail you could mention a product you are selling. You could also always send them an e-mail again to remind them to resubmit their listing when it expires (if the listings do).
9 Organize your marketing and advertising into a plan. Create a list of daily, weekly, monthly and all other future promotional plans. Try to follow your plan step-by-step every day. This will free up your time by being more systematic and organized. If the plan isn't working, don't be afraid to tweak it some.
10 Trade links only with web sites that you or your target audience would visit. They should offer their visitors valuable content or freebies. There is nothing wrong with filling your web site up with outside links if they're are interesting and helpful to your target audience.
Chapter 3
11 Give people a free online utility. When you offer a utility that can solve a person's problem, people will definitely visit your web site. You could also allow other people to give it away as long as your ad is included in it. This would make a very powerful viral marketing tool.
12 Offer a free affiliate/reseller program. When you offer people a free opportunity to make money, they will line up to visit your web site. You should offer fair and high commission, affiliate training, a good tracking system, tested and proven marketing ads and other persuasive benefits.
13 Supply news stories related to your site. People want current news on the topics they are interested in. You could also include new "how to" articles. For example, if there is a hot or popular news story going on, you could somehow relate it to your web site's theme.
14 Offer your visitors a free community. People like to have a place where they can have discussions with others on a particular subject. You could even create multiple online communities. For example, if you were selling gardening tools, you could have a message board to discuss gardening tips and a chat room about picking the right gardening tool.
15 Make people feel safe when they order. Explain to them you won't sell their e-mail address and all their personal information will be kept confidential. You could publish a strong privacy statement and explain to them how your secure ordering works in a little more detail.
Chapter 4
16 Offer free samples or trials of your product. This will let people experience your product and attract people to your web site. You could also allow other people to give away your sample products. It would be like "viral pre-sell marketing".
17 Make your ad copy attractive. Your ad should list benefits before the features. Include guarantees and testimonials in your ad. Your ad should be easy to read, answer all the readers' questions, give them many ways to order and, most importantly, persuade them to buy now, not later.
18 Remind people to come back and visit your site. They usually don't purchase the first time. The more times they visit, the greater the chance they'll buy. You could remind them with your e-zine, with a follow-up autoresponder course, an e-mail update reminder, etc.
19 Let people know anything about your business history. They'll feel more comfortable if they know who they are really buying from. You could tell them when you started your business, why you started your business, what kind of training you've had, how many employees you have ,etc.
20 Give people many ordering options. Accept credit cards, checks, money orders and other forms of electronic payments. You should be also open to adding new forms of payment as they become available. They could be the future and you don't want to be left behind.
Chapter 5
21 Use reverse psychology on your banner ads. You could tell people not to click on your banner ad. For example, "Don't Click Here If You Are Comfortable With Your Looks." Another example, "Stop! Don't Click Here Unless You're Wealthy!"
22 Make your banner ad words as attractive as possible. Use words like 'ultimate', 'powerful', 'sizzling', 'hot', etc. Your words should relate to and highlight your total offer. You could also use specific words. For example, you could say, "Click Here To Increase Your Traffic By 120%!"
23 Give a discount offer on your banner ad. People are always looking for good deals. You could offer a percentage discount, dollar discount, buy-one- get-one-free discount, etc. For example, you could say, "Get 50% Off Our New Viral Marketing E-book! Click Here Now!"
24 Use a testimonial on your banner ad. This'll give people proof they aren't wasting their time clicking on your banner ad. The testimonial should include enough information so they understand the offer. You could also make them click the banner to read the testimonial. For example, "See What (famous person's name) Had To Say About Our Marketing E-book!"
25 You could offer your potential customers a monthly payment plan. Tell them they can pay for your product or service with easy monthly payments. For example, you could say, "You Can Own Our Product With 3 Easy Payments Of ($)!" Another idea would be to eliminate one of those payments later on in your ad copy.
Other Details
- 1 Ebook (PDF), 15 Pages
- 1 Audio (MP3)
- 1 Squeeze Page (HTML)
- 5 Ecovers (PNG)
- Source DOC, Source PSDs
- Year Released/Circulated: 2019
- File Size: 104,197 KB
License Details:
[YES]Can be sold
[YES]Can offer Resell Rights
[YES]Can offer Master Resell Rights
[YES]Can resell Private Label Rights
[YES]Can be edited
[YES]Can put your name as the author
[YES]Can be broken down into articles
[YES]Can be used as web or e-zine content
[YES]Can be added into membership sites
[YES]Can be sold in any format
[YES]Can be packaged
[YES]Can be offered as a bonus
[YES]Can be sold on auction sites
[YES]Can be published offline
[YES]Can be given away (in any format)