Salespage Snapshot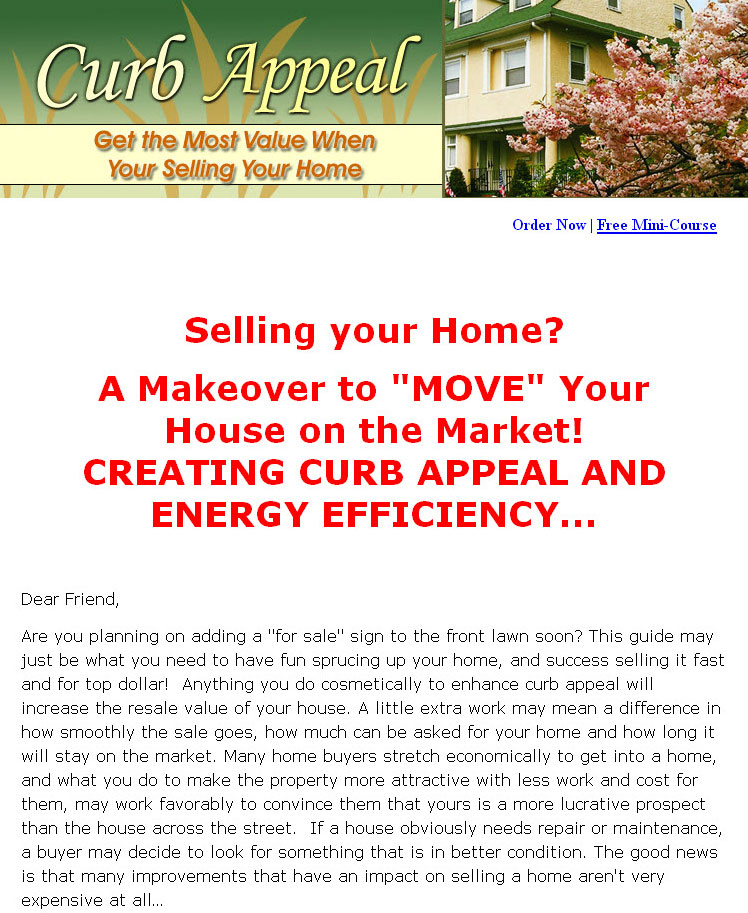 >> Click Here To View Sales Page...
PLR Ebook Table Of Contents
PART 1 – CREATING CURB APPEAL
1.  Enhancing your greatest asset                            4
2.  Exterior                                            13
2.1 General property                                 13
2.1.1 Cleanup, tidiness and pets
2.1.2 Lawn, landscaping, flowers and Irrigation systems
2.1.3 Outdoor lighting
2.1.4 Water features
2.2    Structures                                    18
2.2.1 Decks, patio's, gazebo's
2.2.2 Pools and hot tubs
2.2.3 Garage and storage shed
2.2.4 Playground equipment
2.3    General exterior                                20
2.3.1 Painting and siding
2.3.2 Roofing condition, cleaning and replacement
2.3.3 Eves troughs or rain gutters
2.3.4 Brick and masonry
2.3.5 Exterior doors
2.3.6 Windows
2.3.7 Shutters
2.3.8 Fences
2.3.9 Porch – improve or add
2.3.10 Driveway
2.3.11 Sidewalk
2.3.12 Junky vehicles or boats
2.4    General interior                                29
2.4.1Overall cleanliness and de-cluttering
2.4.2 Interior lighting
2.4.3 Flooring
2.4.4 Drywall repairs
2.4.5 Painting
2.4.6 Wallpaper
2.4.7 Cabinets
2.4.8 Countertops
2.4.9 Trim and molding
2.4.10 Doors and hardware
2.4.11 Furnishings and décor
2.4.12 Fireplaces
2.4.13 Window coverings
2.4.14 Odors
2.4.15 Attic and wall insulation
2.5 Interior rooms and spaces                                42
2.5.1 Living room, dining room and mirrors
2.5.2 Kitchen
2.5.3 Bathrooms
2.5.4 Family room
2.5.5.Home office
2.5.6 Powder room
2.5.7 Bedrooms
2.5.8 Basement
3. Heating, cooling and plumbing                            48
4.  Electrical – lighting, switches and outlets
PART 2  – ENHANCING ENERGY EFFICIENCY IN YOUR HOME
SECTION I:                                             50
House Energy And Cost Efficiency
What it is, why it matters
what are the options for homeowners to conserve and save
SECTION II:                                           55
How To Achieve Cost And Energy Efficient Homes
SECTION III:                                         64
Your personal action plan to create a living space that is cost and energy efficient – step by step.
Conclusion             75
Resources and Online Sites         76-81
Ebook Sample Content Preview
PART 1 – CREATING CURB APPEAL
1.Enhancing your greatest asset
Are you planning on adding a "for sale" sign to the front lawn soon? This guide may just be what you need to have fun sprucing up your home, and success selling it fast and for top dollars.  Anything you do cosmetically to enhance curb appeal will increase the resale value of your house. A little extra work may mean a difference in how smoothly the sale goes, how much can be asked for your home and how long it will stay on the market. Many homebuyers stretch economically to get into a home, and what you do to make the property more attractive with less work and cost for them, may work favorably to convince them that yours is a more lucrative prospect than the house across the street.
If a house obviously needs repair or maintenance, a buyer may decide to look for something that is in better condition. The good news is that many improvements that have an impact on selling a home aren't very expensive at all, such as giving rooms a fresh coat of paint. You should be really careful if you consider taking on a major renovation project just so that you can sell your property.  Remember, there are no guarantees that you would recover the costs of a huge overhaul. Just focus on making the home attractive, clean, presentable and well maintained.  Let the new owners do their own customizations.
Before you take on any fix-up-for-sale projects, remind yourself that you are sprucing up your home in order to sell it and your goal is to create an appealing look rather than to create the ultimate home.  Keep in mind as broad a spectrum of potential buyers as possible. Narrowing your target to a niche market may mean "slower and lower".
It is much safer to do projects that do not require all that much capital, but make a significant improvement to the overall look of your home. Consider different cosmetic  approaches for an overall improvement, e.g.  cleaning, painting, refinishing, and more. However, if you make smart decisions, certain improvements that greatly enhance the beauty of your home will certainly have a significant effect on its value. Such improvements should be done specifically to add value to your property. Visibility adds value. Be sure to spend your money on things that are highly visible and improve the appearance of the house, like landscaping, new flooring or paint, rather than on a foundation repair or insulating upgrading that is not visible.
Other Details* Sales Page:
Included, HTML, MS Word Doc
* File Format:
MS Word Doc, PDF
* Number of Pages:
82
* Included Graphics:
Ecovers, PSD
* Extras:
5 Part Autoresponder Email Message Series
* Download File Size:
9,733 KB