Salespage Snapshot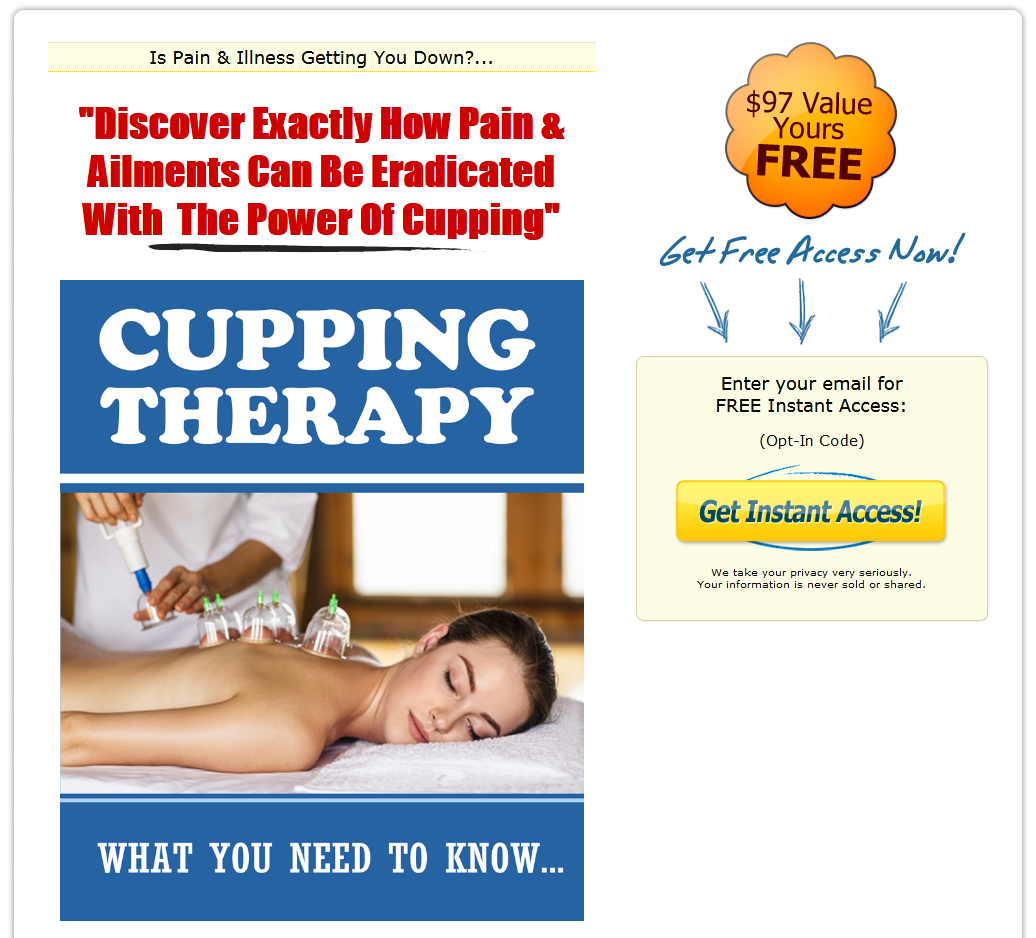 >> Click Here To View Sales Page...
Sample Content Preview
important thing you must take into consideration in case you're expecting to join a bathing suit contest shortly after.
If you do feel pain, you must let your doctor know right away, though this is extremely rare. In lieu of glass, some clinics prefer to use plastic or hypoallergenic silicone cups. It should be noted, however, that these other materials do not in any way mitigate the amount of bruising that results. The area will not be tender or sore, despite the ugly coloration left behind. Normal bruising is usually caused because the area has been hit hard enough. Since no hitting is involved, it will actually look a lot worse than it feels.
A Massage of Acupuncture Treatment Afterwards
A massage or acupuncture treatment may follow if you go to a traditional Chinese clinic. In cities throughout Southeast Asia where cuppers are offering their trade on the streets, cupping is about all you'll get out of the session, though some may insist on giving you a backrub if they feel you need it.
The Feeling
Some feel a mild tingling on their skin after the cups are removed. This can last anywhere from several minutes to a couple of hours, which is normal, depending on the situation. In cases where you're suffering from stiff joints or aching muscles, you may be asked to come in for several sessions. If so, they'll usually ask you to come back after the bruising is gone. At most, you may get two sessions in a week. Three sessions a week is not recommended, so if you get an offer for one, you're not in a traditional Chinese clinic. Most likely, you've wandered into a spa.
Since Chinese medicine believes that ill-health is the result of many factors including the accumulation of toxins in your body, you'll be asked to drink plenty of water after each cupping session. The general recommendation is about eight 8 oz glasses of water everyday throughout the course of your treatment. Since dry cupping is usually part of a much more holistic series of treatments, an entire session can last anywhere between 15 minutes to an hour. Depending on your symptoms, your treatment can involve certain exercises, the drinking of certain teas, and even lifestyle changes like cutting down on alcohol or giving up smoking.
As you see, during your first cupping procedure, there is no need for you to be nervous. In fact, you may actually enjoy it enough to go back again! In spite of the fact that a cupping session may sound difficult, it is nothing of the sort. Truth be told, ordinarily the main thing a man feels is a slight suction where every glass is put. After a session, you may have roundabout red imprints on your skin from the mugs. These red imprints will blur and are a sign that the cupping treatment has effectively expanded the blood stream inside of your body.
Conclusion – After Therapy, Now What?
Immediately after therapy, you're going to feel more relaxed than you have ever felt before. The marks that sometimes result from cupping may scare you at first, but this is simply a result of cupping – this doesn't mean you have been injured.
The vacuum that is formed by cupping brings up the old non-circulating stagnant blood, allowing healthy free circulation to be restored to the area. In return, this is making space for living cells, oxygen and nutrients, making for a faster recovery.
Cupping may leave marks, which are solely indicators that the disease or stagnation has been eliminated from the deeper tissue layers to the surface.
After you have gone through this treatment, you may experience sore skin, and as we previously discussed, what looks like bruising. There's no need to worry, because this is expected from each cupping session. The color and pattern of the marks will all depend on the level of stagnation. If marks show up, they can range in appearance from dark purple to bright red and can last anywhere from three days to one week, sometimes longer, if you're sick or sedentary.
These marks may look painful, but in all actuality, they're not painful at all. If there's no stagnation, there will only be a light pink mark, which will disappear after a couple of hours of treatment.
In areas where there is old trauma or injury, you may need to have multiple cupping treatments done in order to eliminate all stagnation. With follow up treatments, you will find that the marks will start to get lighters – this is because the pathogens are being systemically eliminated from your body.
After treatment, it is important that you drink plenty of water in order to flush the toxins that have been lifted from your muscles.
Other Details
- 1 Ebook (PDF, DOC), 17 Pages
- 1 Audio (MP3)
- 1 Graphic (PNG)
- 1 Squeeze Page (HTML)
- Year Released/Circulated: 2022
- File Size: 5,559 KB
License Details:
You're granted master resell rights, resell rights or to resell with personal use rights.
You may add this product to your PAID membership site
You may giveaway the product as a bonus when people buy through your affiliate link
You may edit the included opt-in / squeeze / landing page
You may giveaway the eBook for Lead Generation purpose
No, you may NOT edit the contents of the eBook
No, this product does NOT include private label rights. You are granted Master Resell Rights only