Salespage Snapshot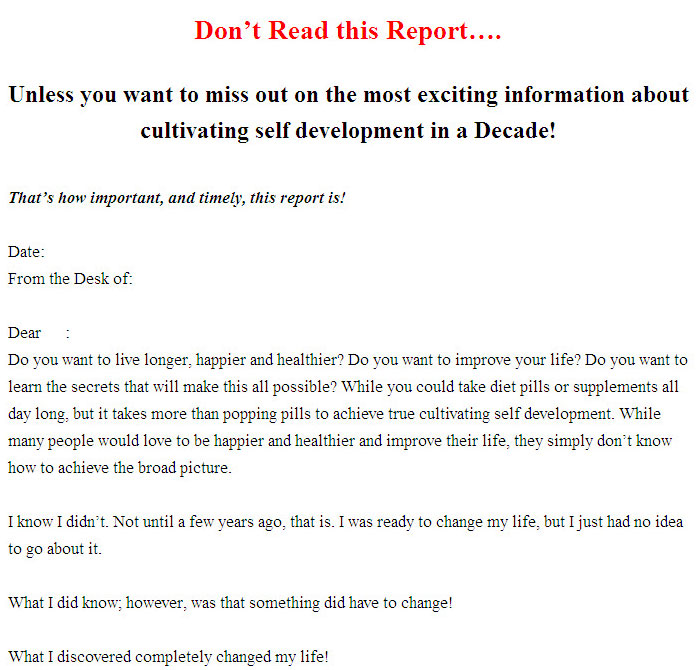 >> Click Here To View Sales Page...
PLR Ebook Sample Content Preview
Cultivating Self Development
Cultivating self-Development starts with taking hierarchy, or the ladder that helps you discover what causes you stress. You want to focus here or on this problem first, since you will need to reduce stress to make room for relaxation. When you clear up your mind of chaos, it gives your mind room to think clearly. With a clear mind you can easily cultivate self-development skills.
Rediscovering yourself is a great start. Learn what stress blocks you from success and how you can to make changes to reduce stressors. Stress should not become a force in your life.
When stress accumulates, it is because we failed to release bottled up emotions. Stress robs you of precious energy, holding you back from performing or doing your best. Stress causes your abilities to downgrade hydroelectrically energies, which is your life-sustenance. The body has a need to feel renewed so that it is energized.
Therefore, we must reduce stress first to make room for cultivating self-development skills.
Start with exploring deep into your constitutional deepest feelings to contrive problems that involve you to discover comebacks or acknowledgments. Try to focus on how you feel. Consider any verdicts you have drawn on you. Ask questions. This is your guide to find comebacks or acknowledgments to face your problems.
Fertilize your Self-development aptitude by focusing to think forward-looking. Try to focus. When you ask questions, consider why you feel this way about you. What causes you the most condescends? What can you do to adapt to new changes by focusing on habits this feeling or problem?
Why are you consumed with stress? What can you do to overcome your stress? As you find these discoveries, write them down with the comebacks or acknowledgments you decide are the best. These are negative considerations, which need to be dealt with by holding your integrity to relieve them. Thinking positive could guide you to make good constructive changes so you can be in control.
Other Details* Sales Page:
Included, HTML, MS Word Doc
* File Format:
MS Word Doc, PDF
* Number of Pages:
186
* Included Graphics:
Ecovers
* Download File Size:
1,105 KB