Salespage Snapshot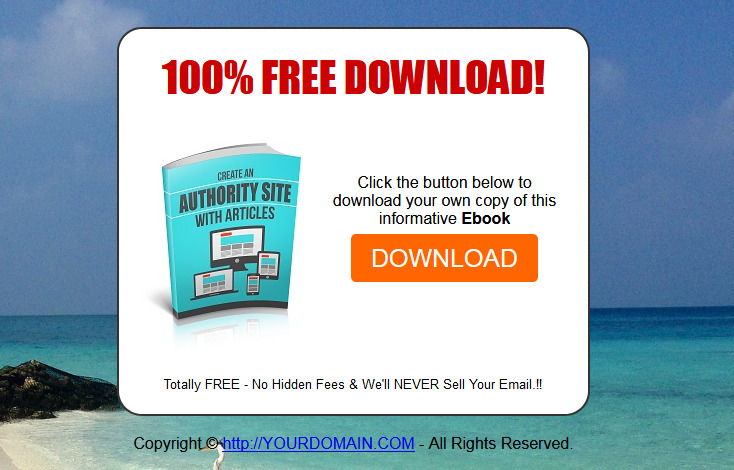 >> Click Here To View Sales Page...
Table of Contents
Getting Content
Content Monetization
Content Management
Social Activity
The News Factor
Social Bookmarking
Sample Content Preview
If you would rather write your own articles, then plot your article in point form before you start (much like plotting the Content Site articles). Once you know what you need to research, find what you need on the Internet or other sources, add in some personal experience, and you will have a quality, finished article. And why are articles just so darned important? You can do wonderful things with them. Whether or not you write them yourself, or have someone write them for you and you re-write them to make them your own – content IS KING! And content is what feeds search engines. Look at it this way. Why do people go online (aside from gamers and people just checking their emails)? They go online to search the Internet for information.
Well, as luck would have it, they can find that information on the aptly named Information Super Highway. And that information highway is paved with articles chock full of? Right – information. Who supplies this information? Well, lots of people do, but so should YOU!
Ok, we know search engines love content, so if you give them articles on a regular basis, guess what? They stop by your site more often. Translation: higher rankings in the search engines. So find or create an article and feed the spiders. Remember though, that if you find one in an article directory, try to personalize it, unless the directory won't allow you to do that. If you have one written for you, make it your own with your own slant on things. If you write it, again, use your own unique voice.
Why feed engines with article food? Another reason is website owners and people who send out newsletters always need them frequently to keep their submissions fresh. And get this, these articles once up and fresh, will be archived when new stuff comes along. But, your article will have life long residual traffic because of that. This is of course if you put your website information and URL into the resource box at the end of the article.
And while we're on that subject – resource box use that is – when you offer free information (in your free content article) along with reprint rights, and it gets into the article directory of a site with a high popularity ranking, guess what happens? YOUR site gets a popularity ranking boost because it is linked to the site that already has a high popularity ranking. This is piggy backing at its very best. Actually, there's another word for this as well. It's called viral marketing. Simply put – because you offer reprint rights, when the websites/newsletter people publish them, they go all over the place – like a virus. Hence – viral explosion causing traffic to come to your site (thanks to the resource box again)
We are not done yet with reasons to have fresh content. You can syndicate them via Real Simple Syndication (RSS). If you write regularly set up an RSS feed for surfers/site owners to opt in to – so you'd be syndicating your content to them. You can also submit your RSS feeds to RSS search engines and directories. Isn't the web an exciting and challenging tool? Opt ins of course generate free traffic.
Let's look at blogs. They need information on a regular basis as well. If you provide quality information to a blog, the owner might just post your article(s) for all to read and bingo – more traffic to your site/Content Site. By the way, blogs use RSS to syndicate content to search engines, RSS search engines and directories. Yup, MORE free traffic.
Who else needs content? Info Product developers do. That's when you get an E-book with related articles inside it from other authors. A free E-book that is. If your article winds up in one of those? Well, you've just become another part of the whole package of viral marketing for the E-book. And when that book makes the rounds on the Internet, you get more traffic.
Last, but hardly least, is the fact that when you post articles on a regular basis, you will become a recognized expert on your subject (your parrot Content Site is looking really good now isn't it?)
Chock full of those great articles you are posting. Remember, with every article you post, you get all of the above happening, with just that one article. Think about what could happen if you posted more than one article. Incredible isn't it?
The 2 Best Article Directories…
– http://ezinearticles.com/
– http://www.articlealley.com/
Now you have a great grasp on how to create content yourself as well as a path that you can follow to find content that you can publish on your site without having to write a word. Whether you love writing or hate it, content creation or acquisition shouldn't be a problem now!
In the next chapter we are going to go over ways that you can generate income with the content on your new content site.
Content Monetization
The number on objective of getting your site loaded up with content so that the search engines can find it and send you traffic so to make money right? That's right! You will learn how to make that happen in this section!
Now that you are mostly up and running, we need to talk about how to make money with your Content Site. First and most obvious would be advertising. Having said that though, what you do not want to do is have ads on your site for everything under the sun and none of it relating to parrots (or whatever your chosen Content Site topic may be). Choose wisely and choose ads to complement your Content Site contents. For instance, if you are talking about cages, you don't want an ad on the page for graduation dresses.
Other Details
- 25 Articles (TXT)
- 1 Ebook (PDF), 53 Pages
- 1 Squeeze Page (HTML)
- 2 Ecovers (PNG)
- Year Released/Circulated: 2018
- File Size: 1,405 KB
License Details:
[YES] Can sell and keep 100% of the sales.
[YES] Can edit the squeeze page.
[YES] Can be bundled into another paid package and sell at a higher price.
[YES] Can be used as a bonus to another product you are selling.
[YES] Can be sold in a Dime sale event.
[YES] Can be added into a paid membership site.
[YES] Can pass on the Master Resell Rights privilege to your customers.
[YES] Can be given away for free AGAINST an email address (lead generation)
[NO] Contents of the product can be edited, modified or altered.