Salespage Snapshot: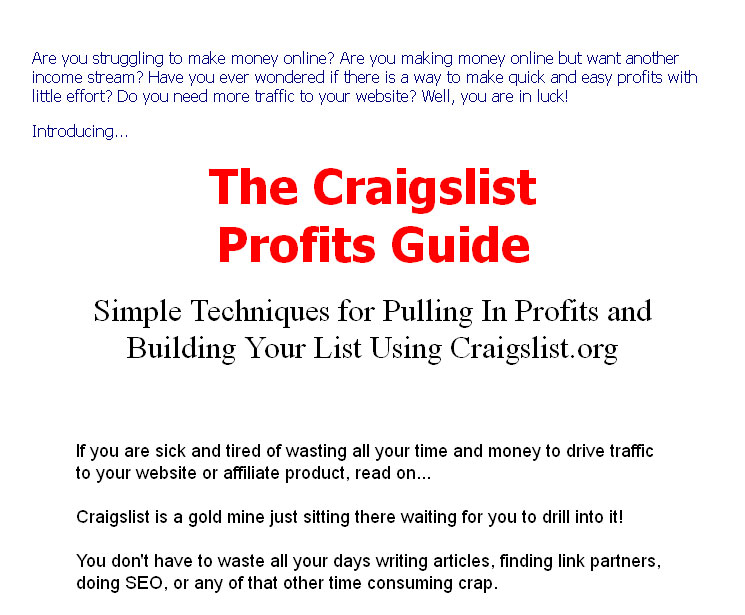 >>> Click Here To View Full Sales Page…
Table Of Contents
1) What is Craigslist?
2) How to Post Ads
3) The Affiliate Link Method
4) Craigslist + eBay = $$$$
5) Build Your List
6) Free Ebooks Bring Profits
7) Adsense Income
8) Dropshipping for Dollars
9) Build Up Your Residual Income
10) Get Top Google Rankings
11) Gigs and Services
12) More Craigslist Tips You Need to Know
13) Five More Tips for Using CL Most Effectively
14) Other Great Craigslist Resources for You
15) Make Even More Money with This Ebook
Sample Content Preview
What is Craigslist?
Well if you have never been to Craigslist or you have been there and just didn't stop to think about what the site is, I am going to tell you a little about it.
Basically it's just a very popular classified site. They have classified ads for jobs, housing, personals, for sale, services, community, gigs, and more. Under each category there are subcategories with just about anything you want or need. And if you can't find what you are looking for you can always post in the "wanted" section so people can come to you if they have what you need. They also have discussion forums for many different topics.
There is nothing fancy or flashy about Craigslist. It's just a basic looking site with a light grey background and links to its various sections. The site is very easy to navigate and find the section you want. You just click your state and/or city then go the ads for what you are looking for. If you are outside the U.S. you will have to choose your country first. And if you are in a large city you can choose your specific part of the city.
You'll notice above I said it's a "very popular" site. Well, just how popular? At the time of writing this it is the 40th most popular website in the world. Yes, that's right, out of the millions upon millions of websites in the world there are only 39 more popular than Craigslist. And it's the 9th most popular website in the United States. How's that for getting some major traffic?!
How to Post Ads
Posting to Craigslist is really quite simple and straightforward. It's also free, except for the job listings in some of the major cities.
There are actually a couple different ways to post ads but I only ever use one way so I'm going to tell you how to do it that way. So, here is how you post an ad, step-by-step:
1) Find the city you want to post in.
If you have never been to Craigslist before the default starting point is the San Francisco Bay Area. Finding your city (or the city you want to post in) is really easy. You will see on the right hand side there is a large list of different countries, states, cities, and provinces.
If you are in the United States you just have to click on your state and then the area closest to you. If you are in a major U.S. city it's probably already listed right there on the home page. Finding your location is just as easy for those of you outside the United States, all you have to do is click on your country, then the area closest to you.
2) Go to the category you want to post in.
Let's say you want to post in the "small biz ads" category. The small biz ads are under the "services" section. So just find the services section (it's in the middle column at the bottom) and you will see the link that says, "sm biz ads". Click on that link.
3) Click the "post" link.
On the next page you will see all the different ads in the small biz ads category. And in the upper right hand corner you will see a link that says "post". Click that link.
Other Details
- Ebook (PDF), 44 Pages
- Salespage (HTML)
- Ecover (JPG)
- 1 Bonus Ebook
- Year Released/Circulated: 2009
- File Size: 635 KB