Salespage Snapshot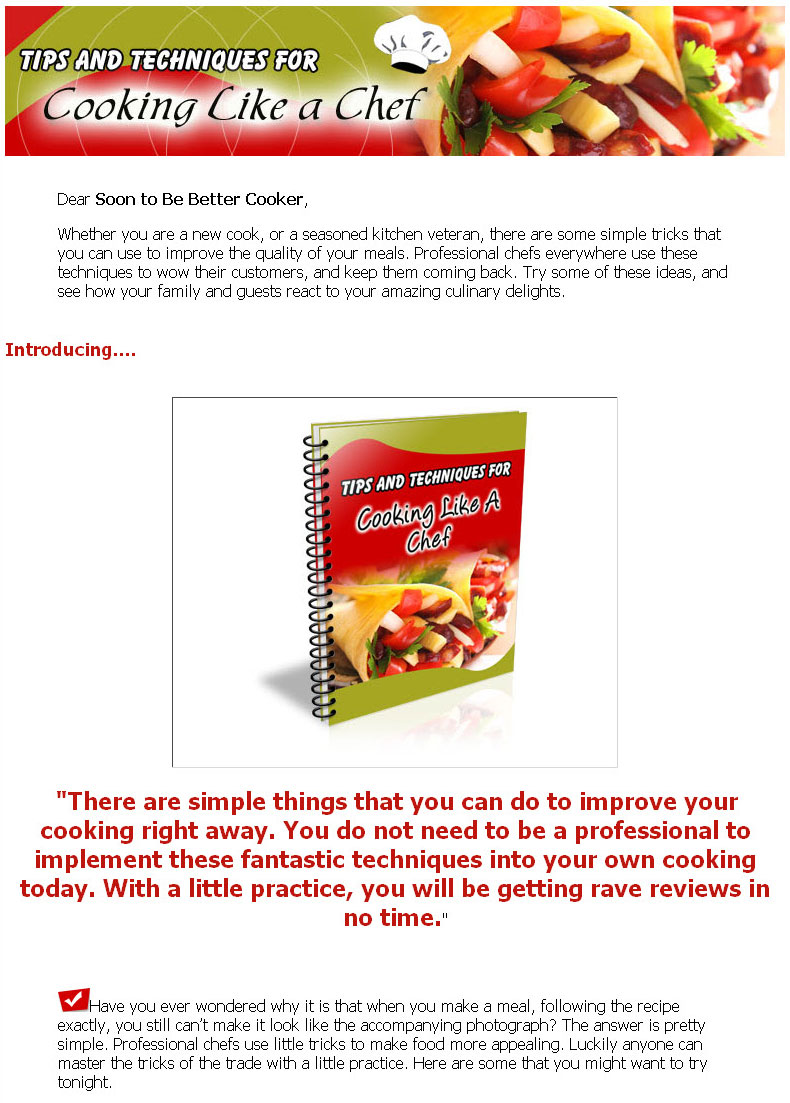 >> Click Here To View Sales Page...
Ebook Table Of Contents
1.    General Cooking Tips
2.    Sauces and Seasonings
3.    Meat and Poultry
4.    Barbecuing
5.    Fruits and Vegetables
6.    Pasta, Rice and Potatoes
7.    Baking
PLR Ebook Sample Content Preview
Chapter 1: General Cooking Tips
1. Add a little zest. When a recipe calls for a "zest" of a citrus fruit, it's referring to the colorful outer part of the skin, not the inner white part, which is known as the pith. The zest contains all of the aromatic citrus oils and provides a hint of citrus tang to the recipe. A simple method of obtaining a fine zest is by rubbing the fruit against the smallest holes of a cheese grater.
2. Don't be afraid to experiment. Good cooks are never afraid to deviate from a recipe and add their own flair. Whenever you make a substitution or addition be sure to make a note on the recipe so you remember next time whether you liked the change or not.
3. Salted butter vs. unsalted butter. Butter is available both with and without salt. The salt is added for extra flavor and to help preserve it so it has a longer shelf life. The problem is that sometimes the salt in butter can be more than a recipe needs. Choosing unsalted butter gives you more control over how much salt your dish contains. If you only have salted butter, the best thing to do is omit approximately ¼ teaspoon of salt per ½ cup (one stick) of butter used in the recipe.
4. Use your kitchen scissors. Right now you probably only use your kitchen scissors for opening packaging and bags of milk. But next time you're trimming fat from a roast, opening pitas or cutting chicken into strips, consider using your scissors! Chefs use them all the time for cutting meats and other food items. It's probably best to have a pair that are designated as food scissors only. And be sure you clean them very well after each use because they do have crevices where bacteria can hide.
5. Keep your recipes organized. Nothing is more frustrating when you're ready to start cooking then not being able to find your recipe. Keep things organized by finding a system for filing your recipes that you can keep close at hand in the kitchen. A great option is to buy one of those photo albums where you peel back a plastic sheet and underneath is a sticky surface. This makes recipes easy to find and at any time you can remove or replace them!
6. Stop foods from sticking to the pan. To keep food from sticking to the bottom of your pans, try to avoid ever putting cold foods into a hot pan. Also, don't put food into a pan that is not perfectly clean, otherwise the resulting build up could lead to burned food.
7. Stop water from boiling over. To keep pans from boiling over when cooking, add a thin layer of butter around the rim of the pan. This works well for rice, pasta and potatoes.
Other Details* Sales Page:
Included, HTML
* File Format:
MS Word Doc, PDF
* Number of Pages:
19
* Included Graphics:
Ecovers, PSD
* Extras:
Cooking Keywords
* Extras:
Cooking Closers [txt]
* Extras:
Cooking Openers [txt]
* Download File Size:
4,993 KB

* Private Label Rights Terms & Conditions :

[YES] Can be edited.
[YES] Can put your name as the author.
[YES] Can be broken down into articles.
[YES] Can be used as web or e-zine content.
[YES] Can be added into membership sites.
[YES] Can be sold in any format.
[YES] Can be packaged.
[YES] Can be offered as a bonus.
[YES] Can be given away (in any format).
[YES] Can be sold on auction sites.
[YES] Can offer (Master) Resell Rights.
[YES] Can resell Private Label Rights.
[YES] Can be published offline.