Salespage Snapshot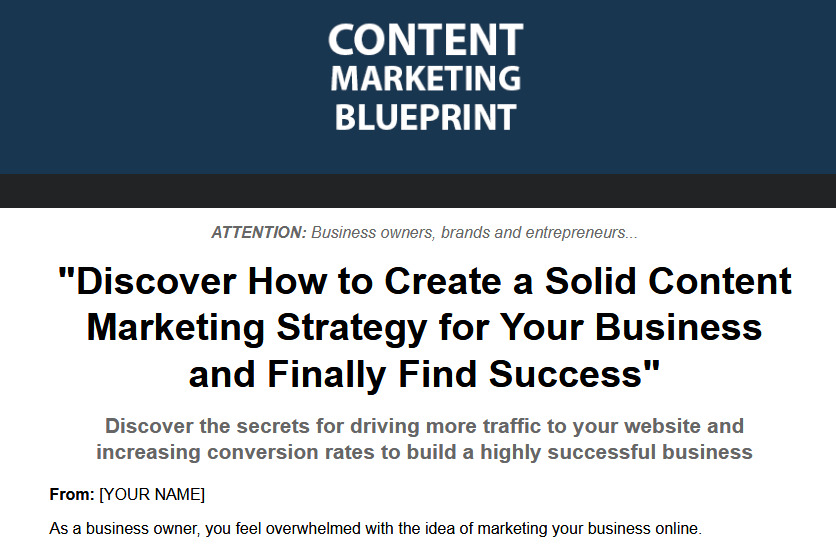 >> Click Here To View Sales Page...
Table of Contents
Introduction ……. 6
Chapter 1 – Developing Your Content Marketing Strategy …. 8
The Content Marketing Ecosystem .. 9
The Six Parts of the Recurring Content Ecosystem 10
High-Quality Front End Content . 10
Provide an Opt-In Offer …… 11
An Email Onboarding Sequence 11
An Initial Conversion Opportunity ……. 12
A Follow-up Sequence ……. 12
Another Conversion Opportunity 13
The Four Parts of the Asset Ecosystem . 13
A High-Quality Long-Form Content Asset .. 13
An Initial Engagement Opportunity …. 14
An Initial Conversion Opportunity ……. 14
A Follow-Up Email Sequence …. 14
Chapter 2 – Finding Your Audience …… 16
Why You Need a Customer Avatar 16
Assessing Perspective … 17
Assessing Capabilities … 17
Assessing Profit Potential …… 18
Chapter 3 – Making the Right Offers ….. 20
Developing the Right Offer ….. 21
Get the Facts ….. 21
Simplify …… 23
Review ……. 23
Chapter 4 – Creating Your Content ……. 25
The Five Pillars of Content Creation ……. 25
Simplicity … 25
Specificity .. 26
Serendipity . 26
Discipline … 27
Content Delegation …. 28
Creating Recurring Content … 28
Choosing Your Front-End Content Themes … 30
Build an Opt-In Offer …… 32
Build an Onboarding Sequence ….. 33
Make Sales Offers . 35
Follow-up with Your Prospects ……. 36
Creating Your Content Assets 37
Clarify Your Concept .. 38
Build an Outline . 38
Building Out the Content …. 39
Leveraging the Asset ….. 40
A Word on SEO ….. 40
Chapter 5 – Distributing Your Content .. 43
Email Marketing ….. 43
Utilizing Social Media ….. 44
Facebook … 44
Twitter 45
YouTube …. 45
Instagram … 46
Pinterest …. 46
LinkedIn ….. 46
Google+ ….. 47
Conclusion …… 48
Sample Content Preview
Chapter 1 – Developing Your Content Marketing Strategy
One of the most powerful arms you can add to your overall marketing strategy is content marketing. Content marketing is used to establish you as a subject matter expert, which leads to an increase in your company's revenue, as well as having a high-profit potential. However, creating content to build your audience and create a successful business is not a fast growth strategy. It takes months for the content you produce to grow into its potential.
Before you begin creating content for your business, you need to have a clear picture of your business goals if you want to develop a successful marketing strategy. This is especially true when it comes to content marketing. It is essential for you to have a consistent approach when it comes to the content that you are producing. Having a regular strategy provides you with content that keeps your audience engaged, resulting in them seeing you as an authority on the subject. When your business is seen as an authority on a subject, your audience is more likely to purchase from you when the time is right.
For your business to see a return on investment regarding your content marketing effort, it is essential that you develop a comprehensive ecosystem around your central content platform. Developing a complete system helps to leverage your resources to help you grow your business, rather than wasting your resources. For you to have a successful content marketing campaign, it is vital that you see your complete content marketing strategy as an ecosystem in which your content is a dynamic medium, where your customers are involved at every stage.
The Content Marketing Ecosystem
The content strategy that you first develop will grow and evolve. For your strategy to be healthy and productive, you must include many different elements. There are two main types of content that you will have to consider when developing your strategy; recurring content and content assets. Recurring content is content that builds your customer base over time, while content assets are used as a near-term client acquisition tool.
When working with a recurring system, there are six parts that need to be included to ensure a healthy ecosystem;
• High-quality front-end content
• An opt-in offer
• An email onboarding sequence
• An initial conversion opportunity
• A follow-up sequence
• Another conversion opportunity
The asset system consists of four parts and can be used on its own or combined with the recurring system. The four elements necessary for the asset content system to be useful are as follows;
• A high-quality long-form content asset
• An initial engagement opportunity
• An initial conversion opportunity
• A follow-up email sequence
Here is a quick look at the parts that you should include for both the recurring content system and the content asset system.
The Six Parts of the Recurring Content Ecosystem
High-Quality Front End Content
While this might seem obvious, all of the content that you create for your company must be high quality. It needs to be interesting, informative, and actionable. You want your content to serve a clear purpose for you and your customers. It is vital that you correctly format the content and thoroughly spell-check it before publishing it online. Set up a regular schedule for posting your content and provide the best information on your industry on a consistent basis.
Provide an Opt-In Offer
Publishing content on a regular basis will bring traffic to your site. However, once the visitors are done with the material, they will leave again. An opt-in offer will capture that traffic, so you can continue to market to them once they leave your site. Opt-in offers usually come in the form of a pop-up or a form on the site that will provide an asset in exchange for an email address. Good opt-in offers will include industry reports, white papers, cheat sheets, educational courses, checklists, coupons, webinars, video courses, or demos/downloads.
An Email Onboarding Sequence
After capturing a lead with your opt-in offer, you will need to onboard them with a sequence of automated emails. This usually consists of four to eight emails that educate the subscriber about your company, shares some of your company's best resources, and encourages them to connect with you. This part of the ecosystem engages them on a more individual level and increases their investment in your brand, as well as setting their expectations for their future interactions with your company.
An Initial Conversion Opportunity
After nurturing your leads through your email sequence and providing them with valuable information and generously sharing your expertise, it's time to extend an offer. Your previous interactions should have naturally led to this point so that the subscriber is comfortable with the proposal and be willing to take you up on it.
A Follow-up Sequence
Your initial offer will result in two groups being formed: those who converted and those you did not. It is important to follow-up with both groups. When following up with those who did take you up on your offer you need to a) offer them an upsell or upgrade and b) on-boarded to make the most of what they've purchased. For those who were not converted you should a) offer them a down sell or 'light' version of your original offer to try and get a conversion, and b) put them into a new sequence that will provide them with further value and education to prepare them for your next offer.
Another Conversion Opportunity
Over the course of your relationship with each customer, you'll ideally want to make multiple offers. It is much easier to get a repeat customer than a new one. This means you want to build numerous in-systems that allow you to maximize the value of each customer. Whether you set up an automated email sequence or launch new cycles, it is imperative you have a recurring sales system in place.
The Four Parts of the Asset Ecosystem
A High-Quality Long-Form Content Asset
Books, webinar series, web summits, and multi-part video courses are all considered content assets. For a majority of businesses, books are ideal, because the physical copy can be used as real-world calling cards. They can be sent to potential customers and leverage them into more significant opportunities for your business. This can include interviews and speaking engagements.
Other Details
- 20 Articles (TXT, DOC)
- 1 Ebook (PDF), 48 Pages
- 2 Graphics (PNG)
- 1 Salespage (HTML)
- 3 Promotional Ad Materials (Emails)
- Checklist, Lead Magnet, Optin Page
- Year Released/Circulated: 2018
- File Size: 6,877 KB
License Details:
Yes you may giveaway this ebook.
Yes you may resell this product.
Yes you may sell/pass resell rights/master resell rights to this product.
Yes you may edit the squeeze/sales page.
You do not have private label rights. Your may not sell or giveaway private label rights.
You may not re-title or edit the contents of this product.
You agree to handel any own customer support issues related to this product.