Salespage Snapshot: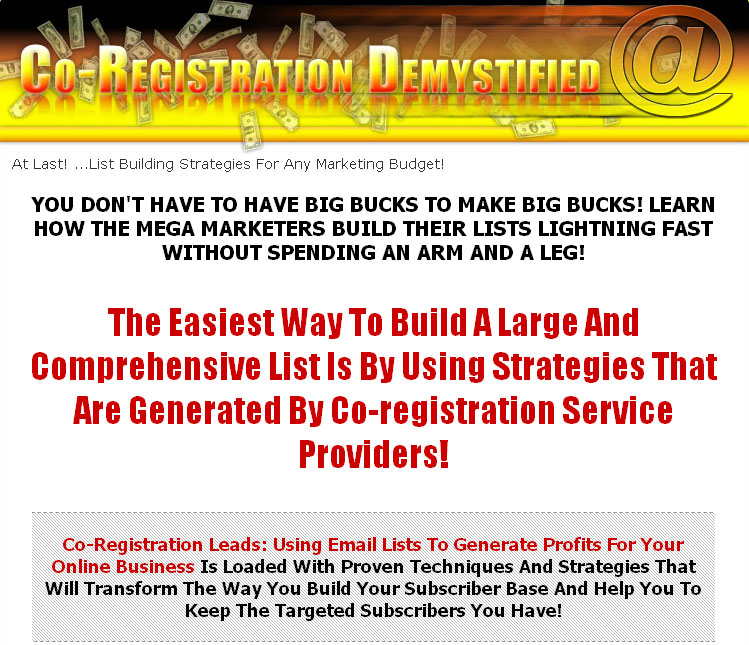 >>> Click Here To View Full Sales Page…
Table of Contents
Chapter 1: What are Co-Regs, Anyway?……………………4
Opt-In Subscribers……………..5
Co-Registration Leads………..6
Three Types of Co-Registration Leads…………………………7
Why Use Co-Registration Leads?……………………………….8
Using Co-Registration Programs to Make a Profit……….9
Choosing a Co-Registration Provider………………………..10
The Power of Co-Registration…………………………………..13
Chapter 2: How to Choose a Provider…………………….14
List Service Providers……….15
List Building Service Providers………………………………..16
List Service Providers……….19
List Building Service Providers………………………………….21
Chapter 3: Setting Up the Initial Email…………………..25
The Initial Mailing……………26
Templates for the Introductory Email……………………….28
Why You Should Use Email Message Sequencing……….32
How to Maximize Your Email Messages……………………33
Other Items to Consider…….35
How to Make Your Offer More Profitable………………….36
Chapter 4: Why You Should Offer an E-Course………..42
Why Subscribers Will Benefit from an E-course………….44
How to Develop Content for Your E-course………………..45
How to Set Up Your E-course…………………………………..47
E-Course Template…………..50
Follow-Up Emails from the E-course…………………………55
More Tips for Developing Your E-course…………………..56
Chapter 5: Managing the Customer Relationship……..60
The Importance of the Perception of Extra Value………..61
How to Manage Your Relationship with The Customer.63
Building a Relationship by Email……………………………..64
Adding Extra Items to Your Email Messages……………….66
Chapter 6: How to Create Advertising that Sells………68
10 Important Components of Email Advertising…………69
Attention, Interest, and Motivation Play a Part in Email Advertising………………….71
Six Tips for Writing an Effective Email Ad…………………74
Tips for an Effective Email Advertising Campaign……..76
How to Set Up Effective Email Ad Copy…………………….79
Templates for Email Advertising Copy………………………80
Chapter 7: How to Avoid Spam Complaints and Remain Compliant………………….85
A Brief History of Spam and its Components……………..86
How to Make Your Email Spam Compliant………………..89
Additional Strategies for Spam Compliance……………….90
Tips for Becoming a Successful Permission-Based Marketer………………………………92
Common Mistakes with Email Lists………………………….93
How to Write and Deliver Spam-Free Messages…………96
Setting Up an Effective Privacy Policy………………………98
How to Configure the Unsubscribe Link…………………….99
Chapter 8: Autoresponders and Your Campaign…….100
Why Use an Autoresponder?………………………………….100
Benefits of Using an Autoresponder………………………..101
Autoresponder Services…..105
Choosing the Right Autoresponder for Your Business..107
Chapter 9: Multiplying Your Efforts……………………..112
Tracking Your Results…….112
Advantages of Using a Secondary Co-Registration Leads Service……………………..114
Secondary Co-Registration Lead Services………………..115
Set Up Email Aliases……….117
Use Split Testing to Measure Campaign Effectiveness.118
Other Items You Should Consider……………………………119
How to Analyze Secondary Email Registration Results……………………………………121
Finding Co-Registration Partners…………………………..123
Some Advanced Tactics…..125
Chapter 10: Summary….128
Resources………………………133
Sample Content Preview
Chapter 1: What are Co-Regs, Anyway?
If you spend time online, you have probably seen a website where you had to sign up to receive something. One site that comes to my mind is a survey site that offers a large variety of surveys to its visitors. You visit the site and click on the icon for the survey you would like to take. If you are not already a member, you need to sign up. In signing up you provide your name and email address. You go ahead and take the survey, but before you can get your survey results (which you are quite interested in receiving), you see a web page inviting you to sign up for a number of offers from other marketers. You have the option of signing up for any (or all of them) before proceeding on to your results page. The part of the experience where you are given the chance to receive offers by email from other marketers is an example of co-registration.
This is a very simple idea and it can prove to be a very effective strategy. The person visiting the survey site has already agreed to provide their name and email address, so they are more likely to accept offers from other marketers while they are in the same mindset.
Once you have captured the person's email address, you can keep in touch with them on a regular basis. When you update your site or introduce a new product, let everyone on your mailing list know about it by broadcasting this information to all of them.
Other Details
- 2 Ebooks (PDF), 136 Pages
- 1 Part Autoresponder Email Message (DOC)
- 1 Salespage (HTML)
- Year Released/Circulated: 2010
- File Size: 865 KB
License Details:
[YES] Edit the articles and add your name as author
[YES] Can be submitted to article directories - ONLY after substantial rewrite
[YES] Can be made into a report or ebook
[YES] Can be used on your website or blog
[YES] Can be used in an autoresponder
[YES] Can be packaged with other products
[YES] Can be given as a bonus
[YES] Can be sold
[NO] Can sell Private Label rights
[NO] Can sell Resale Rights
[YES] Claim all copyrights
[YES] Can give away outright
[YES] Can be offered as a bonus
[YES] Can be bundled with other products
[YES] Add to Paid Membership sites.
[YES] Can sell this product
[YES] Can sell Master Resale Rights.
[YES] Can sell Private Label Rights
[YES] Can claim Full Authorship
[YES] Can be offeren through online auction sites